Celebrating 20 Years of Asia Society Northern California
VIEW EVENT DETAILS
On April 3, 2018, we will celebrate 20 years of Asia Society Northern California and hold our 15th Annual Dinner at the Four Seasons Hotel in San Francisco. The Annual Dinner is ASNC's most prestigious event of the year, attended by over 400 leaders in business, tech, civic affairs, academia, philanthropy, the diplomatic corps, and media. It features some of the world's foremost leaders in U.S. and Asian affairs.  
In celebrating its 20th Anniversary, Asia Society Northern California will honor founding Advisory Board Co-Chairman, Jack Wadsworth. The Honorable George P. Shultz, Thomas W. and Susan B. Ford Distinguished Fellow at the Hoover Institution, Stanford University, will give the welcome address.
---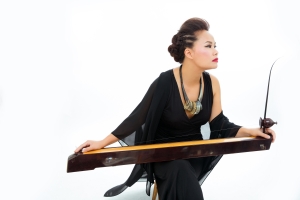 Van-Anh Vo, one of the finest performers of Vietnamese traditional instruments in the world and a rapidly emerging composer, will perform at the event. Vo dedicates her life to creating music by blending the unique sounds of Vietnamese instruments with other music genres and fusing Vietnamese musical traditions with new structures and compositions.
Since settling in the San Francisco Bay Area in 2001, Van-Anh has collaborated with musicians across music genres, bringing Vietnamese traditional music to a wider audience and preserving her cultural legacy through teaching. In 2013, she released Three-Mountain Pass, with the Kronos Quartet which was chosen as NPR's 10 Favorite World Music Albums of 2013. Van-Anh has been a collaborator and guest soloist with the Kronos Quartet, Yo-Yo Ma, Southwest Chamber Music, Eastbay Oakland Symphony, and other World Music artists. She has been co-composer and arranger for the Oscar-nominated and Sundance Grand Jury Prize winner for Best Documentary, Daughter from Danang (2002), the Emmy Awards winning film and soundtrack for Bolinao 52 (2008), and the winner of multiple "Best Documentary" and "Audience Favorite" awards, A Village Called Versailles (2009).
Van Anh recently became the first Vietnamese artist performed at the White House. In addition to the zither (đan Tranh), Van-Anh also performs as soloist on the monochord (đan Bầu), the bamboo xylophone (đan T'rung), traditional drums (trống) and many other traditional instruments.
Proceeds from the Annual Dinner grow Asia Society Northern California's initiatives and public programs.
---
For sponsorship opportunities, please contact Laura Jenkins, ljenkins@asiasociety.org. 
Event Details
Four Seasons Hotel 757 Market Street, San Francisco, CA 94103
Buy Tickets
Early Bird (by March 8): $250 - $475; Regular Pricing: $300 - $550

Add to Calendar
20180404T010000
20180404T040000
UTC
Asia Society: Celebrating 20 Years of Asia Society Northern California
Four Seasons Hotel 757 Market Street, San Francisco, CA 94103
---