2017 Asia Arts Awards India
A gala celebration honouring artists from the continent
For more than two decades, Asia Society Museum has been a pioneer in identifying and fostering avant-garde artists and engaging new audiences with their work. With this mission in mind, Asia Society inaugurated the Asia Arts Awards — a gala celebration honouring artists from the continent. This special event, now in its fifth year, was held for the first time in New Delhi in 2017.
Asia as a continent has always had a rich cultural and artistic legacy, and the global focus on Asian contemporary art is on the rise. Asia Society India Centre and Asia Society Museum instituted the first Asia Arts Awards India for contemporary artists living and working on the continent, to acknowledge and felicitate the work of ground-breaking artists who have brought a deeper understanding of the region to the people of Asia and beyond. These artists have made an indelible mark on the development of modern and contemporary art in the region and deepened our understanding of the world through their artistic practices. 
The inaugural Asia Arts Awards India – a gala benefit dinner took place on February 1, 2017, on the eve of the opening of the India Art Fair at the Taj Mahal Hotel, New Delhi. Over 150 of the countries most celebrated and eminent personalities from the field of arts and culture including artists, curators, collectors, arts professionals, Asia Society Trustees, and patrons gathered for the special evening to honor Abir Karmakar, Krishen Khanna & teamLab. The evening opened with a scintillating conversation between Member of Parliament Dr. Shashi Tharoor and media guru Suhel Seth on the importance of arts and culture as a soft power for an emergent economies. Some of the notable attendees included Kiran Nadar, Bose Krishnamachari, Sudarshan Shetty, the new director of Tate Galleries Maria Balshaw and the Metropolitan Museum's Sheena Wagstaff.
The Asia Arts Awards India is set to become an important annual event in the cultural calendar, one that supports and promotes Asian artists within Asia, and across the 12 international centres of the Asia Society.
---
Honorees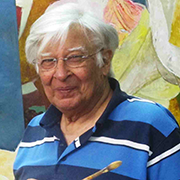 Krishen Khanna - Asia Arts Vanguard Award
Born in 1925, Khanna grew up in Lahore. He began studying art after he graduated from college in evening classes held at the Mayo School of Art. In 1947, Khanna's family moved to Shimla as a result of the Partition of India and Pakistan, and Khanna was deeply affected by not only the change in his personal life, but also the socio-political chaos that reigned around him. His early works are reproductions of the scenes that were indelibly imprinted in his memory during this period. Most of Khanna's work is figurative; he chose not to explore abstraction unlike most of his contemporaries.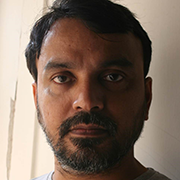 Abir Karmakar - Asia Arts Future Award
Born in 1977 in Siliguri, West Bengal, Abir Karmakar completed his Bachelor's degree in Visual Art at Rabindra Bharati University, Kolkata, in 2001, and then his Master's degree in Fine Art at the Faculty of Fine Arts at Maharaja Sayajirao University, Baroda, in 2003. Karmakar is known for his casual and voyeuristic self-portraits, in which he places his naked body in intimate settings. His body language and the mysterious eye contact he makes with viewers are provocative, offering his interpretation of sexuality and the fluid nature of identity in contemporary contexts. Kamarkar's solo shows include "Within The Walls," "In The Old Fashioned Way," "Interiors," and "From My Photo Album."
teamLab - Asia Arts Future Award
Formed in 2001, teamLab is a collective, interdisciplinary creative group that brings together professionals from various fields of practice in the digital society: artists, programmers, engineers, CG animators, mathematicians, architects, web and print graphic designers, and editors. Referring to themselves as "Ultra-technologists," their aim is to achieve a balance between art, science, technology, and creativity. teamLab believes that digital technology can expand art and that digital art can create new relationships among people.
---
Honorary Co-Chairs
Pheroza Godrej & Sangita Jindal
---
All proceeds from Asia Arts Awards India support Asia Society Arts & Culture initiatives worldwide. Asia Society's Asia Arts Awards India is co-organized by Asia Society Museum, New York, and Asia Society India Centre.
Event Details
Wednesday, February 1, 2017
7:00 PM - 10:30 PM
Diwan-I-Am, Taj Mansingh Hotel, New Delhi