Trump at 100 Days — The More Things Change ...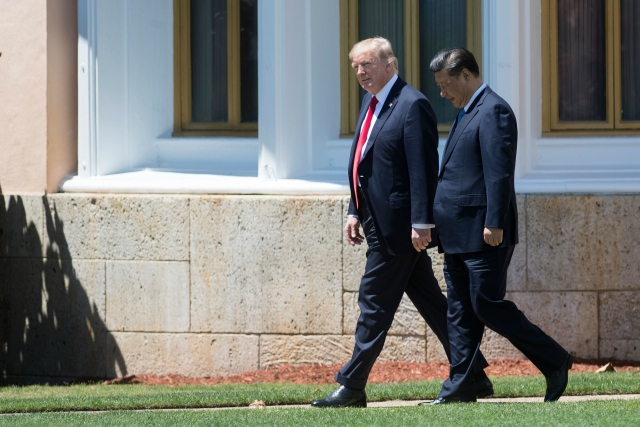 U.S. President Donald Trump (L) and Chinese President Xi Jinping (R) walk together at the Mar-a-Lago estate in West Palm Beach, Florida, April 7, 2017. (Jim Watson/AFP/Getty Images)
During his campaign for the presidency, Donald Trump promised that, if elected, he would decisively break from President Obama's foreign policy, one he has repeatedly deemed a failure. In speeches and during debates throughout 2015 and 2016, Trump vowed to reorient the U.S. toward a more inward, hawkish approach that viewed multilateralism and diplomacy with suspicion. His surprising victory in November — coupled with Republican majorities in both houses in Congress — led to expectations that the 45th president would profoundly reshape American foreign policy.
But 100 days into his presidency, such a shift has not yet occurred. If anything, Trump's foreign policy represents a continuation, rather than a repudiation, of his predecessor's. This does not mean the two administrations are identical; it's difficult to imagine Obama, for instance, congratulating Turkey's president for expanding his powers, as Trump did earlier this month. In rhetoric and personal style, Obama and Trump could hardly be more different. But American foreign policy in the Trump era — at least so far — has hewn to guidelines and policies established by past administrations.
To illustrate this point, let's consider the Trump Administration's handling of four crucial Asian hot spots: North Korea, China, Iran, and Syria.
North Korea
During his visit to Asia last month, Secretary of State Rex Tillerson announced that President Obama's policy toward North Korea — one labeled, accurately or not, as "strategic patience" — was no more. "Let me be clear," Tillerson said. "Strategic patience has ended."
On the surface, it isn't difficult to see why the Trump administration might wish to head in a different direction. Despite nearly a quarter-century of isolation, threats, and sanctions, Pyongyang has only escalated its nuclear program, carrying out five tests and working toward developing an inter-continental ballistic missile (ICBM) capable of striking the American west coast. Since taking office, Trump has vowed to solve the North Korea problem through negotiations with China, whose economic and diplomatic support is essential to its smaller neighbor's survival. 
But is the Trump administration's strategy really much different from President Obama's? Not according to Lindsey Ford, the director of Asian Security at the Asia Society Policy Institute. In a recent interview with Asia Blog, Ford said that "the ultimate goal remains the same — denuclearization of the Korean Peninsula." She added:
The Trump team has been very clear that they are not interested in talking about a "freeze" or acceptance of North Korea's program but remain focused on securing a nuclear-free peninsula. Second, the general tactics appear similar: raising the economic costs on the Kim regime through increased sanctions and a greater effort to get China to exert its leverage over the North Korean economy.
Ford noted that there are some subtle distinctions between the two, such as President Trump's willingness to negotiate other aspects of the U.S.-China relationship in order to secure Beijing's help with North Korea — something the Obama administration would not do. But this is more a tactical than a strategic change. Strategic patience, whether Tillerson likes it or not, remains in play.
China
The North Korea question is just one aspect of President Trump's complex, mercurial relationship with China. As a candidate, Trump accused Beijing of "raping" the United States through unfair trade deals and promised to label the country a currency manipulator on his first day of office. Then, in early December, Trump inflamed Sino-American tensions by accepting a congratulatory phone call from Tsai Ing-wen, Taiwan's president, the first communication between an American and Taiwanese leader since the two severed diplomatic relations at China's behest in 1979. 
But expectations that the Trump administration would pursue a more muscular, adversarial approach to China have eased during the president's first 100 days. Soon after the Taiwan kerfluffle, Trump reaffirmed the One China Policy, a non-negotiable element of Chinese foreign policy, during a call with President Xi Jinping. Then Trump decided not to label China a currency manipulator, explaining in a characteristically blunt tweet that securing Beijing's cooperation on North Korea was the higher priority.
Why would I call China a currency manipulator when they are working with us on the North Korean problem? We will see what happens!

— Donald J. Trump (@realDonaldTrump) April 16, 2017
A high-profile summit between Presidents Xi and Trump held at the latter's Mar-a-Lago residence in Florida went off without a hitch, as the two men pledged to work on their countries' trade imbalance. And Xi's relatively muted reaction to Trump's bombing of Syria — one that the American president insouciantly mentioned to his Chinese counterpart during dessert — signals that the relationship is on decent footing. 
In January, Orville Schell, the Arthur Ross Director of the Center on U.S.-China Relations, wondered whether there existed a palatable alternative to the established U.S.-China policy. "Engagement has been our policy for decades," he said during a panel discussion at Asia Society. "If we aren't able to engage, what is our policy?"
The Trump administration's experience with China, thus far, would seem to agree.
Iran
In July 2015, the United States and other world powers reached a landmark agreement with Iran, which agreed to reduce and scale back its nuclear program in exchange for sanctions relief. The deal, a significant diplomatic milestone of the Obama presidency, came under sustained attack from Donald Trump during his campaign — the candidate vowed to "rip up" the "disastrous" deal in office.
"Never, ever, ever have I seen in my life a transaction so incompetently negotiated as our deal with Iran," Trump said in an appearance in September 2015.
Since taking office, Trump and members of his administration have kept up their criticism of the deal, arguing that President Obama erred by not solving other points of contention between the two adversaries. But the likelihood that the U.S. will revoke it is small. For one, doing so would risk a major breach with the other "P5 + 1" countries — the five permanent members of the U.N. Security council plus Germany — which brokered the deal. And in a letter expressing its general displeasure with Iran's behavior in the Middle East, the U.S. confirmed that Tehran is in compliance — removing an easy pretext for U.S. withdrawal.
Earlier this month, Tillerson announced that the Trump administration is conducting an interagency review of the deal, leading to the possibility that the U.S policy toward Tehran may change. But for now, Trump's reticence to move quickly on the Iran deal indicates an understanding that doing so carries significant costs. 
Syria
When President Trump launched a military attack on a Syrian air base on April 6 in response to the Syrian government's use of chemical weapons in an attack on its opponents, he indicated that the decision was in direct response to his predecessor's refusal to do the same. "President Obama said in 2012 that he would establish a 'red line' against Syria and then did nothing," Trump said, omitting the fact that he, then a private citizen, vocally opposed striking Syria, too.
Even with the strike, Trump's strategy toward Syria — such as one exists — does not differ greatly from Obama's. Prior to the attack, the Trump administration had pointedly avoided calling for Syrian President Bashar al-Assad's ouster, insisting that the priority in Syria was defeating the Islamic State, al-Qaeda, and other terrorist groups. And in the two weeks since, the administration has not yet said what it might do next in Syria — if anything. Meanwhile, the country's nightmarish five-year civil war continues without respite or mercy.