Aung San Suu Kyi's U.S. Visit: An Explainer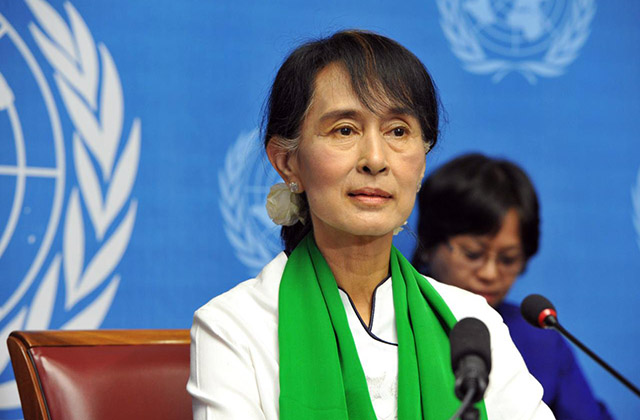 Aung San Suu Kyi addresses a press conference after her visit to the International Labour Conference, Palais des Nations on June 14, 2012. (Violaine Martin/UN Geneva/Flickr)
This week, Myanmar leader Aung San Suu Kyi is in the United States to attend the United Nations General Assembly and meet with top U.S. leaders, including President Barack Obama. Last November, her National League for Democracy (NLD) party swept the country's first openly contested election in 25 years — the culmination of several years of reforms that dissolved the military's five decade grip on the government.
Aung San Suu Kyi — who spent the better part of 20 years under house arrest — is now a key figure in Myanmar's political and economic transition. This Wednesday evening, she will address Asia Society in New York. Ahead of her visit, Debra Eisenman, executive director of the Asia Society Policy Institute and a leader in the organization's Myanmar Initiative, explains Aung San Suu Kyi's U.S. visit and the greater backdrop of her challenges in Myanmar.
If Aung San Suu Kyi isn't officially Myanmar's head of state, why has she been seen as such in meetings with foreign heads of state?
While Aung San Suu Kyi isn't Myanmar's president, she is seen as the country's de facto head of state. First off, the positions she holds are of state counsellor, foreign minister, and minister of the president's office of Myanmar. And the reason she isn't president is one to remember. The National League for Democracy party that she leads won nearly 80 percent of open seats in the 2015 election. This body of supporters would have ensured her the presidency, but she is not able to serve as president given the constitutional clause barring those who have children and spouses who are foreign nationals (her late husband was a British citizen, as are her two children).
At an event before the election, Aung San Suu Kyi stated that if the NLD won the election, "I will be above the president … I'll run the government and we'll have a president who will work in accordance with the policies of the NLD." The parliament created the formal state counsellor role in April 2016. The post officially reports to the president, but it is a top spot in the government, particularly with someone as iconic as Aung San Suu Kyi in the role.
Has her trip to the U.S. been successful so far in terms of what she wanted to accomplish?
Her trip has been both momentous and successful. While she has travelled to the U.S. before, including in recent years, she returns now as the leader of a government that previously imprisoned her. Aung San Suu Kyi's trip has largely been focused on encouraging investment in Myanmar. In that regard, President Obama's announcement of intentions to remove sanctions, ease barriers to trade, and provide funding for micro-loans are major successes. 
What does the removal of sanctions that Obama announced entail?
The sanctions that would be lifted deal with doing business in Myanmar with military affiliates, as well as sanctions related to the trade of rubies and jade. Sanctions that remain result from prior arms sales to, and military cooperation with, North Korea. Removing these requires congressional approval.
What is the Rohingya issue, and why has it proven so complicated for Myanmar's leaders?
The Rohingya are a stateless Muslim population primarily residing in Myanmar's Rakhine state. In Myanmar, a primarily Buddhist country, the Rohingya are seen as illegal migrants from Bangladesh. There are about 1 million Rohingya in Myanmar (and another million across the globe), and a large number of those in Myanmar are living in Internally Displaced Person (IDP) camps. There has been large-scale reporting in the last couple years on the plight of the Rohingya regarding a lack of humanitarian assistance in IDP camps, human trafficking across Southeast Asia, or casualties at sea as many try to seek refuge in Malaysia, Thailand, or elsewhere in the region.
The international community has levied serious criticism on Myanmar for the treatment of the Rohingya since the midpoint of the country's transition. The Myanmar government has recently convened a nine-member State Advisory Commission headed by former U.N. Secretary-General Kofi Annan (with two other international members and six Myanmar members) to help find a sustainable solution to these serious issues in Rakhine state. The Commission will offer recommendations within one year's time. The question will be whether they recommend a pathway to citizenship for this stateless group and whether their recommendations are heeded and codified into a new way forward.
What are the other major issues Aung San Suu Kyi is confronting?
Peace and reconciliation is a major issue on the forefront of her agenda. Aung San Suu Kyi has said, "If you ask me what my most important aim is for my country, [it] is to achieve peace and unity among the different peoples of our union. Without peace, there can be no sustainable development."
At the end of last month, she convened a peacemaking conference (the 21st Century Panglong Conference, named after the 1947 historic meeting between her father, General Aung San, and a number of ethnic minority group leaders). Panglong was an important overture to make to ethnic armed groups as the government works to build a dialogue and a pathway to peace. Issues at hand are myriad but include security, political representation, control of lands and resources, language, culture, and so forth.  
Building Myanmar's economy is also top of mind. The Asian Development Bank has named Myanmar Asia's fastest growing economy. But the country needs additional infrastructure, investment, jobs, and trade to continue growth — particularly for the rural agrarian population, which comprises 70 percent of Myanmar's populace. As of 2014, Myanmar's per capita GDP was around $700 per year.