Nam June Paik: Becoming Robot
Nam June Paik (1932–2006) was a visionary artist, thinker, and innovator. Considered the "father of video art," his groundbreaking use of video technology blurred past distinctions between science, fine art, and popular culture to create a new visual language. Paik's interest in exploring the human condition through the lens of technology and science has created a far-reaching legacy that may be seen in broad recognition of new media art and the growing numbers of subsequent generations of artists who now use various forms of technology in their work.
The artist was born in 1932, in Seoul, Korea. He moved to Germany in 1956 to pursue his study of music, and then to New York City in 1964. Upon his arrival Paik quickly developed collaborative relationships with a circle of now iconic American artists—John Cage, Merce Cunningham, Yoko Ono, and Bill Viola, among others—and spent the duration of his career, which spanned four decades, in the United States. Through his progressive ideas and artworks, the artist dared to imagine a future where today's technological innovations might exist, and it is this pioneering vision that has continued to shape contemporary visual culture in the United States and internationally.
Nam June Paik: Becoming Robot is the first exhibition dedicated exclusively to the artist to open in New York City in more than a decade, and focuses on Paik's process and his philosophy toward technology, especially the relationship between technology and the body, and the intersection of technology and culture. The exhibition presents key works from public and private collections in the United States, Europe, and Asia to show one artist's perspective on modern society's dependence on technology. Paik's wildly creative artistic practice and his innovative working methods provide a backdrop for visitors to contemplate the central role technology will continue to play in art and culture for future generations.
Michelle Yun
Curator, Modern and Contemporary Art
Robot K-456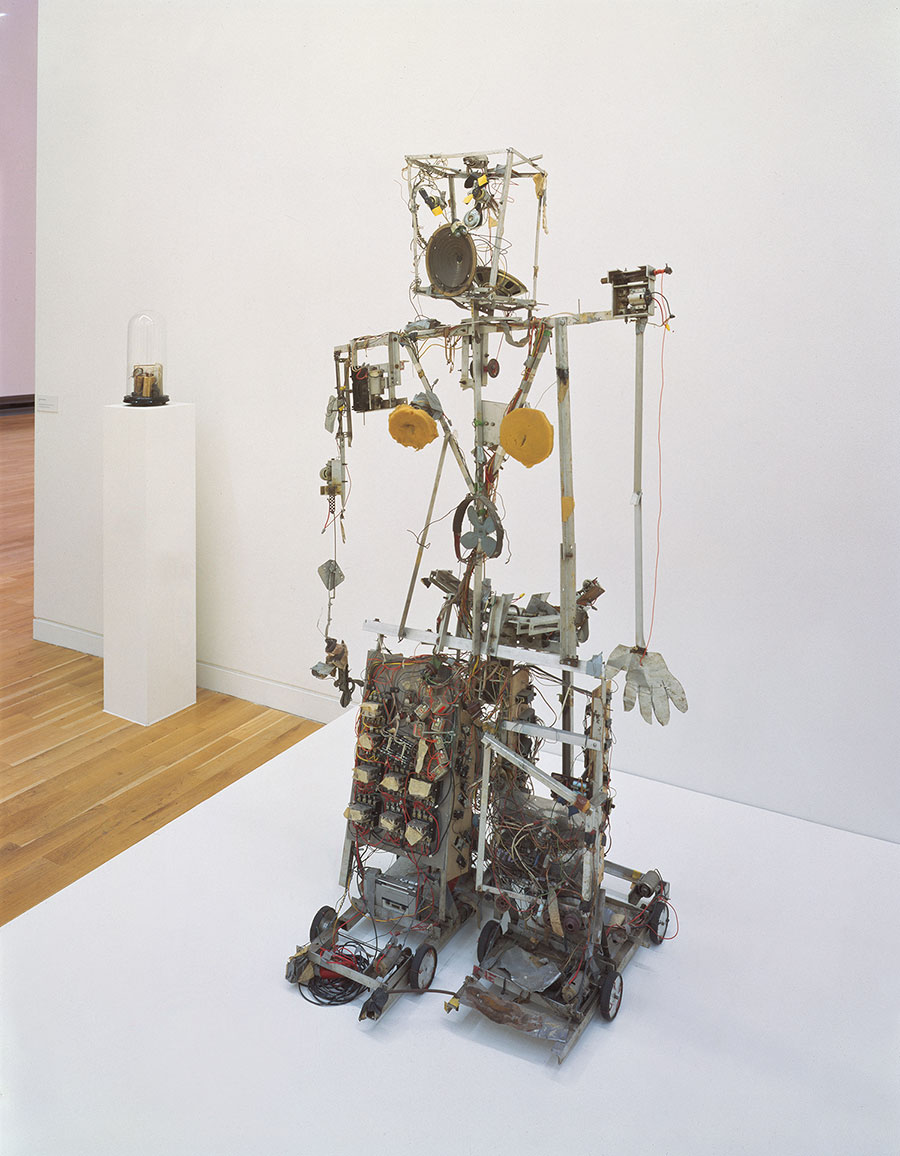 Robot K-456, 1964. Twenty-channel radio-controlled robot, aluminum profiles, wire, wood, electrical divide, foam material, and control-turn out. 72 x 40 x 28 in. (183 x 103 x 72 cm). Friedrich Christian Flick Collection im Hamburger Bahnof, PAIKN1792.01. Photo: Roman März, Berlin.
Between his departure from Germany and his arrival in the United States in 1964, Paik spent a year in Tokyo with his relatives where he met Shuya Abe, an electronics engineer with a degree in experimental physics and electrical engineering. Abe assisted Paik with what would become Robot K-456 (1964), Paik's first automated robot. Robot K-456 was humorously named after Mozart's piano concerto No. 18 in B-flat major, K. 456. Originally hermaphroditic—it featured both breasts and a penis—Robot K-456 was programmed to walk, talk, and defecate beans via twenty radio channels and a remote control. Paik intended to shock viewers with the robot's ability to interact with humans. This life-sized assemblage was a triumphant declaration of the potential for artistic innovation through technological means, as Paik adamantly felt it was the artist's duty to reimagine technology in the service of art and culture. Robot K-456 was featured in selected performance-based projects through the end of the 1960s, and in 1982 the robot returned to action on the occasion of the artist's first major museum exhibition at the Whitney Museum of American Art. Paik orchestrated an "accident" involving the robot, a performance titled First Accident of the Twenty-First Century. The sculpture was taken out of the museum and directed to walk along Madison Avenue via remote control. As it attempted to cross 75th street, it was struck by a car driven by fellow artist William Anastasi and fell to the ground. Paik described the act as a "catastrophe of technology in the twentieth century."
TV As Medium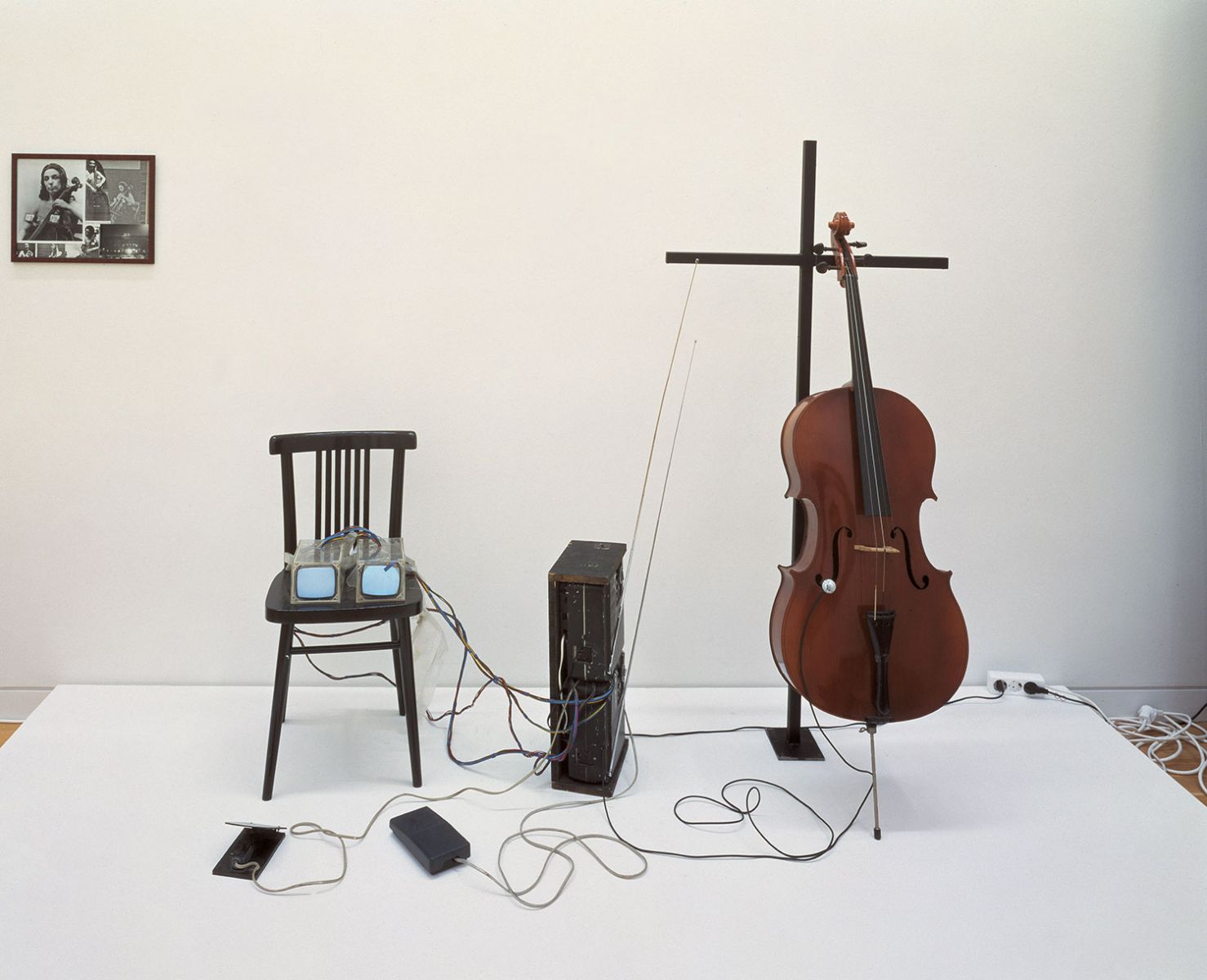 TV Bra for Living Sculpture, 1975. Cello, 2 television sets, microphone, amplifiers, deflection coils, "fussbedienungsgerate," cables. Dimensions variable. Friedrich Christian Flick Collection im Hamburger Bahnof, PAIKN1734.01. Image courtesy of Friedrich Christian Flick Collection im Hamburger Bahnof, Berlin.
Paik's lifelong interest in using television sets in his work began during the artist's time in Germany when he first introduced the public to manipulated televisions—consumer grade monitors that the artist altered with magnets, degaussers, and other means—in his first solo exhibition "Exposition of Music-Electronic Television," organized by the Galerie Parnass in Wuppertal, Germany, in 1963. Upon his arrival in New York later that year, Paik began working with the avant-garde cellist Charlotte Moorman, who would become his primary collaborator until her death in 1991. His attempts to unite television and video technology with the body are most evident in their projects together. Moorman became Paik's muse and willing coconspirator with whom he produced a series of important performance-based works, alongside his own more object-based experimental sculptures and installations. A string of seminal projects including Robot Opera (1964), Opera Sextronique (1967), TV Bra for Living Sculpture (1969), and TV Cello (1971) underscores Paik's interest in humanizing technology by using Moorman's body, often in various stages of undress, as a canvas onto which the artist attached his prominent electronic sculptures. Opera Sextronique, first performed for a private audience at the Filmmakers' Cinematheque in New York, resulted in Moorman's arrest for indecency. During the first act, the cellist wore Paik's Light Bikini. The bikini was outfitted with remote-controlled lights that flashed intermittently during Moorman's cello performance. Paik and Moorman's next major collaboration, TV Bra for Living Sculpture, was performed by Moorman as part of the groundbreaking group exhibition "TV as a Creative Medium," held at the Howard Wise Gallery in New York. Moorman, the "living sculpture," wore two functioning television sets over her bare breasts as she played her cello. The television screens alternately featured live television programming, prerecorded video footage, and a closed-circuit camera's live feed of the audience. Related works including TV Chair (1968), and TV Penis (1972) functioned as bodily appendages and props that meant to close the gap between technology and human experience. Through these projects, the artist brought video technology to a human scale and consequently redefined a medium formally identified with mass entertainment as something accessible on an extremely intimate level.
Robots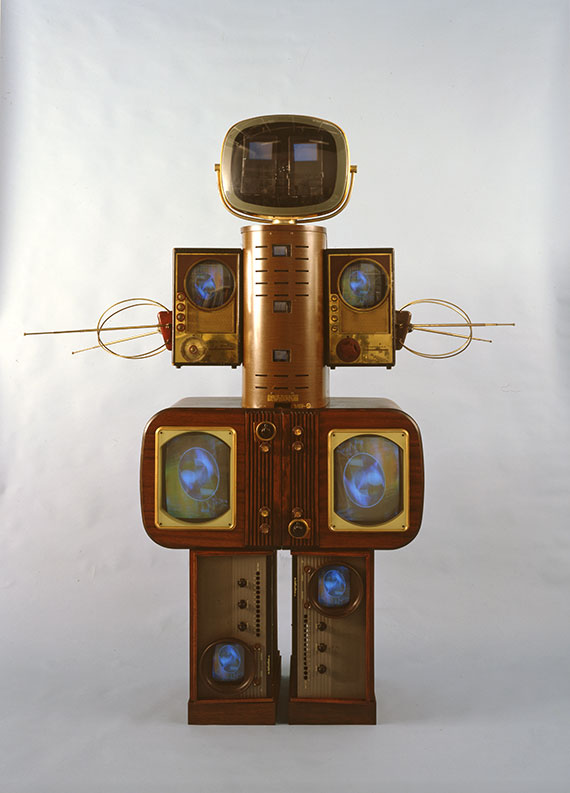 Family of Robot: Mother, 1986. Single-channel video sculpture with vintage television and radio casings and monitors; tuner; liquid crystal display; color;silent. 78 x 61 1/2 x 20 3/4 in. (203 x 156 x 53 cm). Nagoya City Art Museum. Image courtesy of Nagoya City Art Museum.
In the early 1980s, Paik returned to the idea of creating robots. Americans were becoming more comfortable with technology being an integral part of their daily lives: personal computers, camcorders, and video games were beginning to populate homes and by 1983, the first mobile phones were commercially available. Popular television sitcoms such as The Cosby Show (1984–1992) and Family Ties (1982–1989) emphasized traditional family dynamics, while blockbuster movies like The Terminator (1984) raised the dire possibility that manlike cyborgs could one day threaten humanity's existence. It was in this cultural atmosphere that Paik introduced Family of Robot, his series from 1986 that portrays a benign relationship between the family unit and technological advancements. It replicates the extended family hierarchy of Mother, Father, Baby, Grandmother, Grandfather, Aunt, and Uncle, a structure familiar to Paik's traditional Korean upbringing. The robots were fabricated using found household electronics such as vintage radios and television monitors. The female robots were created using monitors with rounded consoles, while their male counterparts were constructed from more angular models. The choice of materials not only distinguishes a familial connection among the robots, but also charts the evolution of technology between the generations. The relative human scale and sense of hand-made assemblage of these sculptures create an immediate physical connection with the viewer's own body. The robots were not given ambulatory functions like their skeletal predecessor Robot K-456; instead their monitors display looped video imagery created by the artist, thereby representing the personality—and thus the individuality—of each robot. Family of Robot initiated Paik's ongoing series of robot sculptures through the 1990s, many of which were based on historical figures, such as Genghis Khan and Li Tai Po, or his friends including John Cage and Merce Cunningham. Also included in this section are a series of robot drawings and toys from Paik's personal collection that he kept for inspiration and which illustrate the artist's interest in popular culture.
Transmissions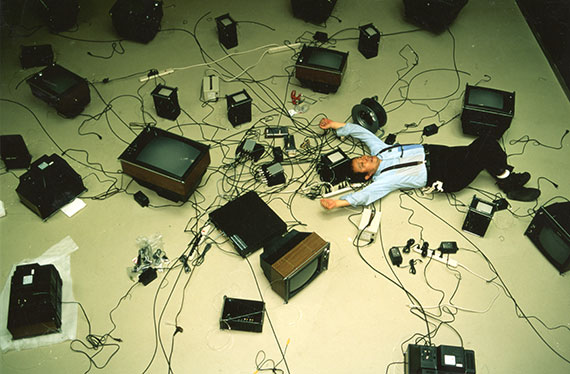 Nam June Paik, Zürich, 1991. © Foto: Timm Rautert. Courtesy Galerie Parrotta Contemporary Art Stuttgart / Berlin
Paik was one of the pioneers of the video movement. His fascination with the transmission and manipulation of video imagery began in 1965 with his purchase of one of the first Sony Portapak video recorders and remained a sustaining and integral aspect of his practice throughout his life. The artist was interested in all facets of video technology and even went so far as to develop a tool called the Paik-Abe Video Synthesizer, in consultation with his technical advisor Shuya Abe. The Paik-Abe Video Synthesizer's new production and postproduction capabilities could transform closed-circuit video broadcasts and prerecorded footage into video collages that ranged in appearance from realistic images to pure, abstract patterns. The synthesizer featured cameras that could feed live-action images while simultaneously accessing computer-generated or film-generated imagery already recorded on videotape or film. These images could be layered, multiplied, or divided within each frame thus allowing temporal and spatial shifts to proliferate over the course of the video. Paik's achievements with the synthesizer helped to revolutionize the technological grammar of video, exemplified in his 1984 video opus Good Morning Mr. Orwell and the video footage incorporated in the sculptures in this gallery.
The works in this selection illustrate the artist's diverse experiments using video technology. Paik's philosophical TV Buddha series, first executed in 1974, playfully expresses the relationship between technology and human spirituality that he tried to balance in his works, and is on view alongside his later TV portraits, which marry the artist's mastery of the video medium with his longstanding interest in using TV sets to create humorous and engaging portraits.
Good Morning Mr. Orwell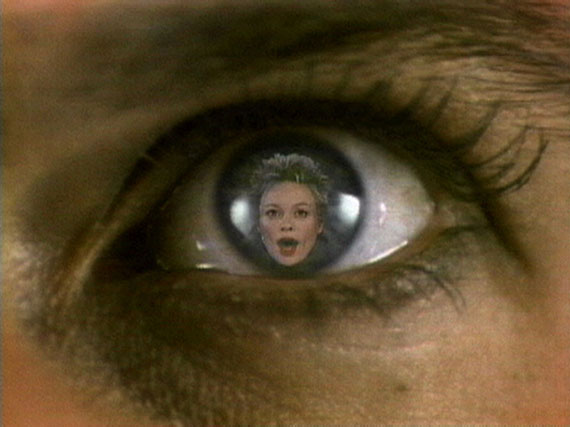 Good Morning Mr. Orwell (film still), 1984. Video; color, sound. 38 minutes. Courtesy Electronic Arts Intermix (EAI), New York
Paik was dedicated to democratizing art and culture through the medium of television, illustrated by his involvement with public broadcast television stations WGBH in Boston and WNET/THIRTEEN in New York in the 1970s and early 1980s. The artist was also interested in exploring satellite technology as a means to disseminate information around the world, as reflected in a 1974 letter to the Rockefeller Foundation. Paik's first major international satellite broadcast took place in 1984 with the production of Good Morning Mr. Orwell. This televised event combined simultaneously broadcast footage of live programs in New York and Paris with video interventions by the artist, using the Paik-Abe Video Synthesizer. The program was framed as a rebuttal to author George Orwell's dystopian view of the effect technological advances would have on future society as described in his novel 1984. The live broadcast, a collaboration between WNET/THIRTEEN in New York and F.R. 3 in Paris, aired on Sunday, January 1, 1984, and was transmitted simultaneously to France, Germany, Korea, the Netherlands, and the United States. Notable artists—Laurie Anderson, Joseph Beuys, John Cage, Philip Glass, Peter Gabriel, Allen Ginsberg, and Robert Rauschenberg, among others—participated in the broadcast to create a dynamic and unprecedented program that transcended time zones and cultures.
Room for Charlotte Moorman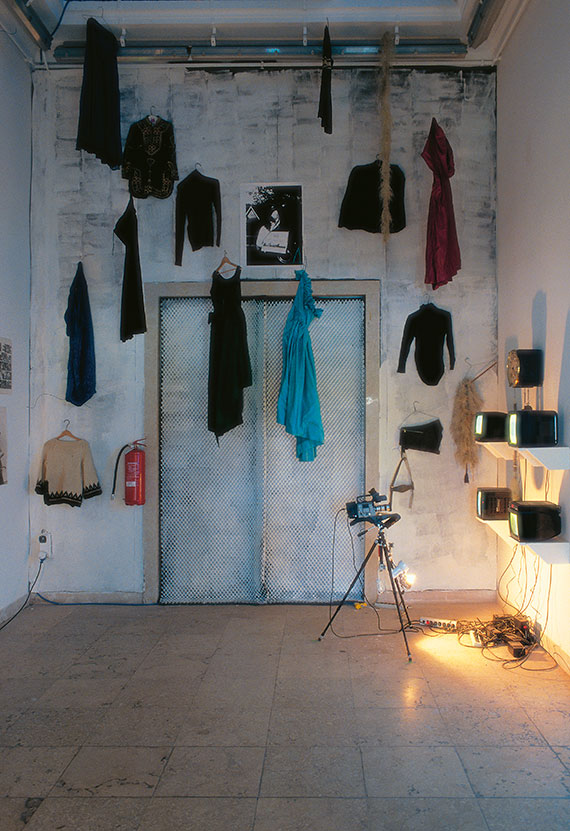 Room for Charlotte Moorman, 1993. Room installation, includes 13 articles of clothing, 7 photographs, and 1 poster. Dimensions variable. Nam June Paik Estate. Photo: Roman Mensing, artdoc.de.
Paik was invited by the German government to represent Germany, alongside fellow artist Hans Haacke, at the 1993 Venice Biennale. The German pavilion went on to win first prize that year. Among his contributions to this project was the installation, Room for Charlotte Moorman, an homage to his longtime muse and collaborator. A Julliard-trained cellist from Little Rock, Arkansas, Moorman became drawn to the avant-garde art scene in New York and quickly moved away from traditional performance. She founded the New York Avant-Garde Festival, a platform for progressive performance art and music, which took place annually from 1963 to 1981. Paik and Moorman's first collaboration occurred on the occasion of Paik's participation in the festival's staging of Karlheinz Stockhausen's Originale (1961) in September of 1964 and the duo continued to work together until her death from cancer at the age of 57. The installation includes a selection of Moorman's clothes, many of which she wore in performances with Paik, along with photos documenting their many projects together.
Videos
Introducing Nam June Paik: Becoming Robot
A Curatorial Conversation About Nam June Paik
Catalogue
This is a preview of the official hardbound catalogue for Nam June Paik: Becoming Robot, edited by Melissa Chiu and Michelle Yun.
Related Programs
MEMBERS-ONLY LECTURE
A Curatorial Conversation About Nam June Paik
Tuesday, September 9 • 6:30 pm
Join Michelle Yun, curator of Nam June Paik: Becoming Robot and of Asia Society's modern and contemporary exhibition program, and John G. Hanhardt, consulting senior curator for film and media arts at the Nam June Paik Archive, Smithsonian American Art Museum, for an in-depth conversation about the work of this visionary artist.
---
FILM PREVIEW
Nam June Paik & TV Lab: License to Create
Dir. Howard Weinberg. USA. 2014
Wednesday, October 22 • 6:30 pm
Between 1972 and 1984, TV Lab at WNET/THIRTEEN, New York, provided the platform for artists to explore television as an art form. This feature documentary charts the creative trajectory of the lab and explores the key role of Nam June Paik in its founding. Q&A with filmmaker.
---
PERFORMANCE
Live Disruption: Electric Imaginary
Saturday, October 25 • 8:00 pm
Electronic and experimental hip hop DJ, musician, and author DJ Spooky (Paul D. Miller) and guest performers explore the philosophy of Nam June Paik through a multimedia program with live music and video projections.
---
FAMILY EVENT
Technology and the Body: A Nam June Paik Workshop for Kids (Ages 6 and up)
Sunday, November 9 • 11:30 am
Asia Society and Beam Center offer a unique workshop for children to create live video art using their faces and hands.
---
FAMILY EVENT
Technology and the Body: A Nam June Paik Workshop for Kids (Ages 11 and up)
Sunday, November 9 • 2:30 pm
Asia Society and Beam Center offer a unique workshop for children to create live video art using their faces and hands.
---
ART TALK
New Media Art: Then and Now
Monday, November 24 • 6:30 pm
Eminent curators, scholars, and collectors discuss the evolution of new media art from its inception to the present and strategies on how best to introduce, present, and engage audiences with this medium.
Moderated by Michelle Yun, Asia Society curator of Nam June Paik: Becoming Robot.
Ticket link, details TK
---
All programs are subject to change. For tickets and the most up-to-date schedule information, visit AsiaSociety.org/NYC or call the box office at 212-517-ASIA (2742) Monday through Friday, 1:00-5:00 pm.
Credits
Major support for Nam June Paik: Becoming Robot comes from the Terra Foundation for American Art.



Additional support is provided by Korea Foundation, The Julis Family Contemporary Art Initiative, Ken Hakuta, Katherine Farley and Jerry Speyer, and W.L.S. Spencer Foundation.



Support for Asia Society Museum is provided by Asia Society Contemporary Art Council, Asia Society Friends of Asian Arts, Arthur Ross Foundation, Sheryl and Charles R. Kaye Endowment for Contemporary Art Exhibitions, Hazen Polsky Foundation, New York State Council on the Arts, and New York City Department of Cultural Affairs.

Asia Society Museum Staff

Melissa Chiu, Museum Director and Senior Vice President, Global Arts and Cultural Programs
Marion Kocot, Museum Deputy Director
Nancy Blume, Head of Museum Education Programs
John Gatti, Installation Manager
Leise Hook, Museum Publication Coordinator
Jennifer Lima, Associate Registrar
Kelly Ma, Manager, Museum Special Initiatives
Clare McGowan, Senior Registrar and Collections Manager
Laili Paksima, Manager, Global Events and Special Initiatives
Nick Pozek, Manager, Museum Digital Strategy
Adriana Proser, John H. Foster Senior Curator for Traditional Asian Art
Donna Saunders, Executive Assistant
Michelle Yun, Senior Curator, Modern and Contemporary Art


Free Audio Guide
Enjoy Asia Society's free audio guide for Nam June Paik: Becoming Robot, just look for the audio icon next to select artworks in the exhibition. Each segment can be downloaded and this guide is also available via the Soundcloud app which is available for free on iTunes and Google Play.

Can't access the guide on your mobile device? Try this alternate mobile link. A Guide by Cell audio tour is also available in the galleries.