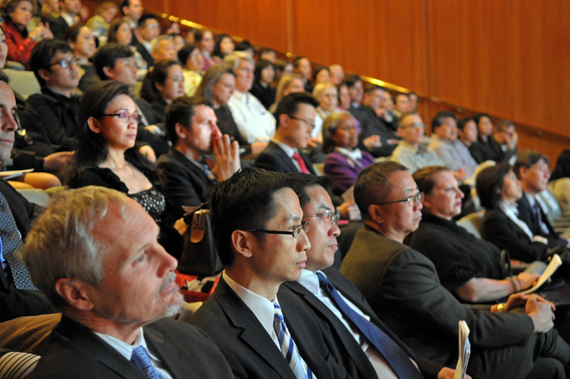 Asia Society offers the corporate community unique access to the issues and leaders shaping Asia and US-Asia economic, political and cultural relations. A Corporate Membership to the Asia Society can provide a powerful company resource — through education, government relations, business networking, brand exposure, diversity leadership, community service, and corporate entertainment.
---
To join Asia Society as a Corporate Member, contact:
Erik Hyman, Membership Manager
Phone: 212-327-9273, Email: [email protected]
---
Corporate Partner ($25,000)
Corporate Member benefits at New York Center for up to 25 designated executives
Logo and web link acknowledged on Asia Society web site
Invitation to join Asia Society's Business Council and Global Talent & Diversity Council
Exclusive invitations to gatherings and small, private briefings with heads of state, key business executives and policy dignitaries, and access to global thought leaders
Speaking opportunities for company executives at Asia Society programs
Priority invitations to designated employees from Asia Society New York
Special admission to Asia Society Galleries (Houston and Hong Kong) for employees
Free admission to Asia Society New York Museum for employees plus one guest, their family members, alumni and retired employees
Member discounts to all Asia Society New York programs
10% discount on all AsiaStore in-store purchases for firm's employees (current locations include Hong Kong, Houston and New York)
Opportunity for your company's Employee Resource Groups to co-host an Asia Society Leo Bar (2nd Friday Corporate Diversity Networking Nights or 3rd Friday LGBT Community Night)
Reciprocal benefits at ten other Asia Society centers worldwide, including Hong Kong, Los Angeles, Manila, Mumbai, San Francisco, Shanghai, Seoul, Sydney, Texas, and Washington, D.C.
---
Global Corporate Leader ($75,000)
Includes all Corporate Partner benefits, plus:
Corporate Membership benefits at 5 -11 Asia Society Centers around the world (AustralAsia-Sydney, China--Shanghai, Hong Kong, India--Mumbai, New York, Northern California-San Francisco, Philippines--Manila, Korea--Seoul, Southern California-Los Angeles, Texas--Houston, Washington, D.C.)
Logo, web link, and company profile acknowledged on the Asia Society web site
Introductions to Ambassadors and other visiting dignitaries
One complimentary ticket to all Asia Society Centers' Annual Dinners
Private dinner for 12 employees or guests with Asia Society's President
Invitation to join Asia Society's Business Council and Global Talent & Diversity Council
Exclusive invitations to gatherings and small, private briefings with heads of state, key business executives and policy dignitaries, and access to global thought leaders
Speaking opportunities for company executives at Asia Society's programs across our global network
Free admission to Asia Society New York Museum for employees plus one guest, their family members, alumni and retired employees
Special admission to Asia Society Galleries (Houston and Hong Kong) for employees
Priority invitations to designated employees from Asia Society Centers
Member discounts to all Asia Society programs
10% discount on all AsiaStore in-store purchases for firm's employees (current locations include Hong Kong, Houston and New York)
Opportunity for your company's Employee Resource Groups to co-host an Asia Society Leo Bar (2nd Friday Corporate Diversity Networking Nights or 3rd Friday LGBT Community Night)