Exceptional Space Rental Opportunities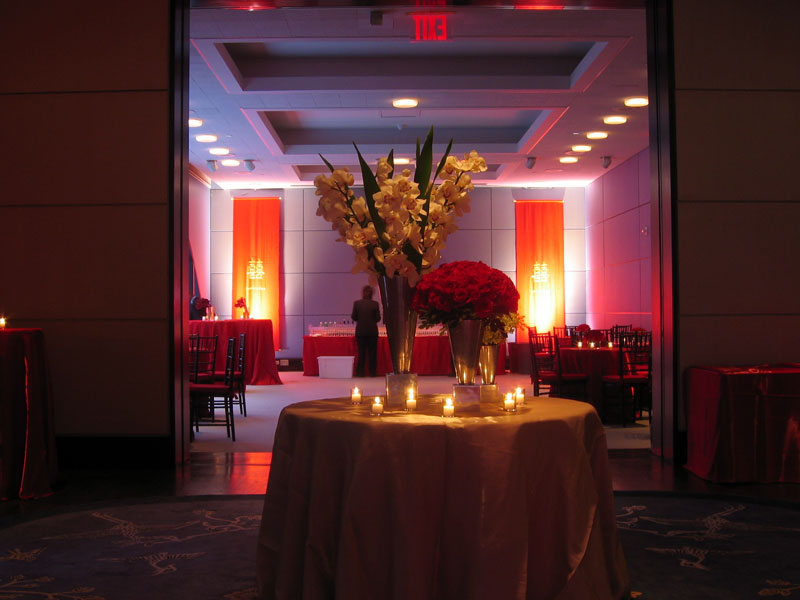 An Elegant Opportunity in New York City
The Asia Society and Museum is an exceptional space that combines world-class art exhibitions, stunning architecture, and an unparalleled atmosphere — making it one of New York City's premier event spaces. In 2001, the Society underwent a dramatic renovation which doubled the public and gallery areas and significantly improved the conference, educational and performance facilities. The spaces can be adapted to accommodate a wide range of events. Asia Society and Museum is the ideal location for:
Corporate breakfasts and luncheons
Executive retreats
Cocktail receptions and buffets
Business meetings
Elegant seated dinners
Private celebrations
Wedding receptions
Private screenings
Lectures
Download the Space Rental Brochure
Download the Auditorium Floor Plan
---
Amenities
The Asia Society presents extraordinary exhibitions of traditional and contemporary Asian art, and is a premiere showcase for works by a growing number of Asian American visual and performing artists.
Special tours and viewing of gallery exhibitions, including the renowned Mr. and Mrs. John D. Rockefeller 3rd Collection of Art, may be arranged for guests.
Abundant natural light and relaxed elegant spaces throughout the Asia Society make for a serene and special environment.
AsiaStore, featuring books and unique gifts from all over Asia, can remain open for a special shopping opportunity for your guests.
The newly renovated building has state-of-the-art audio and visual equipment available for meetings.
Convenient parking is available in the neighborhood.
---
Room Descriptions
Asia Society and Museum on Park Avenue at 70th Street offers you style and elegance for your important events. The building's handsome granite exterior, inviting modern interior and prestigious location, along with its state-of-the-art facilities, make the Asia Society and Museum ideal for conferences, receptions and other special events. The original building, designed by architect Edward Larrabee Barnes in 1981, underwent an extensive award-winning renovation by Bartholomew Voorsanger in 2001.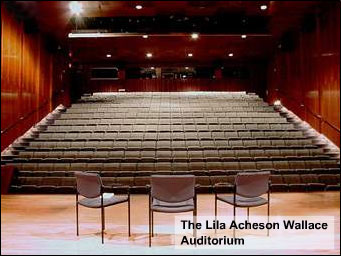 Lila Acheson Wallace Auditorium
This cherry wood auditorium and stage facility with green room and dressing room seats 258 people. It is fully equipped with stage lighting and the latest equipment for all of your audio-visual needs, including 35 mm and 16 mm film presentations. With an adjoining reception hall, the Wallace Auditorium is an excellent location for meetings, product launches and conferences.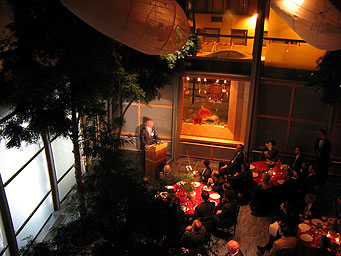 Garden Court
The soaring glass roof on the Garden Court, with its radiating beams, is like an open parasol. The blue-green marble floor resembles a cool pool of water, in which weeping podocarpus trees grow. Fully-equipped with its own kitchen and audiovisual facilities, the Garden Court is a beautiful setting for almost any type of event, from elegant receptions and dinners to artistic salons and corporate soirées. It comfortably accommodates 130 persons, with spillover space in the visitor center for an additional 50 persons.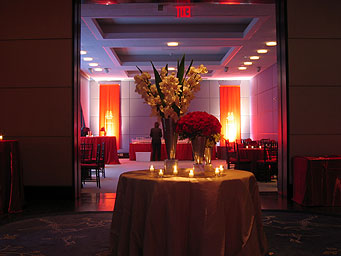 Conference and Banquet Suite
The three large rooms that comprise the penthouse — the Luce Room, the Rose Room and the Rose Conference Hall — are separated by sliding pocket doors and can be used together or subdivided to suit your needs. Together they can accommodate 200 persons for receptions and banquets. Included in the rental is the kitchen and the Gamble Room, a private meeting room for 12 people, located on the same floor. The suite is equipped with high-tech projection and audio equipment — including ceiling-mounted projection screens — to accommodate all of your presentation needs. Audio-visual presentations can be linked together throughout the Conference and Banquet Suite.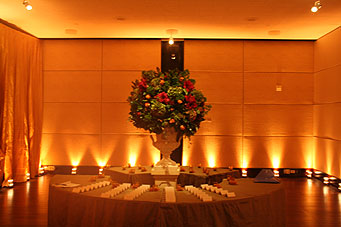 The Mr. And Mrs. Frederick P. Rose Room
The Rose Room serves as both the entrance and reception room of the suite. The walls are covered in golden silk, which complements the mahogany parquet floor and a custom carpet inspired by the Mr. and Mrs. John D. Rockefeller 3rd Collection of Asian Art.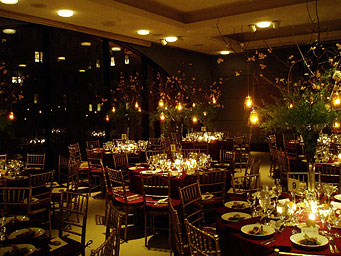 The Rose Conference Hall
The dominant feature of this room is the 42-foot wide arched window overlooking Park Avenue. With rich blue silk-covered walls, this is a serene setting for any event. The Rose Conference Hall is suitable for 100-person luncheons or dinners.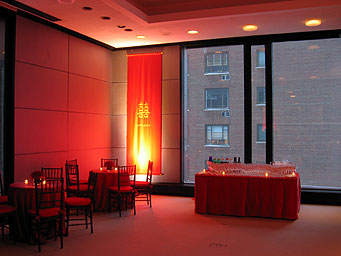 The Henry Luce Room
Overlooking the Upper East Side and midtown Manhattan skyline, the Luce Room can be used as a separate break-out room for conferences or as an additional dining area for larger banquets. The Luce Room can accommodate 50 persons for meals.
The Sidney D. Gamble Room
This private conference room, set off from the main suite, is perfect for small meetings. Furnished with a black lacquer conference table that seats 12, the Gamble Room has audio-visual capabilities.
---
Contact Information
For all space rental inquiries, and further information, please call:
Anne Godshall
Director of Events 
Phone: 212-327-9365
Email: agodshall@asiasociety.org
Catering through Great Performances.
Download the Space Rental Brochure