Co-Chairs
Ronnie C. Chan

Mr. Ronnie C. Chan is Chairman of Hang Lung Group Limited and its subsidiary Hang Lung Properties Limited. Both are publicly listed companies in Hong Kong, dealing in real estate development, investment and management. Founded in 1960, the Group has been expanding into mainland China since 1992. Following successes in Shanghai, since 2005 Hang Lung has been investing $11 billion and building a number of world-class commercial complexes in major Chinese cities including Tianjin, Shenyang, Jinan, Wuxi, Dalian, Kunming and Wuhan. Mr. Chan also co-founded the privately held Morningside group which, in the past 31 years, has owned and managed businesses in manufacturing, public transport operations, outdoor advertising, media, healthcare, online game operators, high-tech and biotech investments, developmental capital investments and other venture capital investments around the world. In 1997, he helped found the Calgary, Canada-based Morningside Music Bridge for young classical musicians. In addition, Mr. Chan is actively involved with many other non-profits, philanthropic endeavors, and educational organizations. He is Chairman of the Executive Committees of One Country Two Systems Research Institute and of Better Hong Kong Foundation. He founded and chairs China Heritage Fund, is a co-founding director of The Forbidden City Cultural Heritage Conservation Foundation, Beijing, and is a former Vice President and former Advisor of China Development Research Foundation in Beijing. Internationally, Mr. Chan is Co-Chair of Asia Society and Chairman of its Hong Kong Center, a Director of the Board of Peterson Institute for International Economics and a member of Council on Foreign Relations, National Committee on United States-China Relations, and Committee of 100. He is Founding Chairman Emeritus of Asia Business Council, a former Chairman of Hong Kong-United States Business Council, and a former member of the governing board of World Economic Forum. He serves or has served on the governing or advisory bodies of several think tanks and universities, including Tsinghua University, Fudan University, University of Southern California, East-West Center, Pacific Council on International Policy, Eisenhower Fellowships, and The Maureen and Mike Mansfield Foundation. Mr. Chan is a frequent speaker at international conferences and has published numerous articles in International Herald Tribune, Financial Times, Newsweek, Fortune, Asian Wall Street Journal, Far Eastern Economic Review, and the Japan Times.
Read more about our Co-Chairs
Video: Meet our first Co-Chairs
Henrietta H. Fore

Ms. Fore is Chairman and CEO of Holsman International, a
manufacturing, and investment company. She serves on the Boards of Essilor International SA, Exxon Mobil Corporation, General Mills, and Theravance Biopharma Inc. Ms. Fore is Global Co-Chair of Asia Society and Chair of the Middle East Investment Initiative. Ms. Fore is a Trustee of the Aspen Institute and the Center for Strategic and International Studies. She also serves on the Boards of Committee Encouraging Corporate Philanthropy, Center for Global Development, and Initiative for Global Development. She is a member of the American Academy of Diplomacy, American Leadership for a WaterSecure World Campaign Cabinet, Chief Executives Organization, Committee of 200, Council on Foreign Relations, Economic Club of New York, International Women's Forum, Wellesley College Business Leadership Council, WomenCorporateDirectors, and YPO/WPO. From 2009 to 2015, Ms. Fore
served as Co-Chair of WomenCorporateDirectors. Ms. Fore served as Administrator of USAID and Director of US Foreign Assistance, holding the equivalent rank as Deputy Secretary of State. She served on the Boards of the Overseas Private Investment Corporation, and the Millennium Challenge Corporation.
Prior, Ms. Fore served as Under Secretary of State for Management, the Chief Operating Officer for the Department of State. She served as 37th Director of the US Mint in the Department of Treasury, as President of the International Mint Directors. Ms. Fore has a BA from Wellesley College and a MS from University of Northern Colorado.
Ms. Fore is married and lives in Washington, DC, Nevada, and California. She is a keen sailor and collector of antique Holsman Automobiles. She is also a lemon and avocado rancher in Santa Barbara, CA.
---

Trustees

Nicolas Aguzin

Edward R. Allen III

Isaac Applbaum

Francisco Aristeguieta

Joseph Y. Bae
Nicolas Berggruen

Hamid Biglari

Stephen Bird

J. Frank Brown

Michael S. Chae

Chan Heng Chee

Ronnie C. Chan

Albert Y. Chao

Purnendu Chatterjee

Chen Guoqing

Duncan Clark

Betsy Z. Cohen

Henry Cornell

Beth Dozoretz

Anne B. Ehrenkranz
J. Michael Evans

Renée Fleming

Henrietta H. Fore

Stephanie T. Foster

Jamshyd N. Godrej

Piyush Gupta

Toyoo Gyohten

Doris Magsaysay Ho

Omar Ishrak

Mitchell R. Julis

Lewis B. Kaden

K.S. Kalsi

Adrian T. Keller

Willem Kooyker

Chong-Moon Lee

Lee Hong-Koo

Ido Leffler

Strive Masiyiwa

Harold McGraw III

Thomas E. McLain

Asheet Mehta

David Nazarian

John D. Negroponte

Harold J. Newman

Thomas R. Nides

Robert Niehaus

Gaoning Ning

Indra K. Nooyi

Richard L. Plepler

Charles Rockefeller

James E. Rogers

Nicolas Rohatyn

Charlie Rose

Kevin Rudd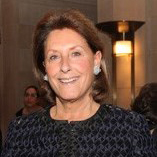 Denise Saul

Stephen A. Schwarzman

Josette M. Sheeran

Neil Shen

Dong-Bin Shin

Warwick L. Smith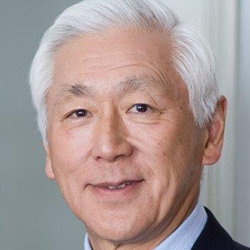 Oscar L. Tang

Anthony J. Walton

Kenneth P. Wilcox

Lulu C. Wang

Zhang Xin

Fernando Zobel de Ayala
---
Committee Chairs
Executive Committee
Ronnie C. Chan, Co-Chair
Henrietta H. Fore, Co-Chair
Vice Chairs of the Board
Chan Heng-Chee
Betsy Z. Cohen
Lewis B. Kaden
Lulu C. Wang
Nominating and Governance Committee
Lewis B. Kaden
Finance and Budget Committee
Robert Niehaus
Investment Committee
Harold J. Newman
Development Committee
Denise Saul
Compensation Committee
J. Frank Brown
Audit Committee
Hamid Biglari
Global Centers Committee
Charles C. Foster, Co-Chair
Warwick L. Smith, Co-Chair
Strategic Program Review Committee
Betsy Z. Cohen
---
Chair Emeriti
Maurice R. Greenberg (1995-2002)
Charles R. Kaye (2009-2011)
---
Honorary Life Trustees
Peter A. Aron
Lisina M. Hoch
Winthrop R. Munyan
Cynthia Hazen Polsky
John D. Rockefeller IV
Washington SyCip
---
Trustees Emeriti
Hushang Ansary
Tom Brokaw
Pei-Yuan Chia
Gina Lin Chu
Jerome A. Cohen
Rohit M. Desai
Dinyar Devitre
Inger McCabe Elliott
John H. Foster
Patrick A. Gerschel
Carol Gluck, Co-Chair
G.F. Robert Hanke
James B. Hunt, Jr.
Thomas S. Johnson
Charles R. Kaye
Leo KoGuan
Linda Yuen-Ching Lim
Susan E. Lynch
Vikram Malhotra
Clare Tweedy McMorris
Gita Mehta
Victor J. Menezes, Co-Chair
Robert Miller
Hugh M. Morgan
John D. Negroponte
Ruth Newman
Nafis Sadik
Carl Spielvogel
Judith Ogden Thomson
Pote Videt
John S. Wadsworth, Jr.
Clifton R. Wharton, Jr.
Dolores Wharton
Cynthia Whitehead
James D. Wolfensohn
Alfonso T. Yuchengco
---
Presidents Emeriti
Vishakha N. Desai
Robert B. Oxnam
Nicholas Platt
---
Past Chairs
Grayson L. Kirk (1956-1964)
John D. Rockefeller 3rd (1964-1974)
George W. Ball (1974-1982)
Roy M. Huffington (1983-1989)
John C. Whitehead (1989-1995)
Richard C. Holbrooke (2002-2009)