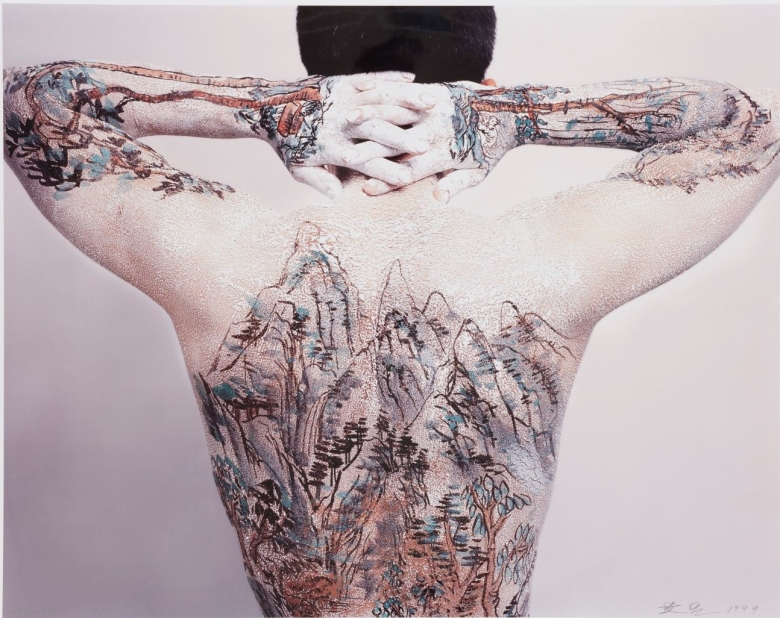 Huang Yan (b. 1966). Chinese Shan-Shui (landscape)—Tattoo, 1999. Thirteen chromogenic prints. Each: H. 47 1/4 x W. 59 1/16 in. (120 x 150 cm). Asia Society, New York: Gift of Ethan Cohen in honor of Professor Jerome A. Cohen and Joan Lebold Cohen, 2016.1.1-13. Photography by Synthescape © Huang Yan
Wendy Ikemoto Program at New-York Historical Society Museum
Wendy N. E. Ikemoto, Ph.D., curator of American art at the New-York Historical Society Museum, who is also the curator of the Asia Society Triennial collateral exhibition, Dreaming Together: New-York Historical Society and Asia Society Museum, was featured in the virtual program "The Repeating Past: Thomas Cole and The Course of Empire." Dr. Ikemoto unwrapped the history and significance of the timely allegory, Cole's monumental, nineteenth-century, five-painting series The Course of Empire, where Cole warned the young United States of the dangers of unchecked ambition.
Dreaming Together: New-York Historical Society and Asia Society Museum marks the first major collaboration between the two organizations, heralding the Asia Society Triennial.
Asia Society Museum and New-York Historical Society have joined together to mount their first major collaborative exhibition in which selections from New-York Historical's American art collection and Asia Society's contemporary Asian art collection appear side-by-side. Each collection provides a fresh vantage point from which to see the other anew. More than 35 interwoven works generate dialogue about urban and natural environments, protest and rebellion, individuals and identities, and borders. Seen together, works from these strikingly different collections speak to the possibilities unleashed when people, cultures, and institutions dream in tandem.
Highlights include the Canal Street diptych (1992) from Martin Wong's Chinatown series, a pair of 164-foot hanging photographic scrolls by Dinh Q. Lê featuring abstractions of the World Trade Center towers (2016), and a dystopic video narrative of war and destruction by Shiva Ahmadi (2014).
Dreaming Together: New-York Historical Society and Asia Society Museum will be on view at New-York Historical Society from October 23, 2020–September 2021
Related Updates
Event Recap
Fragility Etudes
Event Recap
An Artist Talk