Realizing the Strategic Partnership
"If the first summit in Washington arrested the recent drift in the ties between the two nations, Obama's Delhi sojourn is expected to help advance them in a decisive manner," writes C. Raja Mohan of the Observer Research Foundation.
January 22, 2015
C. Raja Mohan is Distinguished Fellow at the Observer Research Foundation; Adjunct Professor of South Asian Studies at the Rajaratnam School of International Studies, Nanyang Technological University, Singapore; and a non-resident Senior Associate at the Carnegie Endowment for International Peace. Follow him on Twitter: @MohanCRaja.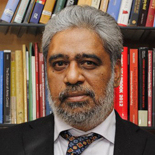 President Barack Obama's visit to India to participate as the chief guest in the annual Republic Day celebrations is rich in symbolism. That it is the first time India extended this honor to an American President underlines the deep mutual discomfort that has long hobbled the relationship between the world's largest democracies. The surprising agreement for a second summit meeting between President Obama and Prime Minister Narendra Modi in less than six months reveals the new dynamism that has begun to animate the bilateral relationship. If the first summit last September in Washington, barely three months after Modi's election as India's Prime Minister, arrested the recent drift in the ties between the two nations, Obama's Delhi sojourn is expected to help advance them in a decisive manner.
Besides important issues like climate change, trade, investment, and intellectual property rights, India and the U.S. are focusing on three important areas of strategic cooperation. The first is the effort to complete the implementation of the historic civil nuclear initiative unveiled in 2005 and formalized in 2008. The two sides are hoping to make progress on the vexed issues of nuclear liability that have prevented American companies from participating in India's atomic power program — the question of administrative arrangements for monitoring the sensitive parts of the civilian nuclear cycle, and facilitating India's early membership of the global non-proliferation regimes such as the Nuclear Suppliers Group.
Second, the two sides are likely to renew the ten-year defense framework agreement signed in 2005, take some concrete steps to promote co-development and co-production of weapons systems in India, and generate better political understanding on how to coordinate their separate efforts to build a stable structure of peace and security in the vast Indo-Pacific region.
Third, Obama and Modi are expected to broaden and deepen their current cooperation on combating terrorism in the Subcontinent and beyond. Taken together, substantive progress on these three fronts is bound to inject some genuine substance into the strategic partnership that the two sides proclaimed nearly a decade ago but had struggled to translate into reality.
Next: Harsh V. Pant, King's College London
Previous: Michael Kugelman, Woodrow Wilson International Center for Scholars
Other viewpoints in this series