Nobuyoshi Sakajiri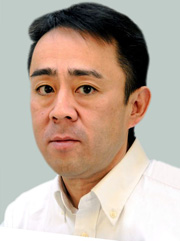 Nobuyoshi Sakajiri was a 2009 Bernard Schwartz Fellow based at the Asia Society's Washington, D.C. Center, where his work focused on Northeast Asian security and China's domestic economic, political, and social issues in conjunction with global affairs. He has been a senior diplomatic correspondent at the China General Bureau of Asahi Shimbun since September 2005. He joined the Asahi Shimbun in 1989. In 1994 he was selected to participate in the Asahi Shimbun's foreign-language training program. After a year of Chinese studies at the University of Sichuan, China, he was assigned to cover Hong Kong from 1996 to 1998, before and after its handover to China. In Tokyo, Mr. Sakajiri served as a staff reporter at the Foreign News Department and for two years also covered social security matters in Japan.
In Spring 2001, he was selected as a Jefferson Fellow, participating in an exchange of US and Asia-Pacific journalists in Honolulu, Hawaii sponsored by The East-West Center. From April 2002 to August 2005, he served as a diplomatic correspondent in Washington, DC and mainly covered the White House, the State Department, the Defense Department, and Capitol Hill. During his tenure there he filed exclusive stories on the North Korean nuclear crisis, US-Sino relations, and US-Japan relations on the front page of Asahi Shimbun, and his stories have been republished by international media including the New York Times, the Washington Post, and CNN. As a correspondent in Washington, DC and Beijing, he has covered all the rounds of the six-party talks in Beijing since August 2003.
In 2007, Mr. Sakajiri received the Vaughn Ueda Prize, which is regarded as Japan's Pulitzer Prize, for his reporting from Washington, DC and Beijing. He is the co-author of the book Honryu Chugoku—'The Torrential China' (Asahi Shimbun Press, 1998), which appeared daily on the front page of the Asahi Shimbun from 1996 to 1998, Eagle and the Dragon: Unknown Relations between the United States and China, (Heibonsha, 2001), and Chasing Nuclear: Terror and the World Shaken by the Nuclear Black Market (Asahi Shimbun Press, 2005).
Mr. Sakajiri graduated from Sophia University, Tokyo with a B.A. in Portuguese in 1989.