U.S.-China Investment at Turning Point
Launch of new Asia Society Special Report
China's investment in the U.S. is taking off and now targeting high tech sectors, according to a new Asia Society/Rhodium Group report. Annual investment has topped $1 billion since 2010, and 2014 is poised to be a breakout year, with over $6 billion in transactions announced in the first quarter alone. According to report co-author Daniel Rosen of the Rhodium Group, "there's no reason these numbers shouldn't add a zero in the next few years."
Based on original and comprehensive data, the report offers common ground for the debate, so ideological and acrimonious, over the role of Chinese investment in the American economy.
Beyond high-tech alone, 2013 was a watershed year for investment between the two countries. For the first time ever, overall Chinese direct investment into the U.S. exceeded U.S. direct investment into China. This structural shift promises to have far-reaching implications, bringing new pressures to bear on both governments to open their borders and move toward concluding a bilateral trade and investment treaty.
Driving the foreign investment boom are structural changes in China's economy, as wages, land prices, and other input costs increase and businesses push into higher-value-added sectors, as controls on outward capital flows loosen, and as the Chinese government aggressively promotes "strategic sectors" as the key to future development.
In terms of value, half of China's U.S. tech investments to date have been in just three sectors–IT, software, and automotive. California's Silicon Valley is a leading draw, but New York, North Carolina, and Michigan have also been popular destinations. These investments have already created or sustained more than 25,000 jobs in the U.S. and generate $350 million in R&D expenditures in the U.S. each year, on par with R&D from Korea in the U.S.
Three-quarters of high-tech investments are being made by private Chinese firms, reflecting their growing sophistication, confidence, and opportunity to invest overseas. Leading investors are all working with big four firms and large, established banks to facilitate market entry, said Deloitte's Vivien Wang.
Despite its sometimes-controversial reputation, speakers agreed that CFIUS, the Committee on Foreign Investment in the United States, has done a good job screening Chinese investments for potential threats to national security and has not suffered from politicization or mission creep.
Panelists differed over implications of Chinese high-tech investment and over how U.S. policy should respond. According to Rosen, Chinese investment could provide "ballast" helping to stabilize U.S.-China relations, while the Asia Society's Orville Schell said could serve as a "tripwire" provoking American anxiety and fear over Chinese power. Either way, the current climate puts "tremendous pressure" on Chinese investors "to do it right," said Schell, and there have been many missteps, starting with the CNOOC's spectacularly unsuccessful bid for Unocal in 2005.
Ken Wilcox of Silicon Valley Bank pointed out that China continues to discriminate against foreign banks and other firms and said that the U.S. should insist on reciprocity, while Rosen argued that this approach would fail – this is "China's game", he said – and lacks basis in U.S. law. Other points of contention included whether Chinese firms have the management wherewithal to move from a more freewheeling atmosphere in China into more rule-bound, litigious, transparent systems as in the U.S. and whether outbound investment is motivated more by return rates than by long-term strategic considerations.
At least one panelist took these issues in stride. Perfect World Entertainment's Alan Chen said that he's actually found it easier to set up a business here than in China, given the more onerous regulatory hurdles the firm faces in China. But it is true, he added, the demands of regulatory compliance and IP law in the U.S. are unfamiliar to many new investors and the costs can be severe. "If you run into issues, see you in court," said Chen.
The report was made possible through the support of Deloitte Touche Tohmatsu Limited, Silicon Valley Bank, Jack Wadsworth, Wells Fargo, Blank Rome LLP, and East West Bank. For additional information, visit AsiaSociety.org/ChinaHiTechInvestment
---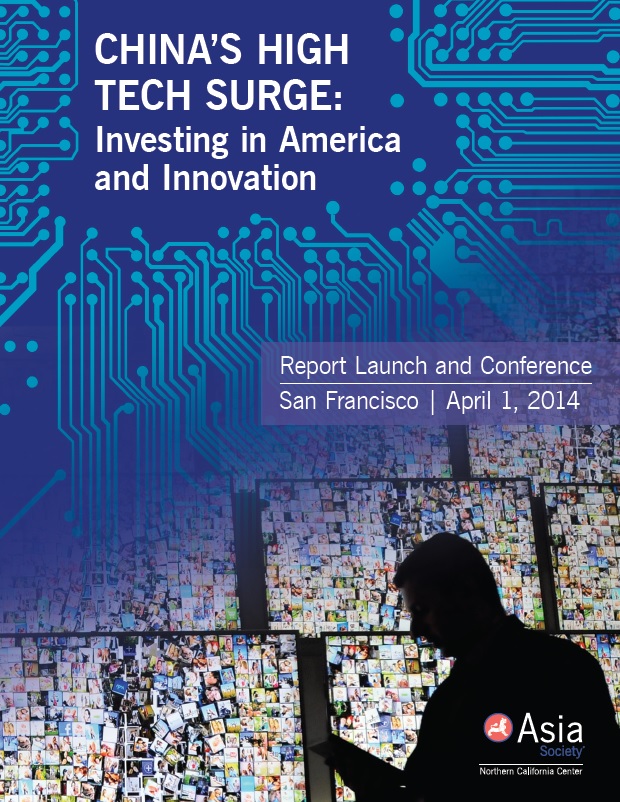 Download the conference program here.