Interview: Masashi Oka on Baseball, Community and Leadership
On May 11, Asia Society Northern California (ASNC) will honor Masashi Oka, President and CEO of Union Bank, at its 9th Annual Dinner at the Ritz-Carlton San Francisco. Born in Japan, Oka lived as a young boy in New York City, where he went to public school before returning to Japan to complete his education. He later came back to the U.S. and received a Master of Law Degree in 1986 from the University of Michigan Law School. Today, Oka oversees the second-largest California-based bank, Union Bank, which is owned by Japan's largest bank, the Bank of Tokyo-Mitsubishi UFJ and part of Mitsubishi UFJ, the world's second-largest financial group.
The following is an excerpt from a video interview with Oka conducted by Sydnie Kohara, an ASNC Board Member and former CNBC and CBS 5 Anchor. Oka provides a glimpse into what it is like to attend public school in New York, fall in love with baseball, and to lead a global company. The full video will be shown at the May 11 dinner. ASNC is also honoring California Governor Jerry Brown, who will deliver a keynote address focusing on California's efforts to attract greater investment from China and the benefits this investment brings to the state. Click here for more details on ASNC's Annual Dinner.
What was it like when you first came to the U.S.?
When I was 5 years old, I moved to New York City with my family because of my father's work with Mitsubishi Corporation. I went to kindergarten and grade school up to the fourth grade at P.S. 24 in the Bronx. I was the only Japanese in my class and didn't know a word of English, so it was not easy at first. But all the teachers were kind and the classmates were friendly. I had a good friend, Bob, who was a classmate who lived in the same apartment [building]. We would go to baseball games and eat at each other's homes. He was very helpful because he would teach me a lot of things, like slang my parents wouldn't understand. I taught him some Japanese.
And by the 4th grade?
I was adapting very well. I was elected class president, was enjoying sports, as well as studying.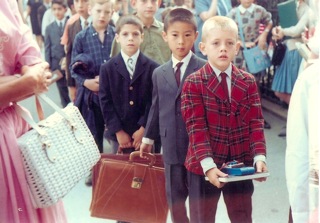 Why did you carry such a big briefcase to school when you were a kid? (see photo)
I don't know. Maybe that was the fashion at the time. It was pretty heavy and [my classmates and I] carried around our baseball cards. I was a big baseball fan and always had a lot of baseball cards so I could trade with my friends.
Looking back how did your experience—of being forced at an early age to adapt to a new land, language, and culture — affect you?
I learned the importance of communicating and interacting with people; of not being shy about asking questions or presenting a point of view, which is not necessarily easy for some Japanese. I also learned that despite cultural differences, people everywhere are basically the same. They want to be heard and respected, appreciate support and recognition, and want to be treated fairly. If you meet these needs, you will be able to bring out their best, no matter where they're from.
What were your greatest barriers to overcome?
I would rather not use the word "barrier," but instead use the word "hurdle." In life and work you always have things to overcome. Look at the current situation banks are in. Unfortunately public opinion is against the banks and we have to overcome this. Part of this is because of economic reasons and recent poor practices by financial institutions, which has led to public skepticism of banks. I think the way to overcome this is to keep to high standards and be a responsible bank. [This includes] supporting the community, caring about customers, remembering we play a very important role in the economy and in society, and be proud of the work that we do.
Your company website states that "Being different from our competitors is how we have succeeded and how we will continue to succeed." Describe how Union Bank is different from other banks.
We think of ourselves as a community bank with big bank resources. We support our communities, care about our customers, and build long-term relationships with them.
What's one of the more enjoyable aspects of being a CEO?
Since being CEO, I've had the opportunity to throw the first pitch [at three baseball games]. The first two I was able to throw a strike. Unfortunately on the third I got too ambitious and tried to throw a fastball. It hit the dirt and that was a bit embarrassing because my colleagues were there to witness it. There's pressure there, but it's fun.
What are your thoughts on being honored by the Asia Society?
It's really a tribute to Union Bank and I feel very honored. But it's a tribute to Union Bank, not me. I just happen to be CEO.
Tickets are still available for ASNC's Ninth Annual Dinner! Click here to register!