How Global Competence Has Boosted Japan's Education System
By Matt Schiavenza
September 22, 2017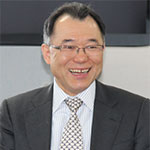 Shinichi Yamanaka was a visiting fellow at the Center for Global Education at Asia Society in summer 2017. Yamanaka is the former Ambassador Extraordinary and Plenipotentiary to Bulgaria (2015–2016) and the former Vice Minister of Education, Culture, Sports, Science and Technology (MEXT) (2013–2015). While he was here, Asia Society Senior Content Manager Matt Schiavenza sat down with Yamanaka to discuss Japan's education system and his research on 21st-century skills.
When did you first begin your career in education?
I entered the Ministry of Education in 1977 — 40 years ago now. In those days in Japan, when a person started to work for a ministry, company, or organization, they tended to stay there until retirement — and so did I until my retirement two years ago.
How would you describe the state of global education in Japan when you started? Was there much emphasis on global education there at the time?
In the '50s, '60s, and '70s, Japan was still recovering from the Second World War, but by the '80s the country had grown a lot. When I first came to the United States in 1983, there were so many books in bookstores (back when there were a lot of bookstores) extolling Japan as a rising power and heaping a lot of praise on the Japanese economy.
[Then-Japanese Prime Minister Yasuhiro] Nakasone established a committee that proposed drastic reforms to education in Japan. Until the '80s, Japan was trying to catch up to the developed economies like the United States and those in Western Europe, and those countries' education systems were models for ours. But by the '80s, Japan had become the second-largest economy in the world. Americans were importing Japanese cameras, televisions, and cars. So the education committee proposed three changes for Japan to prepare for the 21st century: globalization, informatization, and lifelong learning. The goal was for young Japanese people to compete in a globalized society.
What have been the effects of these changes?
There have been significant changes to how the testing system works in Japan, for one. And the Japanese education system has also introduced a lot of flexibility into the system; not just for schools and principals, but also for the teachers themselves.
One major change has been the emphasis on information technology. There's still long ways to go, and we're still trying to cultivate global competencies in Japanese students.
What else is being done to improve global education in Japan in the 21st century?
We introduced "integrity" as a study course. It's a course just like mathematics or history and is compulsory not only for elementary school students but also for those in junior and senior high school.
We also did a major project in conjunction with the OECD in 2012. After the 2011 earthquake and tsunami, the director-general of the OECD visited Japan and said he'd like to support the country. He invited 100 Japanese students from the Tohoku area affected by the tsunami to demonstrate the revitalization of the area. Two years later, they held an event in Paris and 150,000 people came. For the students, it turned their thinking of education from a passive to an active activity. And from there, we launched the Japanese Innovative School Network, in which global competency is included.
Why do you think global competence is so vital?
There's a metaphor that explains it well. In 2012, Shinya Yamanaka won the Nobel Prize for physiology. He discovered a certain type of pluripotential cell; that is, a cell that, when introduced into genes, can differentiate into nearly any part of the body: from the skin to the eyes, to the heart.
This is what I think global competence can do. There are many ways to cultivate critical thinking and curiosity and other 21st-century competencies. One is emphasizing project-based learning. One is bringing in outside experts into classroom settings. These changes can be difficult for teachers to implement, but they can be very effective.