Why Strengthening Institutions Is the Key to Preserving Peace in Asia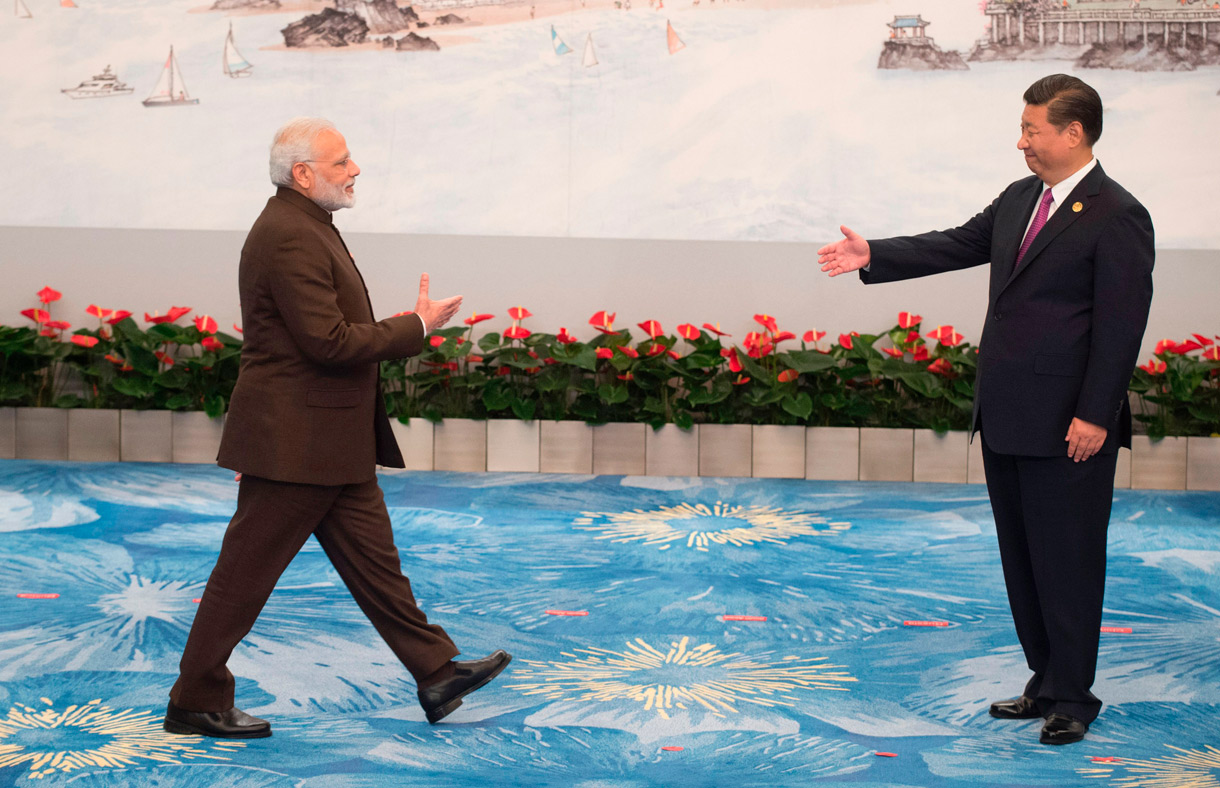 Chinese President Xi Jinping (R) welcomes Indian Prime Minister Narendra Modi for a banquet dinner during the BRICS Summit in Xiamen, Fujian province on September 4, 2017. (Fred Dufour/AFP/Getty Images)
North Korea's sixth nuclear test on September 3 attracted widespread international condemnation. But it's hardly the only headache to emanate from Asia in recent months. Over the summer, a border crisis in the Himalayas pushed tensions between China and India higher than they've been in years. Meanwhile, in the southern Philippines, a months-long siege in Marawi has raised concerns that ISIS may be establishing a new beachhead in Southeast Asia.
These crises are occurring at a time of deep uncertainty in the region. The rise of new powers, the widespread proliferation of military and dual-use technologies, festering historical animosities, and ongoing religious and ethnic tensions have contributed to growing concerns that Asia's decades of relative calm — a period known as the "Long Peace" — may soon be coming to an end.
Can Asia maintain the peace and stability that has fueled a half-century of unprecedented growth and development? And if so, how?
Over the past two years, the Asia Society Policy Institute has examined these simple, but important, questions through its Independent Commission on Regional Security Architecture — a group comprising high-level experts and former diplomats from across eight Asia-Pacific countries. In a new report published this morning, the commission argues that there is a clear path forward: strengthening regional institutions.
Admittedly, institutionalism isn't a sexy or glamorous subject. Nationalist movements deeply suspicious of multilateralism have roiled politics across the world, epitomized by last November's surprise election of Donald Trump as U.S. president. But as Trump prepares for an upcoming visit to Asia, the role of old-fashioned regional institutions has never been more necessary. Without them, Asian countries risk allowing strategic differences to overwhelm their common interests.
Regional institutions are crucial for a number of reasons. For one, several of Asia's most vexing problems — climate change, nuclear proliferation, cyber threats, and violent extremism, to name a few — transcend national borders. Institutions also provide a forum for countries to build commonly accepted norms, protocols, and procedures.
The Asia-Pacific region already has multiple institutions. But the ASPI report argues that they need to be stronger and better connected. It is no longer enough that the East Asia Summit, for instance, simply serves as a venue for leaders to speak candidly and informally — empowering the summit with a more operational role is necessary to make it fully effective. The institutions should also encourage countries to discuss sensitive issues — like North Korea's nuclear program or the growing Rohingya crisis in Myanmar — openly, and create mechanisms to better manage and resolve regional dust-ups.
In the decades since the Second World War, East Asia capitalized on relative peace to grow into one of the world's most prosperous, dynamic regions. In order for its countries to achieve similar success in the decades to come, strengthening institutions to preserve the "long peace" is essential.