The North Korea Crisis — What's Next?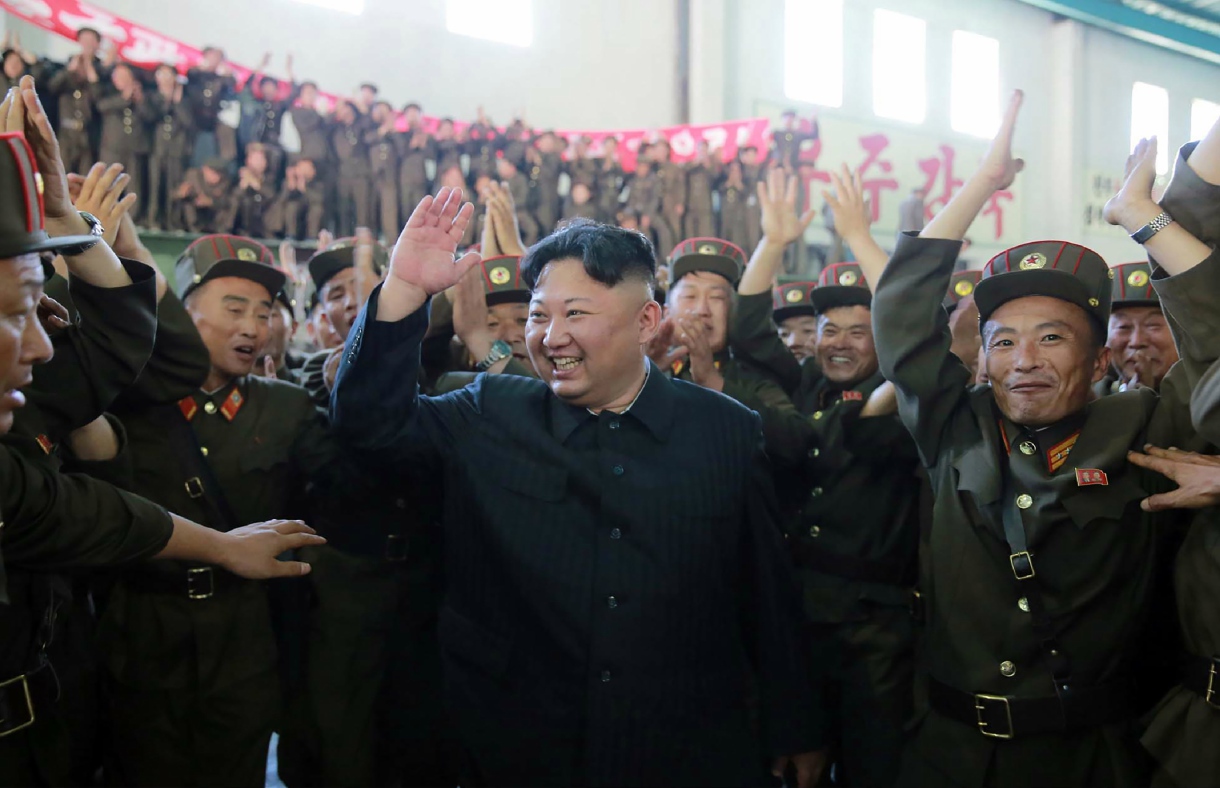 Kim Jong-Un (C) celebrates the successful test-fire of the intercontinental ballistic missile Hwasong-14 at an undisclosed location. (SPR/AFP/Getty Images)
When President Obama handed over power to Donald Trump in January, he warned his successor that Trump's biggest headache would be North Korea. Seven months into the Trump administration, Obama's prediction has appeared to come true. 
Following reports that North Korea's nuclear program may now possess the capability to strike the continental United States, President Trump told reporters on Tuesday that Pyongyang could expect "fire and fury like the world has never seen" should it continue to provoke the United States. Trump's advisors spent the next day playing down the president's remarks, with Secretary of State Rex Tillerson even reassuring Americans that they "could sleep well at night." But on Thursday, Trump doubled down, saying that perhaps his previous remarks had not been "tough enough." And then on Friday, he tweeted that military solutions were "locked and loaded should North Korea act unwisely."
---
Subscribe in iTunes ∙ RSS Feed ∙ Download ∙ Full Episode Archive ∙ Full Transcript
---
North Korea, not a country known for its sober rhetoric, has responded to Trump's words by threatening to ignite an "enveloping fire" around Guam, a U.S. island in the Western Pacific. 
President Trump's statements on North Korea have attracted widespread criticism. "Nobody is going to beat the North Koreans in a hyperbole contest," Daniel Russel, diplomat in residence and senior fellow at the Asia Society Policy Institute, told the Washington Post. But rhetoric aside, the growth of North Korea's nuclear program is a serious problem for the United States and its allies in East Asia — and one without an easy solution. 
"At one level, this is not a nuclear war scenario, this is really a psychological war," said Russel. "The U.S. has a very compelling deterrent capability which [North Korean leader] Kim Jong Un is entirely aware of, and so he is navigating in a very small space. The question is, can the world convince Kim Jong Un ... that he needs to reverse course and negotiate a rollback of pressure in exchange for a rollback of his program?"
---
---
One option would be to work more closely with China. Much of the commercial activity and economic assistance that keep North Korea afloat derive from its larger neighbor, giving Beijing leverage over Pyongyang. But China fears that the collapse of the North Korean state would trigger a refugee crisis across the Sino-North Korean border and result in a unified, pro-U.S. Korea right on its doorstep. 
Writing in the Financial Times, Asia Society Policy Institute President Kevin Rudd argues that there is room for negotiation between the U.S. and China:
First, Beijing needs to accept that the threat of a unilateral U.S. strike is credible enough to warrant a change in Chinese diplomacy towards North Korea. Second, the U.S. should be clear with Beijing about what is at stake here for China. If China succeeds in bringing about a cessation of North Korea's nuclear program and the destruction of its existing arsenal, the U.S. would then accept the much discussed "grand bargain" for the peninsula, including a formal peace treaty with Pyongyang, diplomatic recognition by the U.S., guarantees for the regime's future, the possible withdrawal of U.S. forces from South Korea and the removal of sanctions.
President Trump has repeatedly criticized the Chinese government on Twitter for doing too little to help on North Korea. But it's difficult to see what options the U.S. has that do not involve working closely with Beijing. A unilateral strike targeting North Korea's nuclear facilities would rupture U.S. relations with its Asian allies and likely result in a humanitarian catastrophe — all without a guarantee that such a strike would even work, given that no one in Washington is 100 percent certain where all of North Korea's nuclear infrastructure is even located.
Doing nothing and accepting North Korea into the exclusive nuclear club is also problematic, as it could undermine decades of nonproliferation work by providing an incentive for embattled regimes to accelerate their own programs. North Korea's unpredictable nature is also a significant factor, said Rudd:
North Korea is not regarded as a normal state, nor has it exhibited any interest in developing a transparent nuclear doctrine. Furthermore, it has taken to issuing repeated bellicose threats against the U.S. The domestic backlash against allowing North Korea to acquire its long-sought after ICBM nuclear capability would be considerable, undermining Mr. Trump's concept of a "muscular" presidency.
Is the escalation of this crisis imminent? Not necessarily.
"You have two sides that both recognize, ultimately, at the end of the day, this needs to end in some kind of negotiation," said Lindsey Ford, director of political-security affairs at the Asia Society Policy Institute, referring to the United States and North Korea. "Neither side wants to see a full-on conflict. What both sides are doing is trying to lay the groundwork to make the outcome more advantageous to them."
But that doesn't mean President Trump's rhetoric is without risk.
"The challenge is that when you're doing that you can't control the escalation; you're prone to miscalculation," Ford said.