#TBT: In 2000, 'Forgiveness' Grapples with the Ghosts of History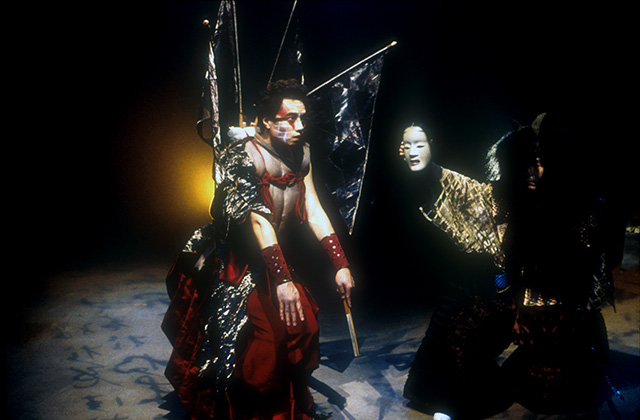 Chinese opera master Zhou Long (L) and Japanese Noh master Akira Matsui (R) perform "Forgiveness" in 2000. (Rachel Cooper/Asia Society)
In 2000, Asia Society produced a contemporary theater work titled Forgiveness, inspired by a classic Chinese ghost opera about revenge. Conceived and directed by Chen Shi-Zheng with composer Eve Beglarian, this "visual theater poem" blended music and aesthetics inherent in Chinese, Korean, and Japanese performance traditions. It presented them as a ghost story — a genre popular in all three countries. Images from East Asian history were projected across the stage as performers acted out the story, based around the premise that if we don't deal with the ghosts of history, they'll haunt us forever.
The performance came at a time when lingering historical animosity in East Asia was coming into the international spotlight. In 1997, author Iris Chang released her seminal work The Rape of Nanking, which chronicled the 1937 Japanese massacre of civilians in the then-Chinese capital. The book was widely condemned within Japan, where nationalists accused China and South Korea of "historical revisionism."
The contemporary importance of this enduring anger was illustrated the following year when Chinese President Jiang Zemin met with Japanese Prime Minister Keizo Obuchi. Rather than focusing on issues like the Asian Financial Crisis or the risk of war on the Korean Peninsula, the two tangled over whether Japan would issue a written apology for past atrocities. On many occasions since, large-scale anti-Japan protests have broken out in South Korea and China.
According to Rachel Cooper, producer of Forgiveness and director of Global Performing Arts and Cultural Programs at Asia Society, Forgiveness was meant to be "visually haunting," creating "dream images" that stretch from ancient history to the recent past. "It is tied to an urgent need to bear witness to history in the past century in order to release the rage of the present generation," Cooper said. "A rage so fierce it threatens the hope of their finding connections that will allow for an amicable future." 
In the above photo from a performance of Forgiveness in 2000, Chinese opera master Zhou Long and Japanese Noh master Akira Matsui depict "an unspoken tragedy of a history untold." 
Each week for "Throwback Thursday" (#TBT), we'll reach into our archives to find a photo from the organization's nearly 60-year history. Some photos will feature important moments, some will feature important people, and others still will just be photos we love. Do you have an Asia Society photo you'd like us to consider including in this series? Please email the photo and any related details to photos@theasiablog.org (we regret that we won't be able to respond directly to each inquiry).
In the below video, watch a segment from Forgiveness.