#TBT: In 2011, Meryl Streep and Yo-Yo Ma Bow Down to One Another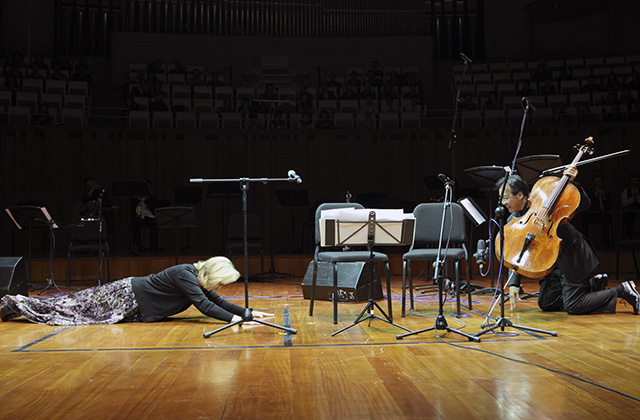 Meryl Streep and Yo-Yo Ma bow to eachother after a performance in Beijing on November 18, 2011. (Asia Society)
In November 2011, Asia Society and the Aspen Institute's U.S.-China Forum on the Arts and Culture hosted a cultural exchange in Beijing at the National Center for the Performing Arts of China. The event grouped musicians, artists, and works from different cultures with one another, and the segment that stole the show paired cellist Yo-Yo Ma with actress Meryl Streep. In their performance, Streep read a Tang Dynasty poem by Wang Wei and a letter from Martha Graham to Agnes DeMille on the creative process while Ma played elements of George Crumb's concerto for solo cello.
But the moment that would be remembered came directly after the performance, when Streep knelt and bowed down to Ma in a gesture of respect, which he reciprocated. Then, in a light-hearted bout of one-upmanship, both continued to sink lower and lower to the ground until they each lay face down, fully prostrate. The mostly Chinese audience, which included Politburo member Liu Yandong, erupted in applause.
Writing in The Atlantic months later, Orville Schell, director of the Center on U.S.-China Relations at Asia Society, reflected on the spontaneous display, noting that it carried significance beyond just a light moment between two artists. He contrasted it to the first British envoy to China in 1793, which entailed intense negotiations over whether the envoy's leader, Lord George Macartney, would bow before the Chinese Qianglong Emperor. The emperor's insistence on holding a superior position and the British side's refusal to accept was the first of many symbolic struggles between China and the West over the following two centuries as the international power structure was reshuffled.  
As Schell noted, though, Streep and Ma's gesture deflated the tradition of establishing one culture's superiority over the other, which met roaring approval from the audience in attendance. "Instead of one seeking to stand taller than the other or to bolster one ego at the expense of the other, each tried to deflect acclaim from themselves to the other in what ended up being an almost slapstick comedy of competitive humility," Schell wrote. "They gave a subtle but powerful demonstration for Chinese and Americans alike of the level to which collaboration built on true equality can sometimes rise." 
Each week for "Throwback Thursday" (#TBT), we'll reach into our archives to find a photo from the organization's nearly 60-year history. Some photos will feature important moments, some will feature important people, and others still will just be photos we love. Do you have an Asia Society photo you'd like us to consider including in this series? Please email the photo and any related details to photos@theasiablog.org (we regret that we won't be able to respond directly to each inquiry).
Watch Streep and Ma's performance in the below video.