Nine Excellent Documentaries About Asia That You Can Watch on Netflix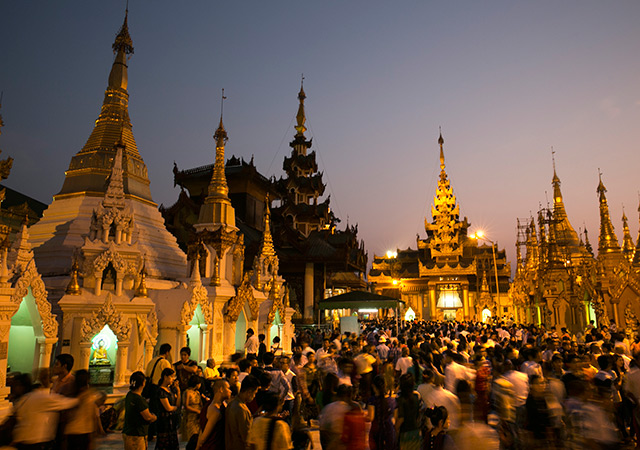 Thousands of worshippers come to the Shwedagon pagoda on April 17, 2014, in Yangon, Myanmar. (Paula Bronstein/Getty Images)
Netflix isn't just for binge-watching old TV shows — the streaming network also boasts an impressive collection of documentary films, many of which are set in Asia. From the painstaking traditions of creating sake in Japan, the scourge of gendercide across India, and a look at North Korea from the inside-out, here are some of the best Asia-related documentaries currently streaming on Netflix:
Japan
The Birth of Saké (2016)
Directed by Erik Shirai, this film offers a rare peek at the daily life of those at Yoshida Brewery who have dedicated their lives to the ancient art of making saké. The documentary's producer, Masako Tsumura, was at Asia Society earlier this year for a screening of the film and discussed behind-the-scenes moments. Watch her appearance below: 
Watch the trailer for Birth of Saké here, and check out our interview with Erik Shirai.
Jiro Dreams of Sushi (2012)
This documentary by David Gelb follows the life of the now-famous sushi master Jiro Ono, who owns the three-Michelin-starred Tokyo restaurant Sukiyabashi Jiro. The film explores the 85-year-old master's ongoing quest to perfect the art of sushi preparation.
North Korea
The Propaganda Game (2015)
Spanish director Álvaro Longoria's documentary gives audiences a glimpse of North Korea through the eyes of Alejandro Cao de Benos, a famous Spanish sympathizer for the North Korean government. The film focuses on the important role media plays inside and outside of the "hermit kingdom."
Dennis Rodman's Big Bang in Pyongyang (2015)
Colin Offland's documentary follows the eccentric and volatile retired basketball star Dennis Rodman on his mission to host a game between former NBA stars and the North Korean team in Pyongyang.
Learn more: Check out the Asia Society Podcast episode 'North Korea Goes Ballistic.'
Myanmar
They Call It Myanmar — Lifting the Curtain (2012)
Filmmaker Robert H. Lieberman spent two years shooting this clandestine documentary for a rare look inside a country then emerging from decades in isolation. The documentary features an interview with Aung San Suu Kyi just after her release from house arrest.
Learn more: watch the full address by Aung Sang Suu Kyi at Asia Society New York in September.
Syria/ Jordan
Salam Neighbor (2015)
American filmmakers Chris Temple and Zach Ingrasci chronicle the lives of their new neighbors at a Za'atari refugee camp in Jordan.
Learn more: discover the game-changing work of Syrian refugee Muzoon Almellehan, who at a young age has become an advocate for girls' education in Jordan's vast refugee camps. 
India/China
It's a Girl — The Three Deadliest Words in the World (2012)
Evan Grae Davis' documentary exposes the depressingly common world of female infanticide in India and China and what it means to be a woman in many parts of the world today.
Learn more: read our interview with filmmaker Sharmeen Obaid-Chinoy, who discusses the practice of 'honor killing' in her native Pakistan. 
China
Hooligan Sparrow (2016)
Young filmmaker Nanfu Wang follows Chinese human rights activist Ye Haiyan, aka Hooligan Sparrow, on a mission to expose incidences of rape in China.
Learn more: Li Maizi and Di Wang discuss their work as feminist and LGBT activists in China.
Sky Ladder: The Art of Cai Guo-Qiang (2016)
Known for his large-scale pyrotechnic displays, director Kevin Macdonald documents renowned Chinese artist Cai Guo-Qiang's creative process as he embarks on one of his most challenging projects yet.
Learn more: artist, curator, and critic, Robert Storr discusses the importance of Cai Guo-Qiang's work.