What Does the BJP's Big Win Mean for India? Experts Weigh In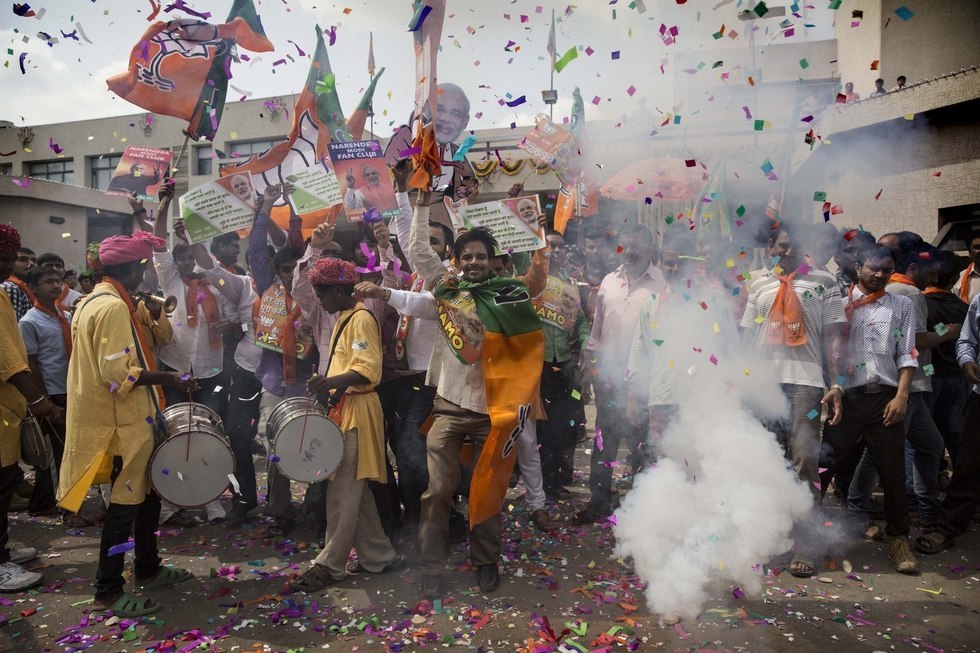 BJP supporters dance as they set off crackers as poll results come in at the party's headquarters on May 16, 2014 in Ahmedabad, India. Early indications from the Indian election results show Mr Modi's Bharatiya Janata Party was ahead in 277 of India's 543 constituencies where over 550 million votes were made, making it the largest election in history. (Kevin Frayer/Getty Images)

On May 19, 2014, the Asia Society Policy Institute will present a special luncheon and discussion on India's elections, the results, and what they mean for Asia and the world. Speakers will include Bobby Ghosh, World Editor of TIME magazine; Devesh Kapur, Director of the Center for the Advanced Study of India at the University of Pennsylvania; and Frank Wisner, former U.S. Ambassador to India.
In the wake of the Bharatiya Janata Party's resounding victory in India's elections, Asia Society reached out to our network of fellows and experts in a variety of fields for their reactions to the vote. What do the election results mean? And what developments should observers watch for and expect as Narendra Modi is seated as Prime Minister and begins to implement the BJP's agenda?
Senior Advisor, Asia Society; Author of the forthcoming book The Taliban Revival: Violence and Extremism on the Pakistan–Afghanistan Frontier
Though in India, the political rise of Narenda Modi and the revival of the Hindu nationalist Bharatiya Janata Party is being projected as the victory of common man, Pakistanis recognize him more as a right-leaning politician who was hands-in-gloves with elements who orchestrated the brutal killings of Muslims in communal violence in Gujarat in 2002.
Pakistan's prime minister Nawaz Sharif called Modi to congratulate him on BJP's landslide election victory and invite him to visit Pakistan, hoping to fully revive the peace process which Sharif had initiated with India in early 1999 when another BJP leader Atal Bihari Vajpayee was the prime minister of India. Sharif, like many other leading Pakistani politicians, is now convinced that peace with India is a must for Pakistan's progress. The question is whether Sharif can "help" Pakistan's military establishment in overcoming their concerns and inhibitions in the matter. Pakistan's right-wing political forces are also ever ready to obstruct any talk of peace with India.
On the brighter side, one earnestly hopes that soon-to-be Prime Minister Modi will follow what he said about relations with Pakistan in early May in an interview with The Times of India: "Both countries faced a common enemy in widespread poverty which they could tackle to together if a new trust could be established."
Senior Fellow for India, Pakistan, and South Asia, Council on Foreign Relations
Mr. Modi has campaigned on an economic growth and governance platform. That's likely good news for resolving many of the U.S.-India economic frictions, such as FDI limits, tax predictability, and openness to greater trade in general. American companies are looking forward to getting back to business with India.
Surjit S. Bhalla
Columnist, The Indian Express; Chairman, Oxus Investments; Senior Advisor, Zyfin
This election will be a significant departure from history. While the curtain has not yet been dropped on caste politics, we are near to that dream reality. It is poetic justice that Narendra Modi, a lower caste OBC, and one who has never played the caste card and indeed vehemently argued against it, should be the one to provide a death blow to Mandal politics. What has also nearly ended is Communist politics. The Left parties managed to obtain only 10 seats, half their 2009 amount, and ended their masquerade as a national party.
But the real political story of this election is the near complete decimation of the Congress party. The party has had two humiliating defeats in the past: the first in the old India of 1977, and the second in 1999. Election 2014 is witness to the Congress hitting its lowest ever seats, 45. The reality is that the Congress as we know it, and have loved and hated it, is destroyed, and it is the political death of the Nehru-Gandhi dynasty. When a 130-year-old national party obtains less than a twelfth of the total seats on offer, and barely makes it as the second-largest political party, regional or otherwise, it cannot, should not, and for its own survival must not remain the same.
Interim Director, Asia Society Policy Institute; Senior Fellow, Center for the Advanced Study of India, University of Pennsylvania
From a politics of scarcity to a politics of aspiration—that is the central meaning of the historic Indian election so resoundingly concluded today. Over the last 15 to 20 years the Indian people have discovered that with economic growth comes the possibility of better lives for themselves and their children. No longer is the struggle about who gets what slice of an unchanging chapati, but how growth can afford more opportunity for many. And those young Indians for whom this was the first time to vote have never known the politics of scarcity and will accept nothing less than a positive vision based growth and opportunity.
Nor is the new narrative of Indian politics just an urban phenomenon. Exit polls showed the BJP and its allies winning almost as decisively in the rural areas as in the cities, despite the UPA Government's multiple schemes to shower goodies on farmers and rural labor.
Somehow the Congress Party missed the emergence of a new India that is optimistic about the future. Perhaps lacking true political leadership, it has been imprisoned in the mindset that elections can be won by framing "rights" and implementing poorly designed welfare schemes.
For all the credit due to Mr. Modi—and yes, this was a Modi wave election—he faces the enormous challenge of somehow fulfilling the high expectations of renewed growth, more jobs, subdued inflation, improved infrastructure, and less corruption that the Indian people have placed on him and his party. If he strays from the pursuit of growth and opportunity that he has promised, and especially if he allows the agenda of the Hindu right to distract his government and the country, he will in time be held equally to account.
Bunty Chand
Executive Director, Asia Society India Center (Mumbai)
The BJP has won a landslide victory. This is the first time since 1984 that a party has been elected with such a clear mandate and majority. A democratic and peaceful transition is in process. It is a defining moment for India—a new government will have an opportunity to write a new narrative with the country—and internationally.
Vishakha Desai
President Emerita, Asia Society
I had come to expect that Modi and his party would win, but little did I expect a landslide for BJP. For many progressives and politically liberal voices who had cautiously supported Modi, as much out of frustration with the dismal performance of the ruling Congress party as out of hopes for Modi's practical, efficient and relatively clean approach to the government, there was a hope that the coalition politics of India would mitigate against an unfettered right wing Hindu ideology. Now, with an outright majority, will a strong-willed Mr. Modi, who cut his political teeth with RSS, the fringe radical group of the party, actually rise above their powerful presence?
One could argue that Modi adopted a more moderate approach to win the election, but his true color will show once he assumes his leadership position. He will have to go out of his way to prove to the Indian voters and Western skeptics alike that he seriously buys into the narrative of an India that is pluralistic, democratic, and respectful of multiple religions and ethnicities.
Associate Fellow, Asia Society; Author, Planet India: The Turbulent Rise of the Largest Democracy
The Congress Party got the rousing defeat it deserved but Narendra Modi's soft fascism will have a hard row to hoe. Sixty percent of Indians did not vote for the NDA coalition of which the BJP is a major part and which will certainly name Modi prime minister. Modi will enjoy a honeymoon period of foreign investment and an economic boost short-term; after that, it's anyone's guess. My main question: how much damage can Modi and the BJP/NDA do to India in five years? Will they try to rewrite the textbooks? Ban more books? Institute more surveillance? Further marginalize Muslims, Christians, and other minorities? Time will tell. Meanwhile, watch for the International Criminal Court to take on Modi as a head of state who declined to protect (at a generous minimum) minority Muslim citizens in 2002.
Tom Nagorski
Executive Vice President, Asia Society
All the language we are hearing today—"landslide", "historic", "breakthrough"—is appropriate. It's a sea change for the country, and a watershed for the BJP and of course for the Congress Party as well, which has been nearly wiped from the political map. But now comes the challenge—for Narendra Modi and his party: Can Modi deliver on the staggeringly high expectations he and his supporters have set during the campaign? Can they make good on promises of good governance, a war on corruption, strong growth and the general betterment of Indians of all backgrounds? The answers to these question will ultimately determine just how "historic" this day really is.
Regional Deputy Secretary General, South Asian Free Media Association; 2013 Fellow, Asia Society India-Pakistan Regional Young Leaders Initiative
Modi's win did not come as a surprise, but as someone who values India's secularism, it is certainly disappointing to see a man accused of being complicit in mass murder as the next prime minister of the world's largest democracy. Renowned human rights lawyer and activist Asma Jahangir's tweet summed it up quite aptly. Ms. Jahangir tweeted: "Very sad day for Indian democracy. It was old but now badly ageing. The future of India's secularism is bleak Ziaism in India."
Nobody in South Asia knows it better than us Pakistanis that mixing religion with the affairs of the state is an anathema to democratic traditions. Secularism is certainly under threat in Modi's India. The economy might improve under Modi but economic development at the cost of secularism and basic fundamental rights is a heavy price to pay.
Vani Tripathi
Bharatiya Janata Party Spokesperson; Inaugural Member of the Asia Society Asia 21 Young Leaders Program
This is a decisive mandate in favor of Narendra Modi and the politics of governance. The youth of the country wants good governance and jobs—which is the reason for this landslide victory. It's a mandate for a stable and progressive India.
Associate Fellow, Centre for the Study of Developing Societies (New Delhi)
The outcome of the 2014 national election shows that Indian voters unequivocally rejected the United Progressive Alliance, which had been in power for the past 10 years, and delivered a strong verdict against the corruption, flagging growth rates, confused economic policies, and collapsing institutions of the incumbent Congress-led regime. But the huge number of seats all across India won by the BJP suggests that even Muslims, Dalits, backward groups, and other sorts of caste, region, and religion-based minorities voted for the BJP. The era of coalition politics seems to have ended somewhat abruptly after 25 years. Almost all parties with a sectional appeal—except in the South—have been wiped out.
Overall this is the mandate of the world's largest and most diverse electorate united by only one thing: its desperate need for change, and a hope that India will get back on the growth track. The worry now is that the incoming National Democratic Alliance government, under Modi's leadership, will take the popular vote of confidence and run with it, treating it not so much as a firm ouster for the previous administration, but instead as a free hand to introduce more clearly majoritarian, authoritarian, communal, and neo-liberal policies than anyone has anticipated or seen thus far in India's political culture.
Personally I don't think that most people have voted for the BJP because they are Hindutva believers, against secularism, or themselves religious fundamentalists, nor are most people—not even upper caste middle-class Hindus—right-wing hardliners when it comes to economic policy. But the BJP now has the space and the opportunity to interpret the mandate in that way if it so chooses, and this is cause for concern. We know that the Sangh Parivar and RSS in particular have done everything to support Modi's massive election campaign in the past year or two, and now comes the time for them to extract a price for this backing, that will alas be too high for India as a whole to pay.
Associate, South Asia Program, Carnegie Endowment for International Peace
The historic victory of Narendra Modi and the BJP challenges several pieces of received wisdom about contemporary Indian politics. First, the BJP has shown an ability to transcend historical political and geographic boundaries, which have largely relegated it to a party of the north and west of India. Second, the BJP manufactured a number of highly effective alliance partnerships, which it has failed to do in the last two election cycles. This was seen as an area where the Congress had a distinct advantage over the BJP. Third, since 1984, single party majority governments have been viewed as obsolete. Although the BJP will likely carry on with its alliance to form a government, it will do so out of choice rather than necessity.