Why India Matters, With or Without Modi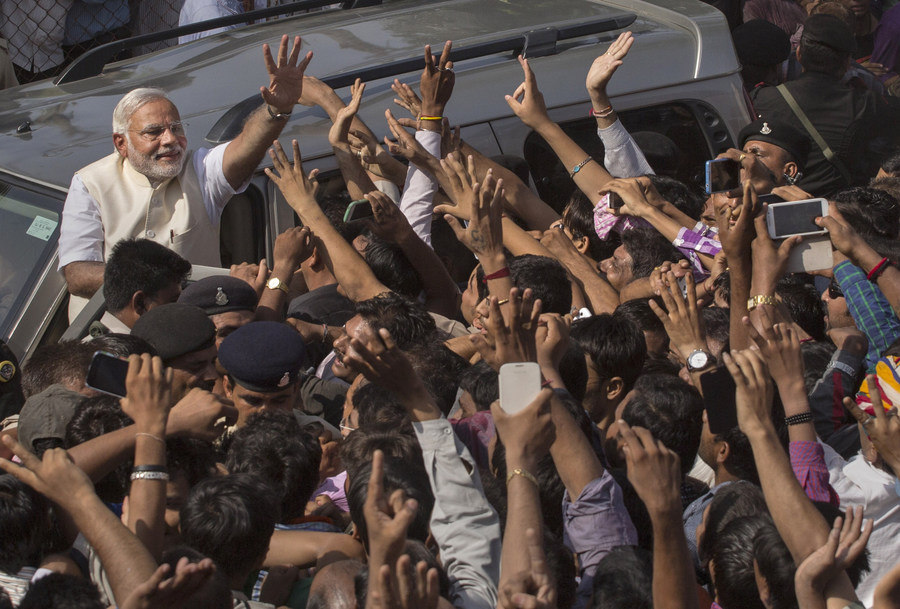 BJP leader Narendra Modi waves to supporters after voting at a polling station on April 30, 2014 in Ahmedabad, India. (Kevin Frayer/Getty Images)

On May 19, 2014, the Asia Society Policy Institute will present a special luncheon and discussion on India's elections, the results, and what they mean for Asia and the world. Speakers will include Bobby Ghosh, World Editor of TIME magazine; Devesh Kapur, Director of the Center for the Advanced Study of India at the University of Pennsylvania; and Frank Wisner, former U.S. Ambassador to India.
Indians finished voting on May 12, bringing to a close a grand display of democracy—the biggest election the world has ever seen. The sheer scale of the exercise—551 million people lining up at nearly 930,000 polling stations to vote over five weeks for thousands of candidates from hundreds of parties competing in 543 parliamentary constituencies—was bound to raise expectations about what is to come next. These expectations threaten to distort the perceptions of observers, diminishing the importance of real short term constraints and the immense long-term promise of India and of U.S.-India relations.
Expectations were lofty even before the elections, not just in India but in the United States. Champions of Narendra Modi, the Bharatiya Janata Party's (BJP) Prime Ministerial candidate, painted his possible ascent to the Prime Minister's seat as India's breakthrough moment. Businesses in the U.S. and millions of strivers in India insisted that a Modi victory would unleash the Indian economy, creating millions of new jobs, ending corruption, and attracting foreign investment. Indeed, despite the election's complexity and rich cast of candidates, U.S. media focused their coverage on Narendra Modi. The Indian Sensex and Nifty stock indices hit record highs earlier this week, in large part due to foreign investors' growing expectation that Modi would win.
With all polls now showing that the BJP alliance will win comfortably, making Modi India's next Prime Minister, Modi's supporters wait with bated breath for the election results to be announced on May 16.
Narendra Modi's success as Chief Minister of Gujarat and his rhetoric on economic issues suggests that India may indeed get a government focused on economic reform. And a Modi victory may have immediate salutary effects on investor confidence. However, as Milan Vaishnav argues in Bloomberg this week, Modi's ability to transform the Indian economy has been exaggerated because his government will face many structural constraints: India's upper house of parliament, independent institutions like the Supreme Court, state government red tape and corruption, private sector debt, and the fiscal deficit. Therefore, despite Modi's best efforts, economic reform will likely take place in piecemeal fashion. It also remains to be seen whether Modi can unite India's myriad communities despite his checkered past in Gujarat, where a thousand people, the majority of whom were Muslims, died in communal riots in 2002 while Modi was Chief Minister. Further communal strife and domestic instability could undermine Modi's economic agenda and India's economy.
Expectations born during election season can be hard to satisfy once the governing begins. For India, there is a danger that the expectations for what Modi can accomplish will place an undue burden on the U.S.-India relationship. With U.S. businesses already disillusioned about India, the euphoria around Modi's election could lead to a letdown. Over the past ten years, there has been a pattern of unreasonable optimism about India giving way to unreasonable pessimism. Two years ago U.S. perspectives on India ranged from skepticism to disappointment. Today, India watchers seem downright sanguine thanks to Modi.
This bipolar attitude toward India should be replaced with a steady, clear-eyed optimism. Frustration on the U.S. side is understandable, but perhaps shortsighted. The U.S.-India relationship has come a long way over the last 15 years. Relations were at a nadir in 1998 after India's nuclear tests resulted in stringent U.S. sanctions. Since then, spurred by India's booming economy, the relationship has been transformed, with the two countries inaugurating a Strategic Dialogue in 2009. People-to-people ties between the two countries remain strong. And the U.S. and India enjoy a burgeoning economic relationship: bilateral trade, approximately $13 billion in 1999, was worth $64 billion in 2013. With signs of India's economy recovering, there is potential for economic growth to strengthen ties once again. Finally, ongoing bilateral cooperation on issues such as higher education, energy, and counterterrorism is a testament to how strong the relationship has become.
No matter what electoral results are announced on May 16, India will remain a vital engine for the global economy and a key strategic partner for the U.S. Notwithstanding the many challenges facing India, its economic potential is too great, its institutions too resilient, and its shared interests with the U.S. too significant for the country to be anything less than a great long term bet. An awareness of India's short term constraints should not diminish long-term investments in India. An enduring partnership with an economically vibrant and democratic India would provide global businesses with a growing market, help balance the rise of China, retain U.S. influence in the region, and enhance democracy's appeal in Asia.
Reasonable expectations, patience, and determination in the face of setbacks (like the Khobragade controversy), are required to realize the promise of the bilateral relationship. The 2008 U.S.-India nuclear deal helped strengthen ties but also raised expectations for rapid progress in bilateral relations. When a liability law made it difficult for U.S. companies to tap into the Indian nuclear energy sector, American policymakers and businesses were gravely disappointed. The election of Narendra Modi should not become another symbol of dashed expectations. Modi should pursue a credible but ambitious program of reform, while those watching India from abroad exercise perseverance and remain engaged.