The Medieval Art Form Behind Modern Japanese Cinema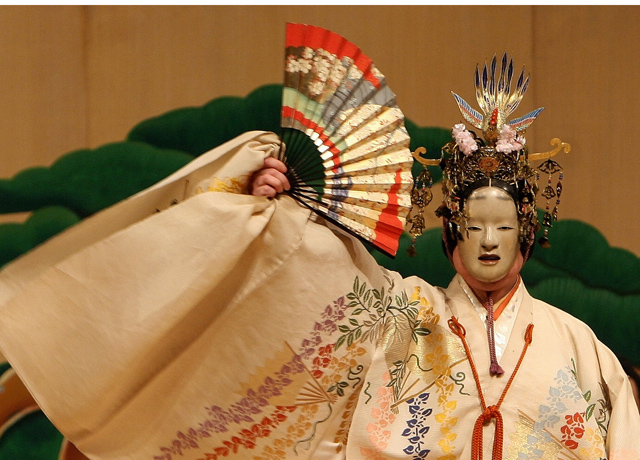 A performer demonstrates "noh," a traditional Japanese theatrical form. (Manan Vatsyayana/AFP/Getty Images)
In the post-World War II era, Japanese cinema became famous for its ability take Western narratives and transpose them into a Japanese context. Consider Akira Kurosawa's Throne of Blood, the celebrated director's classic from 1957. One of the most famous films to emerge during the country's golden age of film, Throne of Blood is, essentially, the story of Macbeth as set in medieval Japan.
But Throne of Blood is not purely a derivative of Shakespeare. Equally crucial to the film is the Japanese tradition of Noh.
Among the world's oldest theatrical forms that is still performed, Noh grew out of dance dramas that were performed at shrines in the 12th century. As a distinctive form, it developed during the Muromachi period in Japanese history, which lasted between 1333 and 1573, along with its comic counterpart Kyogen<. Where Kyogen is lighthearted, Noh deals with more spiritual and ethical subjects and aims to instruct as well as entertain the audience.
Movement and masks are two cornerstones of Noh aesthetic. The use of dialogue is minimal and actors rely on their stylized dance routines to tell their stories. Some gestures have intrinsic meaning, while others are modified to convey the emotions of the lead actors. 
Masks are used as a form of expression and most actors on the stage wear one. Carved out of wood and painted on, the mask is used to determine the character's unique look. 
Noh stories are not contemporary; instead, they often draw from folklore and ancient literature. What makes a play stand out are dramatic elements like music and dance, distilled through the performance and the skill of the lead actors.  The term Noh comes from the Japanese word no, meaning "talent" or "skill," and the form creates abundant opportunties for its actors to showcase these. 
Throne of Blood is a quintessential example. By using recurring shadowy images of ruins and concluding with the visual of Wazishu's (the Macbeth character) arrow-filled body, Kurosawa plays with the ideas of guilt and entrapment.

The character of Asaji (Lady Macbeth) — whose expressionless face is often compared to a mask — personifies Kurosawa's experiments with Noh, many of which also appear in his iconic 1950 film Rashomon.
But Kurosawa was far from the only Japanese director to experiment with the form.

In Ugetsu, Kenji Mizoguchi's best known film, ghosts sweep in and out of the narrative and are crucial to the plot. The story revolves around the character Genjuro and his encounters with the female spirits who shape his destiny — a focus on the supernatural that is typical of Noh.

Likewise, four different ghost stories are told in Kwaidan, directed by Masaki Kobayashi in 1965. This film also adheres to Noh tradition with its muted color palette and sparse dialogue, as well as its elaborate and ritualized movements.
For Japan's great directors, Noh represented an essential element that could not be borrowed from abroad.

In his book The Films of Akira Kurosawa, the Japanese film expert Donald Richie writes about the director's affinity for Noh. Kurosawa says of the style, "I wanted to use the way that Noh actors have of moving their bodies, the way they have of walking, and the general composition which the Noh stage provides."