Listen: Nisha Biswal on the U.S.'s 'Intense Summer of Engagement' with India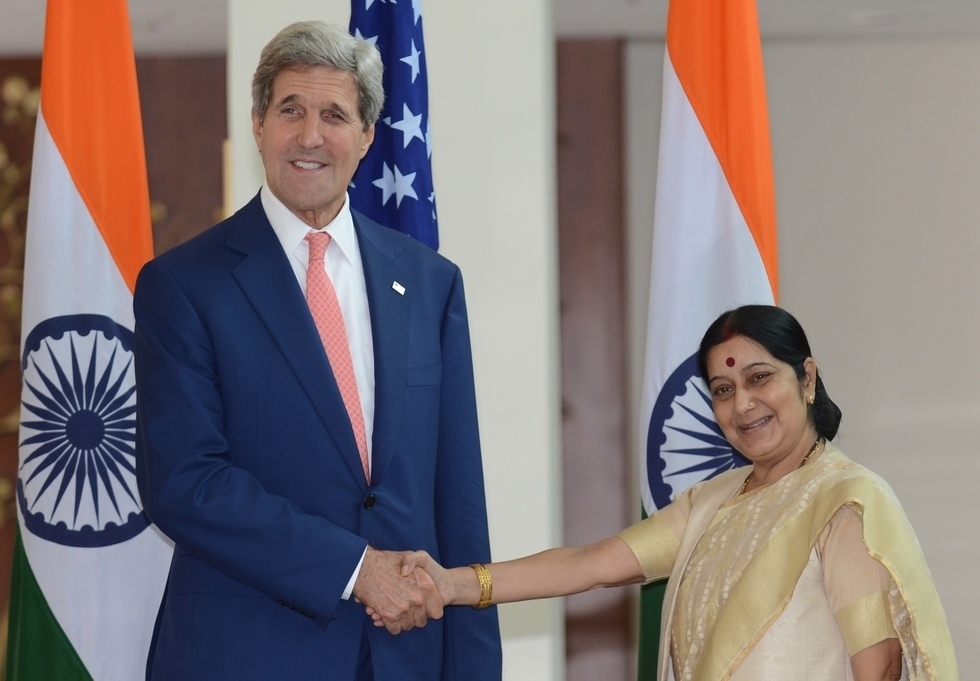 U.S. Secretary of State John Kerry (L) shakes hands with Indian Minister for External Affairs Sushma Swaraj during a meeting in New Delhi July 31, 2014. (Raveendran/Getty Images)
For the Asia Society Policy Institute's (ASPI) AsiaConnect briefing on September 17, 2014, Nisha Biswal, Assistant Secretary of State for the Bureau of South and Central Affairs, spoke about Prime Minister Narendra Modi's upcoming visit to Washington, D.C. She discussed the progress of U.S.-India relations and policy issues of convergence between the two countries. This blog post presents a condensed and edited version of her remarks, along with an audio recording of the conversation.
Where does the U.S.-India relationship stand today?
In light of the resounding mandate that brought the new government and Prime Minister Modi into office, this is a very exciting time in India and in the U.S.-India relationship. Immediately upon the announcement of election results, President Obama called Prime Minister-elect Modi to offer congratulations and welcome him to visit the United States. We are now on the eve of that visit and we have had an intensive summer of engagement to pave the way.
We are looking forward not only to engagement between the two leaders and governments, but also to the time the Prime Minister will spend in New York meeting with the private sector and the Indian diaspora in the United States. This community has been a tremendous source of strength to the United States and American society, as well as an asset for deepening relations between the United States and India.
How does India figure in the U.S. pivot to Asia?
You have seen successive administrations, Democratic and Republican, underscore the importance of the U.S.-India relationship. As we look at the increasing importance of Asia economically and strategically, the prosperity, stability, and security of Asia will play a consequential role in the prosperity and security of the United States. It is natural we continue to rebalance toward Asia as its importance grows for the United States.
Within the Asian context, India will play an increasingly important role. The new Prime Minister has come in with a solid domestic vision for the country. India's deepening role in the region and around the world is one that we support, and India's new administration has kicked off engagement in the region with the Prime Minister's invitation of regional leaders to his swearing in ceremony. Our relationship is founded on the principle that a strong India is in the U.S. interest. A consequential partnership in addressing challenges globally is not only in the U.S. interest, but also the global interest.
What are some of the major issues on the agenda for Modi's visit?
First and foremost, Prime Minister Modi prioritizes India's domestic transformation by strengthening its economy and addressing the challenges that impede economic growth. The United States is deeply interested in partnering with India to be a part of that domestic transformation. We believe we can contribute capacity, technology, and best practices. And in return we can benefit from the innovation and entrepreneurship for which India is known..
There is a natural affiliation between our two societies and between our two private sectors. As India grows, we're deeply invested in allowing and enabling India to grow in a way that is more sustainable and efficient in terms of its societal and environmental impacts. Domestic transformation also enables India to have a greater voice in regional and global affairs, and that is certainly something that we very much welcome. There is a lot at stake in being part of India's domestic transformation, and we think Prime Minister Modi's visit will highlight opportunities for further collaboration between our two countries.
India lends a voice that very much aligns with our own goals and objectives on stability and security across the region in areas such as freedom of navigation and maritime security as well as broader cooperation on combatting terrorism and extremism. We are also harnessing the intellect and innovation within India on research, and dealing with issues that both challenge India and the world. As we invest in India and strengthen its capabilities, these are areas where the country will play an increasing leadership role in addressing these global issues.
Energy is another area where we have had a long and deep collaboration. We understand India's need to be able to increase its supply of, and access to, energy to fuel its economy. We understand India's desire for energy security as well as the need to emphasize cleaner sources of energy and minimize and mitigate dependencies on energy from places like Iran. We want to work with India in advancing its energy needs in a way that comports with these other areas of concern.
Listen to the AsiaConnect call with Nisha Biswal using the audio player below.