Interview: Times of India Editor on Modi's Foreign Policy, One Year In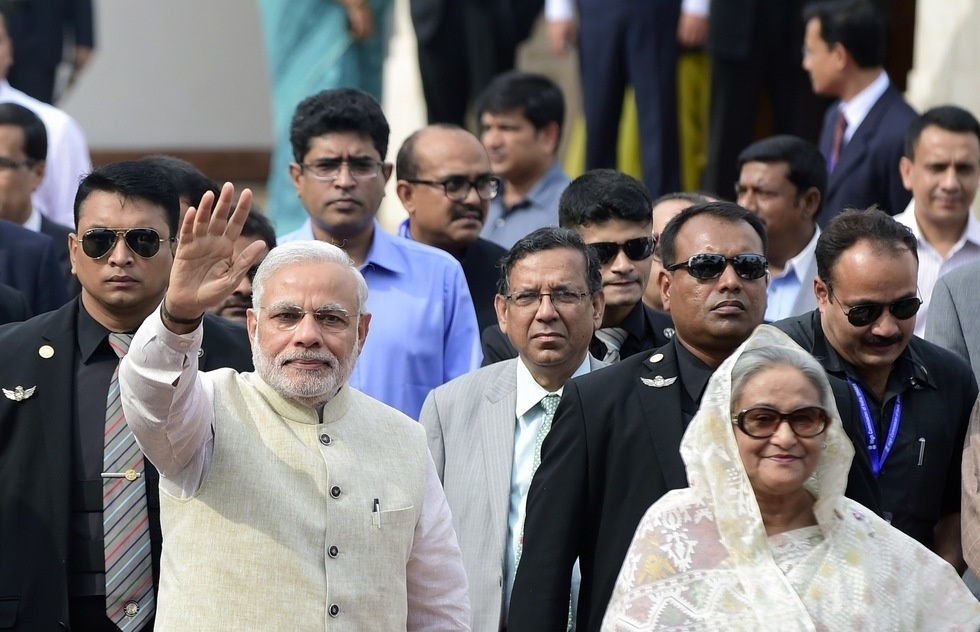 Prime Minister Narendra Modi (L) gestures as Bangladeshi Prime Minister Sheikh Hasina looks on as he arrives at the Prime Minister's Office in Dhaka on June 6, 2015. (Munir Uz Zaman/Getty Images)
As senior diplomatic editor with the Times of India, Indrani Bagchi reports and analyzes foreign policy issues and writes news stories and features, opinion pieces, the Globespotting blog, and a fortnightly column for the Times of India Crest edition. Ahead of a special event at Asia Society New York on June 16, when Bagchi will join a panel on India's foreign policy during the first year of Prime Minister Narendra Modi's term, she shared her views of where the Prime Minister's foreign policy agenda has been strongest — in "boldly asserting India's interests," making himself "an unashamed salesman for attracting business and investment," and extending the frontiers of Indian diplomacy — and weakest — in "his approach to trade."

Indrani Bagchi will join the Asia Society Policy Institute for a special June 16 event on the achievements of Indian Prime Minister Narendra Modi, one year after his historic election, and what his policy agenda means for India.
What has been the primary difference between Prime Minister Modi's approach to foreign affairs and the approaches of his predecessors?
Anyone who has watched Mr. Modi on the global stage is struck by the energy and personal interest he brings to foreign policy and diplomacy. While the fundamentals of Indian foreign policy have not really changed under him, there have been some significant departures.
First, he has not been shy of boldly asserting India's interests. His public articulation of what he sees as India's interests may not have gone down very well with the foreign office, which has traditionally resisted open expression of interests, because exercising that choice might anger someone else. He does not appear to possess that reticence.
Second, he is deeply invested in the neighborhood. Previous prime ministers have all said they were, but failed to put teeth into that policy. India's neighborhood policy was invariably "Pakistan-plus," but Modi does not do that. After getting all the leaders to his swearing-in ceremony in May 2014, he has consciously engaged them. He is probably the first prime minister to not obsess over Pakistan, which is a welcome thing. He is going about building a South Asian community with transport and power connectivity where Pakistan actually does not figure. It has been a breath of fresh air for our other neighbors, and helping to break out from the one thing that has hobbled the South Asian Association for Regional Cooperation (SAARC).
Third, he makes his foreign visits more than just engaging governments. He has a strong belief in making the Indian diaspora part of the India story, and he has gone out of his way to engage both the wealthy Indian diaspora in the U.S. and the really poor Indians in Myanmar.
Fourth, he is not shy of drawing on India's cultural and spiritual traditions as a diplomatic tool — from Buddhism to yoga, he'll take whatever he can.
Fifth, he has made himself an unashamed salesman for attracting business and investment into India. An essential part of his diplomatic policy is to meet directly with business leaders wherever he goes, even appointing point persons in his office to facilitate foreign investment.
Indrani Bagchi
You recently wrote that "India has injected some urgency in looking for closure on the boundary dispute" with China. Why do you think this is? And how did the recent summit in China between the Mr. Modi and President Xi Jinping impact the border issue?
India believes that resolution of the boundary issue is key to improving relations with China. Both trade and security ties stop at the boundary dispute. The "Guiding Principles" of 2005 provided a roadmap for resolution of the boundary dispute. That faltered when China went back on the issue of "settled populations," which India took to mean that China had reversed its position on Tawang and would continue to be difficult. After 18 rounds of talks, both countries are still nowhere. When Xi Jinping took over, he made encouraging statements, which the previous Indian government believed meant that they would work out a boundary deal. That went nowhere.
But peace on the boundary is essential for normal relations between India and China. Modi has therefore resurrected a lapsed agreement — to clarify the Line of Actual Control (LAC). He is trying to push the Chinese to exchange maps of the western sector (which is where most of the intrusions happen). But that's unlikely to happen.
Under Mr. Modi's watch, India has been criticized internationally for undermining the Bali package, including the WTO Trade Facilitation Agreement. Do you think Mr. Modi will take steps to open up India to trade?
The trade facilitation agreement would not have happened without the food security question being resolved. It became clear to India that the latter was going nowhere. Modi would have had a political crisis on his hands if he didn't get a commitment on food security.
Modi is weakest in his approach to trade. He is definitely "pro-competition," but that does not always mean he is a free trade proponent. Modi, at least for the moment, appears to be captive to his very conservative commerce bureaucracy, for whom free-trade agreements don't actually benefit India.
Modi's biggest transformation program, "Make in India," will be hostage to his trade policy. He may be changing; I notice he has been referring to India's desire to join the Asia-Pacific Economic Cooperation forum (APEC) in his recent speeches, which might indicate that he's being persuaded to take a more strategic view of free trade. But this is the area where he has faltered.
Mr. Modi has prioritized visits to small Asian countries such as Bhutan, Nepal, Myanmar, Fiji, and Mongolia. Have these visits made a marked impact on India's relations with these countries or on the geopolitical currents in Asia?
He has extended the frontiers of Indian diplomacy, whether it is Mongolia, Pacific Islands, or the southern reaches of Indian Ocean. Equally, he has taken great pains to engage countries which are not P5 — Australia, Canada, Germany, Korea — and he will add many more to this list. In fact, he has been known to have chastised the Ministry of External Affairs (MEA) for neglecting these powers in the past, believing they have a bigger role to play in India's transformation.
Prime Minister Modi's international engagement has largely been received positively in the United States and around the world. However, he has come under some criticism in India for the number of trips he has taken abroad. What do you make of this?
That's largely because Modi was elected on a strong economic and governance plank. Everybody recognizes that Modi is the personal driver of the change that needs to be wrought in India. If he takes his eye off the ball there, his international stature would be meaningless. The criticism stems from the fact that there is a general feeling that, apart from some sectors, the promised transformation is yet to happen.
How would you describe the Prime Minister's first year in one sentence?
His walk must overtake the talk.