Interview: Lucy Liu on Growing Up in Queens, Ally McBeal, and Hollywood's 'Slow' Progress in Casting Asian Americans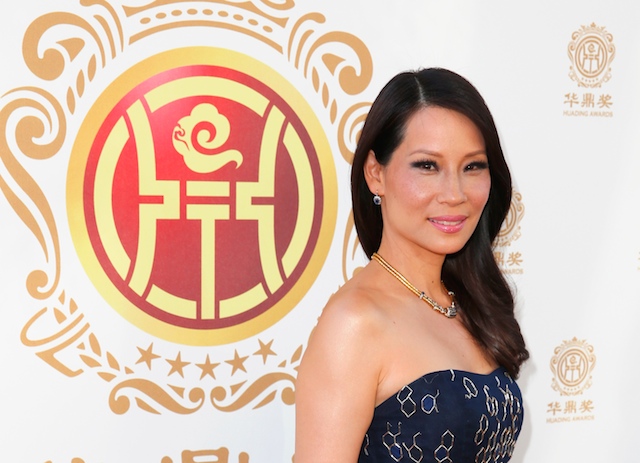 Lucy Liu attends the Huading Film Awards on June 1, 2014 at Ricardo Montalban Theatre in Los Angeles, California. (Joe Scarnici/Getty)

Every May for Asian Pacific American Heritage Month, Asia Blog interviews noteworthy Asian Americans from a diverse set of backgrounds. View the complete Q&A archive
When Lucy Liu was on the New York City subway as a 19-year-old, a chance encounter with an agent led to a life in acting. In the years since, Liu has become a household name and arguably the most famous representative of Asian women on U.S. television and film over the past decade. But the Queens-born actress has also been an outspoken critic of how the entertainment industry has limited opportunities for non-white actors.
In a phone interview with Asia Blog, the star of CBS's Elementary discussed growing up in Queens, the importance of the arts in her life, and her breakout role in the series Ally McBeal.
Elementary often shoots in Long Island City, Queens, not too far from Jackson Heights, where you grew up. What are your memories of growing up in Queens?

A lot of my memories of Queens and Jackson Heights were of hanging out in the alleyway with my friends. As someone who was very young, I remember the Mister Softee [ice cream truck] coming around in the summertime. I remember, when I started high school, the long walk from my house to the subway station (laughter). And I remember the Q66, the bus down Northern Boulevard.
Many people don't know that you are also a visual artist and that you've had several gallery shows. When did you first become interested in making art?
I started creating art when I was much younger. When I was 12 to 16, I was just working on collages and it was just for my own amusement and it was a nice outlet for me. After I graduated from college, I started taking it more seriously.
My first show was all the works I had done for myself. Someone had come over to my studio apartment in California and they recommended I put together a show, which I didn't think was possible. But I did it. I just took it off the walls and put it in a gallery.
Does being a visual artist help your acting?
Absolutely. Anything creative, anything to do with art — dance, theater, music, visual art itself — all contributes to the big picture. Reading books, writing poems, even the newspaper…just being a part of something, collecting all that information and data, culminates into every form of expression.
Recently you've become involved with the Brooklyn Academy of Music (BAM) and their arts education program. Why is that a cause you care about?
I went to public school all my life and it's vital to have an arts program. A lot of them don't have it because of the funding and budget cuts. I wish that I had had more exposure to art and so the idea that kids are less exposed to art is scary because it develops both parts of the brain. You need not just math and science, but also art.
The Ignite program at BAM is geared towards kids who don't have the advantage of having activities in school. It allows them to have a creative outlet and a place where they can discover art. It doesn't necessarily mean they will become an actor, a director, or a dancer as a career, but it is something that will help you to get out of the house and really learn who you are.
You've traveled everywhere from Pakistan to Peru as a UNICEF Ambassador. What has been the most rewarding part of the experience?
The most important part of being a UNICEF Ambassador is to understand that children globally need attention and that these field missions really can draw attention to all the different needs that children have. A lot of children die from preventable causes and that's something that we found unacceptable at UNICEF. That number is going down more and more. We can gear towards the goal of having zero children dying from preventable causes.
The most memorable for me was that the children and the women that I meet on these trips are not just survivors. They don't even consider themselves victims. They consider themselves people who are living and moving forward in their lives. I think that's an inspiring tool to take with you everywhere, so that people don't feel victimized. There are some horrific stories that you would not believe imaginable that human beings are doing to other human beings. And yet, here they are, standing and smiling and living and being a part of their society and their community.
Was there a trip that stood out to you?
One of the most difficult trips I've ever taken was to the Congo, the DRC. Since I've been there, it's probably gotten worse, which is a terrible fact because it was devastating when I was there. You hope that when you go somewhere, the place is improving and getting better, but in this particular case it's only gotten worse with all the warfare and the general chaos.
Your first major role was in the television show Ally McBeal. How did the role of Ling Woo come to you?
I went in to read for Nelle Porter, which was the original role that Portia de Rossi ended up getting. [Show creator] David Kelly liked my read and thought I was interesting, I guess. I don't know, I can't read his mind, but they said, "He really liked you and if David Kelly likes you, he'll generally write for you." And so they offered me Ling Woo, which was the role that he had written for me.
I really liked being on the show. I met totally wonderful actors and crew members. It's hard to believe that it was so long ago. It was such an impactful show and very impactful for me.

You've noted before that there aren't a lot of roles for Asian Americans in TV and film. Do you think the situation is better today than when you first started acting?
I think it's getting better, but it's a very slow process. If you look at what's going on, more so on television than in film, you really see there is more of a difference than there was even 10 or 20 years ago. Could it progress faster? I don't know. Could it be more than what it is? Absolutely, there could always be more. I'm hoping that is the direction we're going as we move towards the future.

What advice would you give to young Asian Americans who are thinking about becoming professional actors?
I would tell them that it's a very, very difficult career. But if they really are okay with rejection and perseverance and a long creative journey, then they should absolutely pursue it. To negotiate what's ahead of them — to understand that it's not an easy role, but that it's incredibly rewarding.
---
You can follow Lucy Liu on Twitter at @LucyLiu.