Interview: Actress Jennie Kwan, From California Dreams to a 'Place of Empowerment'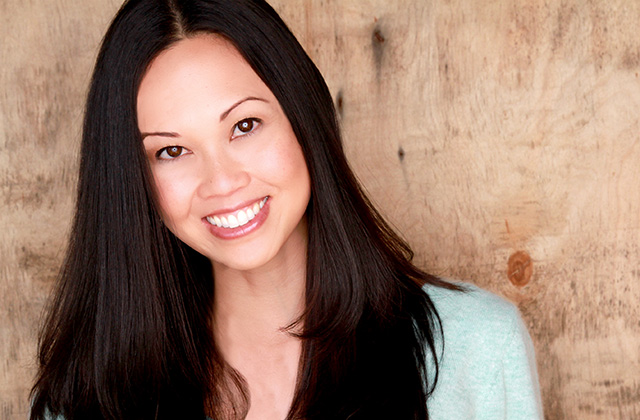 Actress and singer Jennie Kwan. (Jennie Kwan)

Every May for Asian Pacific American Heritage Month, Asia Blog interviews noteworthy Asian Americans from a diverse set of backgrounds. View the complete Q&A archive
Since being discovered by a talent agent on an airplane as a young girl, Filipino-American actress and singer Jennie Kwan has taken on jobs ranging from cartoon voice acting to Broadway musicals. She's perhaps best known for playing Samantha Woo, the spunky lead singer of California Dreams in the 1990s teen sitcom of the same name, and later went on to join the girl band Nobody's Angel and voiced the part of Suki on the Nickelodeon animated series Avatar: The Last Airbender. More recently, she's taken on harder-hitting roles, including that of a Burmese sex worker in the traveling musical Land of Smiles. Speaking with Asia Blog, she described her experiences representing strong Asian female characters, how audiences have responded, and what it was like to perform a complex portrayal of the sex trade for Burmese migrants in Thailand.
You were one of the lead characters on California Dreams from 1993 to 1996 at a time when there were very few prominent Asian female roles on TV. What kind of feedback did you get in that regard?
I remember that I used to get fan mail and people would stop me and say, "Thank you for representing someone who looks like me." And I just thought, "Wow." I was younger then and wondered why they were saying this to me. But I really realized that as people started to see the show more, they started to identify more. I really get it now — that it's a huge deal — because when I see other Asian performers on TV, I'm like "Yes! We're starting to make our faces seen more." It meant a lot to me personally if I could see someone reflect something I was going through or what I look like, because there weren't that many [roles like that] back then.
Did you get any negative reactions from audiences?
We used to have these panels at the network that asked audiences how they felt about the show. I remember one of the panels had a question in regards to my character Sam Woo and her boyfriend on the show, Tony Wicks, who was African-American. I remember we were in someone's dressing room and they were saying it's not alright to have that on TV and basically saying the public wasn't ready for that. We were like, "What?! But this happens in real life, why is this not OK?" I was so proud of our producers. They didn't change it, they kept us a couple and I remember what a big deal that was back then, and what a big deal that must have been for people watching and saying, "That's my story. They're together and that's ok, and it's being played out on national television."
The recent musical you were in called Land of Smiles attempted to give a nuanced portrayal of the sex trade and anti-trafficking movement in Southeast Asia, challenging the idea that sex workers there are all exploited victims. Why did you decide to join this production?
When I went in to audition, I fell in love with the music. Little did I know at the time that the writer, Erin Kamler, was an active activist fighting for human rights.
The character I played, Lipoh, is basically the culmination of different women Erin has interviewed that have been involved in the sex trade. The story, which is fictional but based on her research, is about a sex worker from Burma, and her situation isn't cut and dry. What we see from the U.S. is not cut and dry. There's a lot of oppression in Burma, so a lot of the time the different hill tribes there might do different things for work and end up in different situations. For the character in the story, it was sex work.
There are different political viewpoints and different types of people. But what I loved about [the production] was, firstly, that I learned about this world that I had little knowledge about; secondly, I could represent this strong young character that has strong beliefs, a strong will to survive, and doesn't see herself as a victim; and thirdly, it just opened dialogue on a topic that's sometimes uneasy to talk about — whether you agree with it or not — in a very intelligent and also entertaining way.
One of my favorite parts of the show was when we performed it in Thailand. We met a group of young Kachin people (the character of Lipoh is Kachin), which is one of the hill tribes in Burma. It was just great to see their exuberance for life even though they're under such tremendous life circumstances.
Did you adopt anything you learned from them into your character?
Absolutely: their strong will to really live these lives, their passion, and their joy. We all go through certain things in life, but when I met them I was like, "Umm, I need to find a tremendous amount of gratitude in whatever circumstances I find. If they can do it, I can do it." That was the most incredible show and the most nerve wracking show because, even though it was fictional but based on research, the story was about their culture in general, so the cast wanted to do it justice for them.
Whenever we said anything in the Kachin language, they would giggle and laugh and then started seriously clapping after we finished a Kachin song in one part. They've never had anybody, to my knowledge, do a story that represents them so beautifully and realistically, so they loved seeing their story told and being brought to the light. It kind of brings tears to my eyes, my heart was about to burst.
Did you get any pushback on the subject matter of the production?
Absolutely. When I came back from Thailand I would share the stories about how [the sex trade] is not black and white and so on, and some people just said, "No, it's not OK." So I have to just let people have their opinions. It can be triggering depending on who you are or how you identify yourself or the topic at hand. But I will say 95 percent of the reactions I experienced were positive in the sense that it opened up the topic of discussion or educated people about something they didn't know. If it had an effect on them I think that's a success.
Have you specifically targeted roles where you can be a sort of role model?
I do feel like I've been fortunate to step into these roles that exemplify young women stepping into their power in the sense of owning who they are and making a change in the world. [The people I represent] might not necessarily know it was through their example, but as the actress I now see that I was somehow able to be a role model by living that character's story. Not every single part is that extraordinary where I get to do that. I also like to play roles that are super fun and wacky, but it feels good to be able to have that variety and step into a place of empowerment.
---
This interview has been edited for length and clarity.