How Gentrification Is Hitting Chinatowns' Most Vulnerable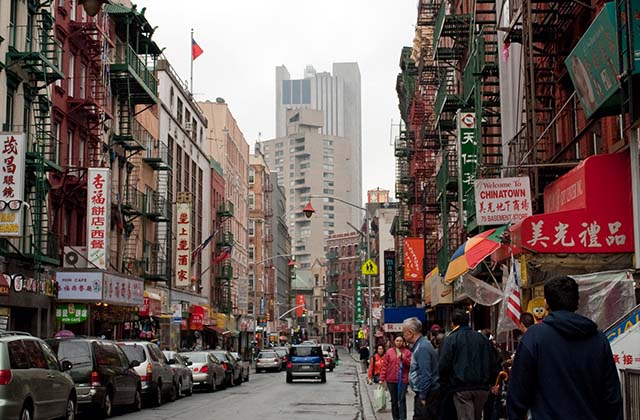 Chinatown in New York. (Alejandro Mallea/Flickr)
Since the mid-19th century, Chinese immigrants have flocked to lower Manhattan, New York City's Chinatown, and called it home. But in recent years, many new immigrants, as well as families who have lived there for generations, have been displaced by gentrification.
Diane Wong is a doctoral candidate at Cornell University researching the effects of gentrification on residents of Chinatowns in New York, Boston, and San Francisco. Through her work, she's interviewed over 100 tenants, small business owners, and community organizers to get a sense of how these rapidly changing neighborhoods are impacting some of their most vulnerable residents. In this interview with Asia Blog, she discusses predatory landlords, how Chinatowns are bearing disproportionate stress from gentrification, and how residents are pushing back.
Why have you focused on gentrification in your research on Chinatown?
It is a common theme in the lives of urban immigrants. The sad reality is that most immigrants and their families know what it's like to be uprooted from their homes over and over again. What are the political consequences of perpetual uprootedness? Gentrification is violent — not only displacing families from their homes but stripping them of their basic livelihoods. As Chinatown continues to change and families are displaced, it is important that we pay attention to how existing residents are responding to the disruption of their collective space and fighting to stay.
My research aims to challenge the common narrative that Chinatown is in need of "revitalization." That narrative is used as a tool by politicians and developers to shape Chinatown into what the rest of what Manhattan looks like. Chinatown is vibrant and continues to serve as a foundation for immigrant resistance and intergenerational activism. From doing community-engaged research and conducting over 100 oral history interviews, it has been inspiring to see how ordinary spaces in the neighborhood can serve as a base for intergenerational political organizing.
What do these forced evictions look like?
As a volunteer with CAAAV: Organizing Asian Communities' Chinatown Tenants Union, I would conduct outreach to see if tenants have heat, water, gas, and basic repairs. As a team we would document which tenants and in what buildings were facing eviction threats, landlord harassment, or other safety issues. From going door-to-door and listening to tenants share their stories, I saw that many immigrants struggle with issues of landlords trying to evict them from rent-regulated apartments. In New York's Chinatown, I have seen predatory landlords use tactics like shutting down heat in the wintertime, refusing to carry out basic maintenance, or making up false accusations to take tenants to court. I have also seen landlords use hazardous construction to force tenants out of their homes. This is extremely dangerous for children and elderly tenants who have asthma or suffer from other health issues.
There is also the emotional and mental health toll of going through an eviction and losing a home. I have seen tenants lose their jobs or have their livelihoods on the line because they had to take time off from work to be in housing court. As a result of forced evictions coupled with city government policies like upzoning or providing tax exemptions to developers, low-income residents have been forced out of their homes and there are now fewer rent-controlled units available in Chinatown — and New York City more generally. The reality is that once rent-controlled units have gone market rate, they are gone forever since the city isn't producing any more of them.
Watching low and middle-income housing and businesses disappear in favor of more upscale property is something that's probably familiar to most New Yorkers. How much of the problem can be attributed to wider economic trends like income inequality, and how much is unique to Chinatown?
At the most basic level, gentrification is what happens when we put property over people and profit over community. What we see in Chinatown is a reflection of the vast income inequalities in this country — the new restaurants, boutiques, galleries, and hotels are inaccessible to most low-income Chinese immigrants in the neighborhood. These upscale developments take over space that once housed families, immigrant-run businesses, and garment factories and make no effort to address the immediate needs of existing residents, which include access to healthcare, transportation safety, affordable housing, social services, recreation, and green space.
Diane Wong
At the same time, we need to question why these new developments are happening in Chinatown specifically and not in other places that are adjacent, like the East Village. The East Village was protected in a recent rezoning plan that restricts overall building height and protects existing commercial uses. This prevents high-rise towers and hotels from being built in the neighborhood, whereas in Chinatown and the Lower East Side there are no similar protections in place to limit these kinds of encroachments. We need to call into question why low-income neighborhoods of color are bearing the brunt of this city's development. Too often gentrification is seen as a strictly class issue but it intersects issues of race, gender, age, citizenship, disability, and language access.

You've noted that the September 11, 2001 attacks were a turning point for Chinatown. What effects did that have?
Chinatown is less than 10 blocks away from Ground Zero, so the social, economic, and health effects of the attacks were catastrophic for residents. The neighborhood was turned into a frozen zone and dozens of small business owners were forced to close their shops as a result. There were also police checkpoints placed all around Chinatown — residents had to carry their ID in order to move in and out of the neighborhood or risk being detained.
Many of the post-9/11 changes are still being felt by residents. Park Row remains closed and garment factories have since been converted into multi-million dollar loft apartments. While some of these changes had already been happening in Chinatown, 9/11 and post-9/11 policies without a doubt facilitated the gentrification we see now. During Mayor [Michael] Bloomberg's term, the entire downtown area including Chinatown was targeted for renewal — not just to rebuild, but to encourage upscale development. In terms of effects, there are stark visual indicators of change. There are now hotels on every other block and over 100 art galleries in the neighborhood that have drastically changed the landscape of Chinatown. There are also the non-visible changes that are happening behind closed doors like forced evictions and landlord harassment.
The reality is that these changes aren't only happening in New York's Chinatown. Chinatowns across the country are being affected by gentrification-led displacement. In doing this research, I have been left with a lot more questions than answers: How does gentrification alter the everyday life of people who live there? What are the implications for participation, community building, and mental health? Who gets to decide what gets preserved in Chinatown? What does it mean to preserve while still being accountable to the changing needs of residents? My current research tries to answer some of these questions, and in process broaden the scope of how we think about politics and where it happens in immigrant communities.
What have you been doing to address these questions?
I started working with CAAAV and their Chinatown Tenants Union, which was founded in 2005 as a space for Chinatown tenants to come together on issues related to gentrification and development in the neighborhood. I have also been working closely with the Chinatown Art Brigade, which is a collective of artists, tenants, and organizers to hold artists and new galleries accountable.
I also work closely with The W.O.W. Project based at Wing on Wo & Co over at 26 Mott Street. In 2015, I interviewed Mei Lum — the fifth generation store owner at Wing on Wo & Co. — right when her family was about to sell their building along with the business that had been in Chinatown since the mid-1920s. Instead, our conversation led her to come along with me on a series of interviews and a year of community dialogues. The W.O.W. Project brings together youth, elders, and residents through inter-generational dialogue about changes in the neighborhood. Since our inaugural panel last year in May titled "Regeneration Not Gentrification of Chinatowns," the W.O.W. Project has organized various other public programs. Right now, I am gearing up with Mei for the W.O.W Project West Coast Tour in October where we will expand our conversation around gentrification to San Francisco, Seattle, Vancouver, and Los Angeles Chinatowns in efforts to connect our struggles.