2011: Asia's Year in Photos
This is part of a series of year-end posts on Asia Blog written by Asia Society experts and Associate Fellows looking back on noteworthy events in 2011. You can read the entire series here.
What a year it's been. Protests dominated the news in 2011, from New York to New Delhi — it seems like people everywhere were fed up with something.
2011 was also marked by an unusual number of extreme natural disasters, from the devastating earthquake and tsunami in Japan to the floods in Thailand, Australia and the Philippines.
There were some glorious moments too, as India took home the World Cup trophy in cricket for the first time in 28 years, and Bhutan had its first royal wedding since the late 1980s.
The U.S. and Pakistan kept us on our toes as diplomatic "fall-out" became the buzzword after CIA contractor Raymond Davis was arrested, followed by the killing of Osama bin Laden.
Chinese dissident artist Ai Weiwei was detained and eventually released with conditions, but too late for him to appear at his exhibition opening at Asia Society in New York.
And just last week, longtime North Korean dictator Kim Jong Il passed away, perhaps setting in motion a new chapter for the Korean Peninsula.
Here's to 2012 being a year of stability, rebuilding and peace. Until then, enjoy some of our favorite news photos of the year.
January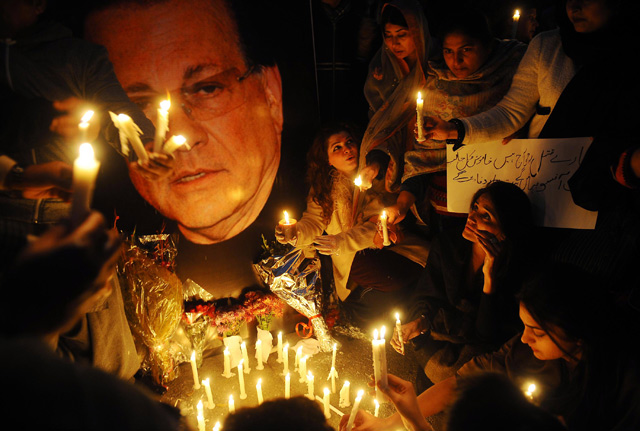 Pakistani civil society activists light candles in front of a portrait of the slain governor of Punjab, Salman Taseer, in Lahore on January 7, 2011. Taseer, one of the country's most outspoken voices against religious extremism, was shot dead by a member of his own security detail outside an Islamabad cafe in broad daylight on January 4. Read why Salman Taseer's murder is a setback for democracy in Pakistan here. (Arif Ali/AFP/Getty Images)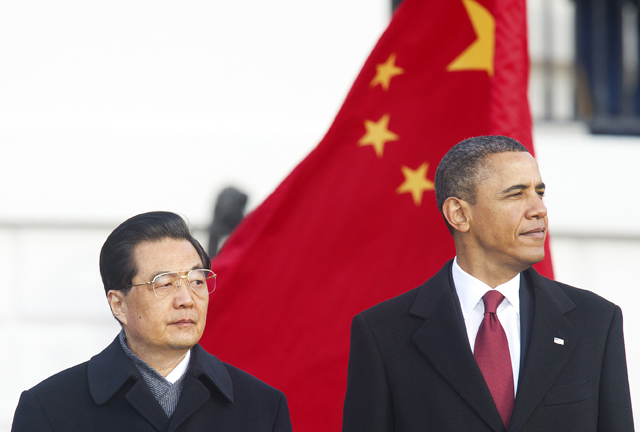 US President Barack Obama stands with Chinese President Hu Jintao during a long-awaited discussion in Washington, DC, on Jan. 19, 2011. Learn more about President Hu's visit to Washington here. (Paul J. Richards/AFP/Getty Images)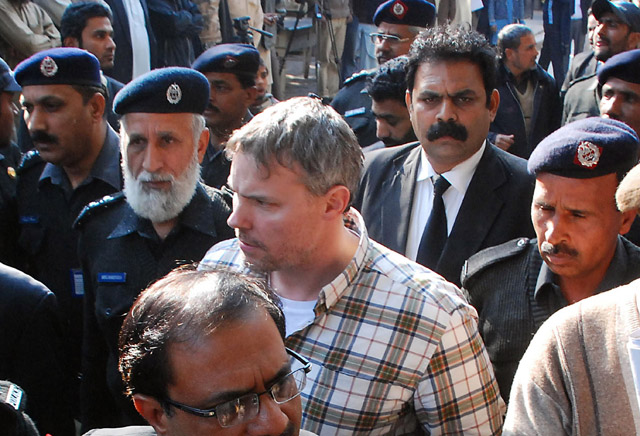 Pakistani police escort arrested CIA contractor Raymond Davis to a court in Lahore on January 28, 2011 on charges of fatally shooting two men. Read more about the diplomatic fall-out that ensued between Pakistan and the U.S. here. (Arif Ali/AFP/Getty Images)
February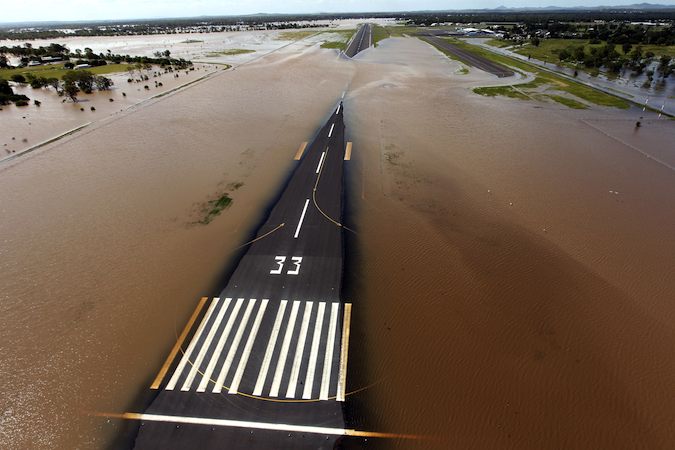 Photo taken on February 2, 2011 shows floodwaters spreading across the runway of the airport at Rockhampton, in eastern Queensland, Australia. Floodwaters caused by heavy rain cut off roads and power isolating more than 2,000 people. (Mechielsen Lyndon /AFP/Getty Images)
March
A woman looks at the damag caused by the tsunami and earthquake at Ishinomaki city in Japan's Miyagi prefecture on March 13, 2011. Click here for more information on the Japan tragedy. (Yomiuri Shimbnun /AFP/Getty Images)
April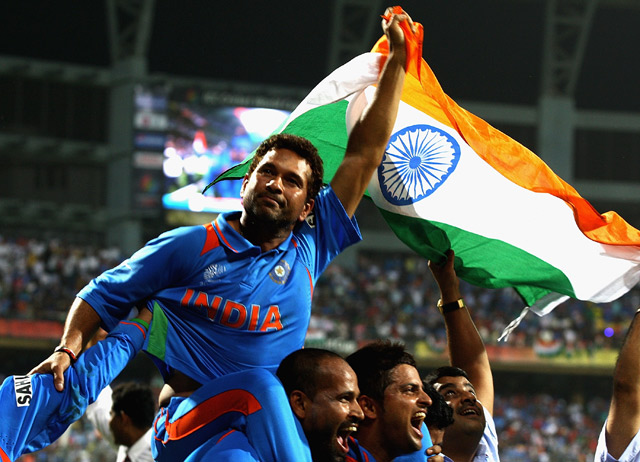 Sachin Tendulkar celebrates his team's win during the 2011 World Cup Final between India and Sri Lanka at Wankhede Stadium on April 2, 2011 in Mumbai, India. India took home the cricket trophy for the first time in 28 years. Watch a video on the semifinals between India and Pakistan here. (Matthew Lewis /Getty Images)
May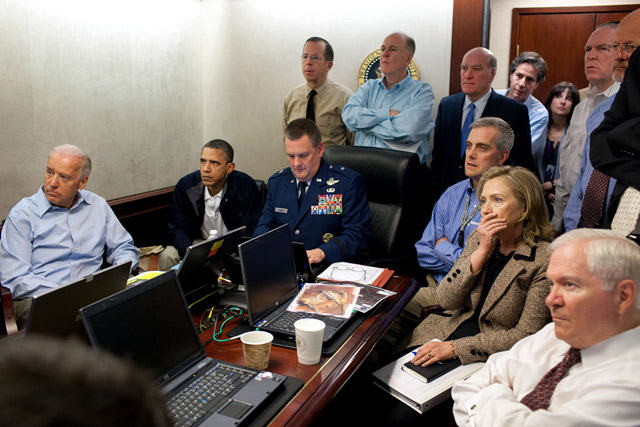 U.S. President Barack Obama and Vice President Joe Biden, along with members of the national security team, receive an update on the mission to kill Osama bin Laden in the Situation Room of the White House, May 1, 2011. Click here for more coverage on bin Laden's death. (The White House /Flickr)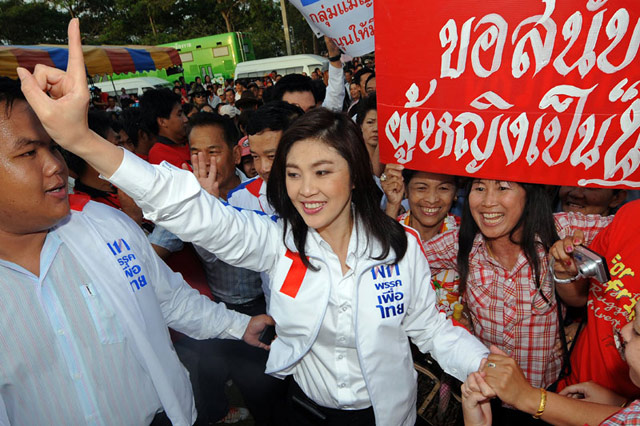 Thai candidate Yingluck Shinawatra greets supporters in Chiang Rai province on May 22, 2011. Thailand was the only country in Southeast Asia to experience a change in leadership in 2011 as Shinawatra and her party went on to win a decisive victory in Thailand's elections on July 3. Read more about Thai politics here. (Pornchai Kittiwongsakul /AFP/Getty Images)
June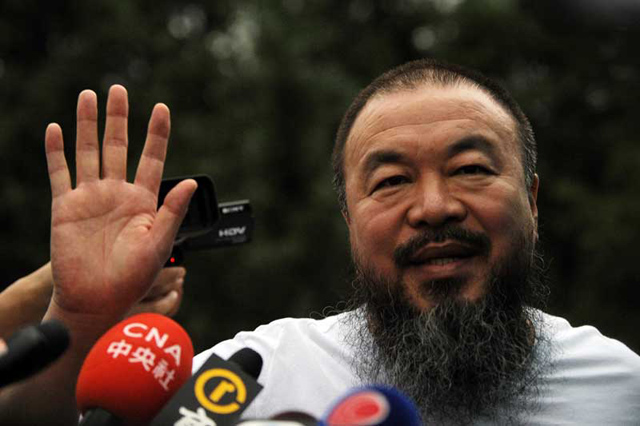 Chinese artist Ai Weiwei waves to reporters outside his studio in Beijing on June 23, 2011. Read more about Ai Weiwei's trials and his photography exhibition at the Asia Society Museum in New York here. (Peter Parks/AFP/Getty Images)
July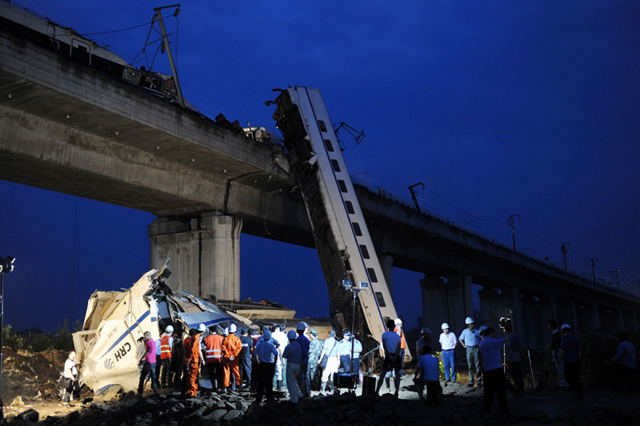 Workers clear wreckage on July 24, 2011 near the city of Wenzhou, in China's Zhejiang province, after a high-speed train collision a day before. The crash was China's worst rail accident since 2008. Click here for the five biggest Chinese stories of the summer. (AFP/Getty Images)
August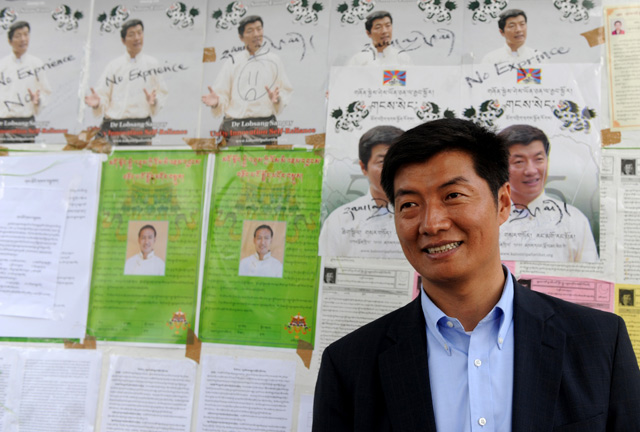 On August 8, 2011 Lobsang Sangay, the 43-year-old Harvard academic, was elected Prime Minister of the Tibetan government in exile and replaced the Dalai Lama as the group's political leader. At least eight Tibetan monks have set themselves on fire this year to protest Chinese rule. Watch a video of Lobsang Sangey at Asia Society here. (Raveendran /AFP/Getty Images)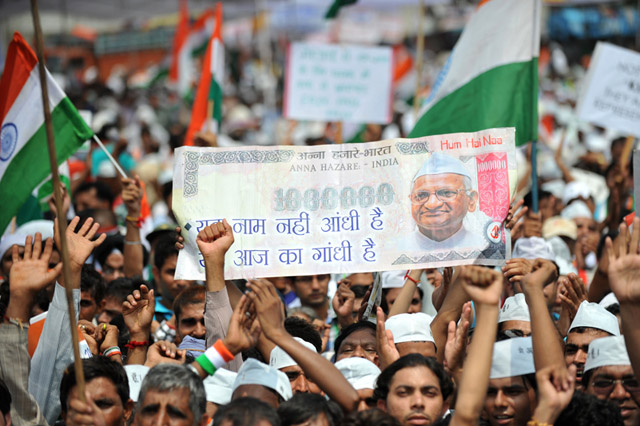 Supporters of the anti-corruption hunger strike by Indian activist Anna Hazare wave the national flag and hold up a fake Indian currency note depicting a portrait of Hazare during a rally in New Delhi on August 21, 2011. Click here to learn more about the anticorruption crusader. (Sajjad Hussain /AFP/Getty Images)
September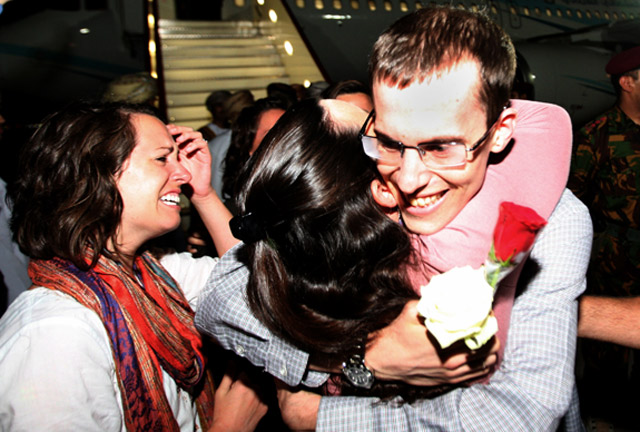 American hiker Josh Fattal (C) is greeted on September 21, 2011 in Muscat, Oman, after Tehran released him and Shane Bauer on bail, after more than two years in Tehran's notorious Evin prison for alleged spying and illegal entry into Iran. (Mohammed Mahjoub /AFP/Getty Images)
October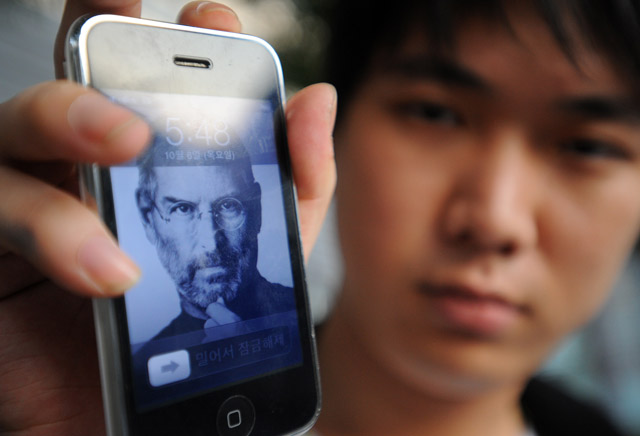 A South Korean man holds a mobile phone paying tribute to Apple co-founder Steve Jobs in Seoul on October 6, 2011. World leaders, tech giants, and countless ordinary people have paid tribute to Steve Jobs after his death, marveling at how the Apple visionary made modern life more user-friendly. View more photos here here. (Park Ji-Hwan /AFP/Getty Images)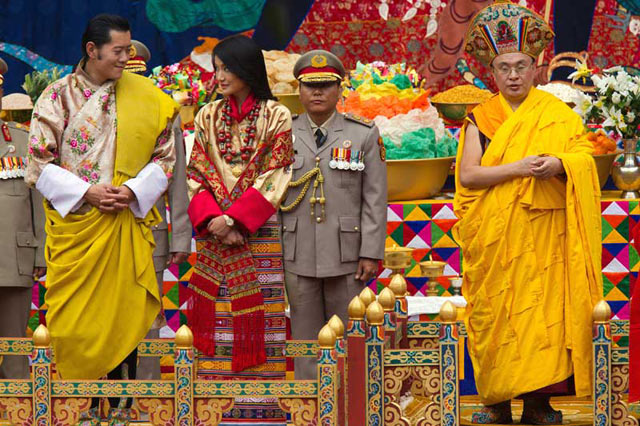 King Jigme Khesar Namgyel Wangchuck, 31, looks at his bride during the purification marriage ceremony to Queen Jetsun Pema, 21, in the historical Punakha Dzong on October 13, 2011 in Punakha, Bhutan. This was the first royal wedding in Bhutan since the late '80s, the event was also the first to be broadcast live there — as television is still a relatively new technology in Bhutan.(Paula Bronstein/Getty Images)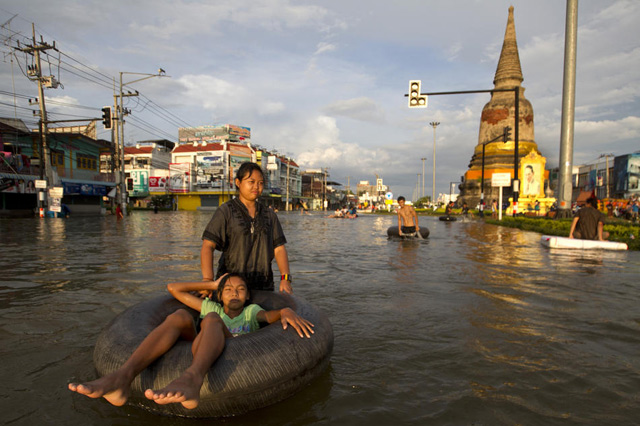 Thais wade through the waters using an inner tube as flooding causes havoc in Ayutthaya, Thailand on October 9, 2011. Thailand has endured its worst flooding in more than half a century. Click here to learn more about the devastating Thailand floods. (Paula Bronstein /Getty Images)
November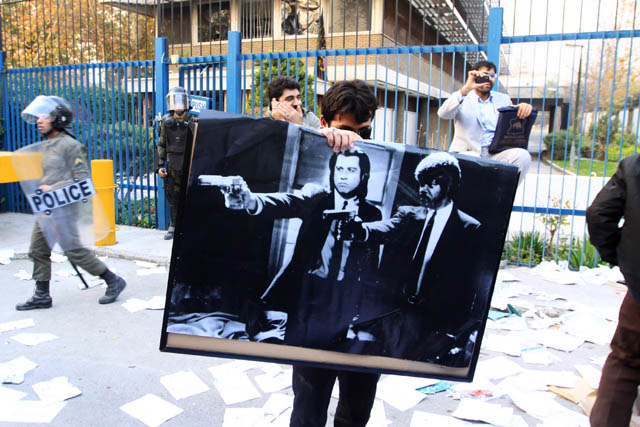 A man holds a poster featuring American actors John Travolta and Samuel L. Jackson in a scene from the film 'Pulp Fiction' following a break in at the British Embassy on November 29, 2011 in Tehran, Iran. Watch a video and read the tweets from that day here. (FarsNews/Getty Images)
December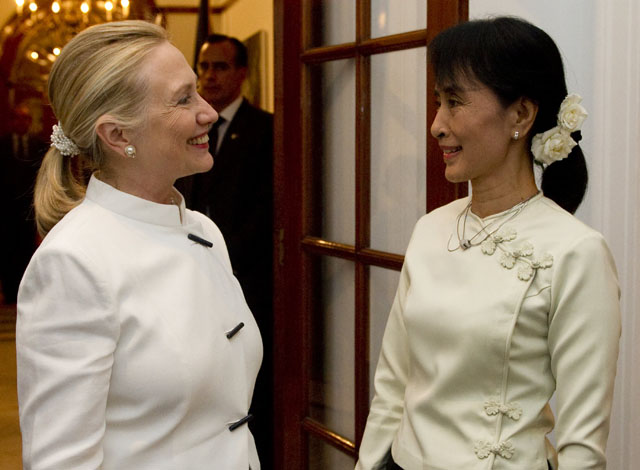 US Secretary of State Hillary Clinton and pro-democracy opposition leader Aung San Suu Kyi meet in Rangoon, Myanmar, December 1, 2011. Read more about the first visit by an American diplomat to the country in more than half a century here. (Saul Loeb /AFP/Getty Images)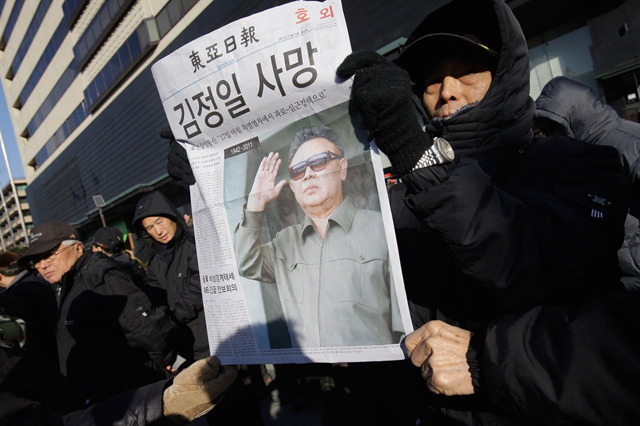 South Korean protesters participate in a rally celebrating news of the death of North Korean leader Kim Jong Il on December 19, 2011 in Seoul, South Korea. Click here for more coverage on Kim Jong Il's death. (Chung Sung-Jun/Getty Images)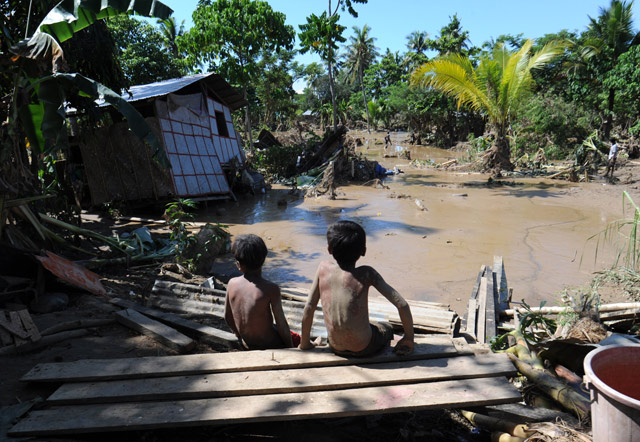 Two Filipino boys look at a destroyed house in Iligan City, in southern island of Mindanao on December 19, 2011, two days day after Typhoon Washi wrought havoc in the city. Philippines President Benigno Aquino III has declared the flood a national calamity as the death toll currently stands at more than 1,000. (Ted Aljibe /AFP/Getty Images)