Photo, Video and Tweets from the Raid on the UK Embassy in Tehran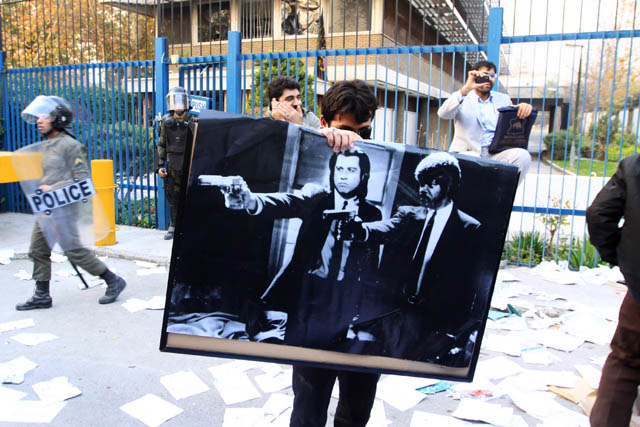 A man holds a poster featuring American actors John Travolta and Samuel L. Jackson in a scene from the film 'Pulp Fiction' following a break in at the British Embassy on November 29, 2011 in Tehran, Iran. (FarsNews/Getty Images)
Dozens of hard-line Iranian students stormed the British Embassy compound in Tehran on Tuesday, screaming "death to England," smashing windows, ransacking offices and burning the British flag in the most serious security breach since the U.S. Embassy takeover after the 1979 Islamic Revolution.
The rally came a day after the Iranian government passed a bill downgrading relations with the U.K., in retaliation for the U.K. joining other Western countries in imposing sanctions due to Iran's disputed nuclear program. Iran's new law calls for Britain's ambassador to be expelled.
The Guardian also reported a second motivation for the demonstration — to commemorate the anniversary of the death of Iranian nuclear scientist Majid Shahriari, who, according to Iranian authorities, was assassinated by Israel's Mossad in cooperation with UK's MI6.
The UK's foreign secretary, William Hague said, "We hold the Iranian Government responsible for its failure to take adequate measures to protect our Embassy, as it is required to do." Fars News agency reported late Tuesday evening local time that the protests had ended.  
Watch the protest video below from Iranian state television and read tweets on the events as they unfolded.