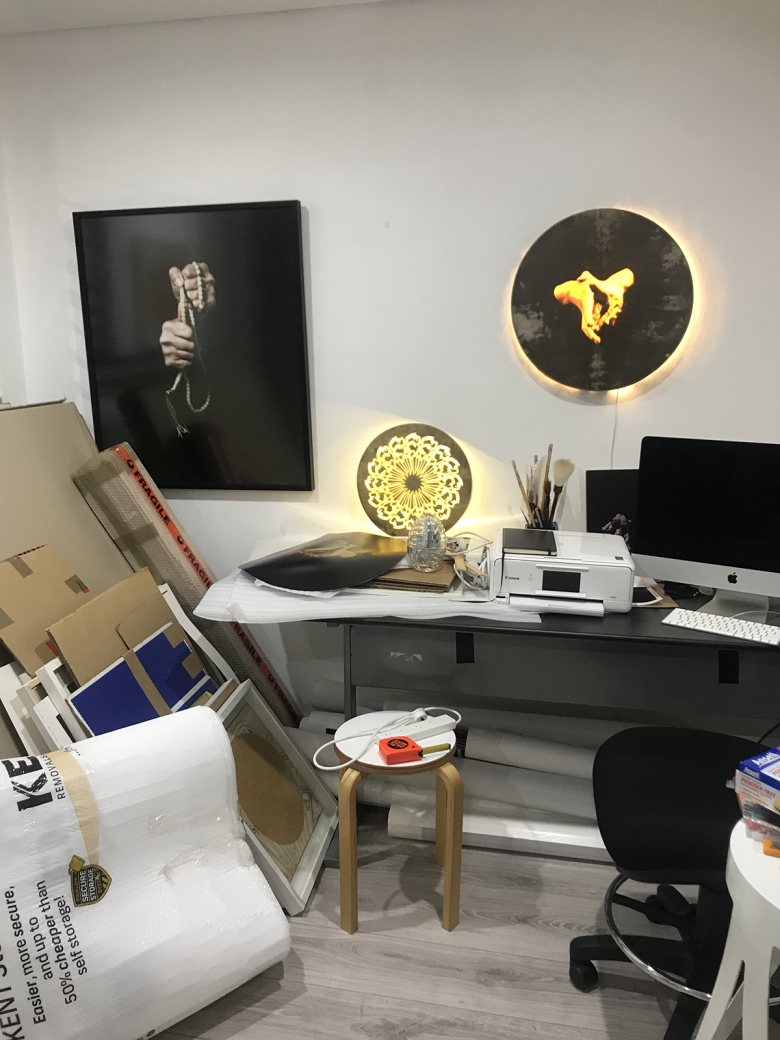 Photograph courtesy of the artist
Dreaming With: Nasim Nasr
In the lead up to the Triennial opening, our Dreaming With Q&A series provides an exclusive glimpse into the artists' lives and studios.
Where have you been during the lockdown?
In Australia/Melbourne there have been various stages and degrees of lockdown. Currently, we are in stage four, which means, as opposed to before, we are basically not allowed out of our homes except for shopping and one hour of exercise. It's been so long that now we are so used to it.
Is there anything you have found yourself cooking a lot of, and if so, would you be open to sharing the recipe with our readers?
Dumplings and stir fry, as we no longer can dine out for them.
What are you reading?
The Subtle Art of Not Giving a F*ck by Mark Manson (Harper, 2016) and The Essential Rumi translated by Coleman Barks (Harper, 2004).
What music are you listening to?
I'm listening to a lot of French songs, especially songs by the singer Loane whom I met in Paris in 2018.
Have you seen any particularly good digital exhibitions in the past few months?
Not really.
What do you find yourself working on most during quarantine?
Reading, cooking, absorbing and understanding big events during the COVID-world, researching, talking to my family and friends on WhatsApp.
Photograph courtesy of Anna Kuce
How has your studio practice changed in recent months?
It has not been a consideration as I find the relevance of art-making at such a time not essential; I've simply been reading and thinking and observing.
Have you created any art in response to the pandemic?
As above/not really.
What artists most inspire you?
Very often Marina Abramović and Shirin Neshat.
What are you most looking forward to about participating in the upcoming inaugural Asia Society Triennial?
Engaging a new audience beyond my current base of practice and, COVID-19 notwithstanding, attending the exhibition in New York, which would be my first visit; learning about other artists exhibiting in this exhibition.
What do you most want viewers to take away from experiencing your work in the Triennial?
I am most interested [in] the audience's consideration of the inherent contradictions and ambiguities in my work, how objects and actions present different meanings, and how multiple interpretations impact perspectives and understanding of different cultures, East and West in particular.
Has your perspective as an artist changed in the midst of the pandemic?
Collaboration, of course, is an issue for most artists; working remotely in isolation will be a test for not only practitioners but for all [who are part of] the infrastructure [of the arts]. For example, my performances [that include] such teamwork and collaboration will no longer be practical.
Are there any fun facts about your practice you would like to share with readers?
They should try Beshkan, Persian finger-snapping; I've made artwork using this as a companion series to the artworks in the Triennial. See: https://www.youtube.com/watch?v=f0YXcKafb2I
Related Updates
Artist Q&A
Dreaming With: Ahmet Öğüt
Artist Q&A
Dreaming With: Susie Ibarra
Artist Q&A
Dreaming With: Samita Sinha