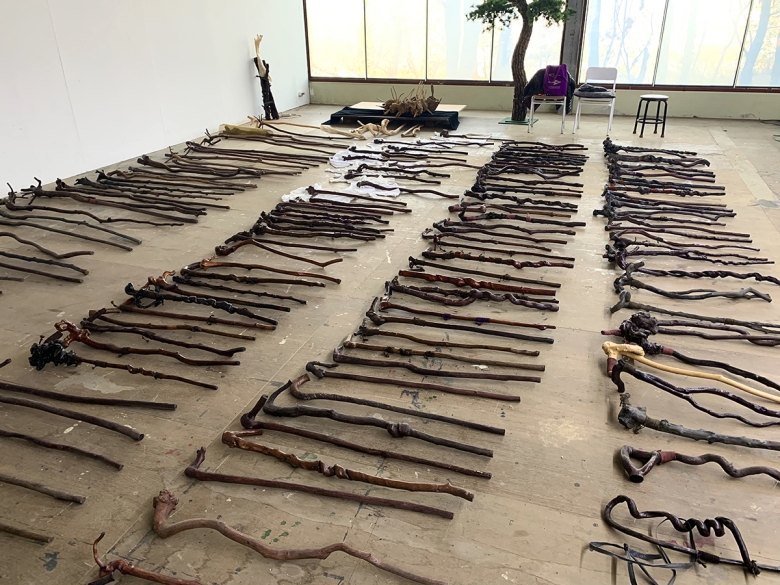 Photograph courtesy of the artist
Dreaming With: Minouk Lim
In the lead up to the Triennial opening, our Dreaming With Q&A series provides an exclusive glimpse into the artists' lives and studios.
Where have you been during the lockdown?
I was in Seoul. Korea never fully locked down.
What are you reading?
Currently, I am reading Downcast Eyes: The Denigration of Vision in Twentieth-Century French Thought by Martine Jay.
What music are you listening to?
I particularly like movie soundtracks. I recently listened to music from Latcho Drom ("Safe Journey"), and [have also been listening to] Fond-des-Blancs, Fond-des-Nègres: Peasant Music from Haïti. These kinds of music soothe me, especially nowadays.
Photograph courtesy of the artist
Have you seen any particularly good digital exhibitions in the past few months?
I think digital exhibitions have both pros and cons. They work well in terms of the level of sharing when information is distributed. But when compared to real exhibitions, it is questionable whether they can completely replace an exhibition or a performance that involves physical literacy.  
What do you find yourself working on most during quarantine?
Everything is quite slow at the moment. So, I am taking this time as an opportunity to reevaluate my past works and carefully plan for postponed exhibitions.
Photograph courtesy of the artist
How has your studio practice changed in recent months?
All video editing processes have been done remotely. Rather, I am thinking more about the tasks that can be done by myself alone. Over the past few months, my interest has shifted to dealing with materiality and considering more ecological matters.
Have you created any art in response to the pandemic?
Recently, I've been experimenting with moldy canes that compose some of my critical body of works. Instead of simply removing the mold from the canes, I am considering a new interpretation of them, to trace how they live and coexist with humans over the years and integrating them as a part of my work. These canes have been produced in dedication to people who were unable to have proper funerals or were not mourned due to pandemics in the past.
Photograph courtesy of the artist
What artists most inspire you?
During these uncertain times, I am most inspired by Joseph Beuys's ecological vision and his concept of "social sculpture." Henri Rousseau's imagination between humans and nature and Giorgio de Chirico's apocalyptic atmosphere in his paintings also inspire me.
What are you most looking forward to about participating in the upcoming inaugural Asia Society Triennial?
I hope that the inaugural Asia Society Triennial can broaden the scope of imagination and serve as an opportunity to further question one's identity, [the] value of democracy, and modernity.
What do you most want viewers to take away from experiencing your work in the Triennial?
Engaging the audience to imagine the exhibition space as a broadcasting studio, I hope that they can become witnesses by immersing themselves in the scenes and observing how the video and sculptural objects are linked to each other. In this way, the viewers can reflect on how identities can be constructed or deconstructed, and consider the new possible form of communication between human beings and objects. Especially now in the current pandemic era, the media seems to reinforce a sense of overt nationalism. Through my work, I hope the audience can empathize with those people who have been separated by circumstance and think about the value of coexistence rather than division––how to live together. 
Has your perspective as an artist changed in the midst of the pandemic?
The pandemic is another war. These days we talk about [the] "new normal" and are getting used to it. Because of [the] "new normal," things are constantly dissipating, and as an artist, I came to think more about the problems of memory and records. Innovation for change and urgency of the task (vocation) have made us reflect more on the meanings of equality, creation, and extinction of civilization, and broader solidarity for not only human beings but ultimately, for all things.
Related Updates
Artist Q&A
Dreaming With: Ahmet Öğüt
Artist Q&A
Dreaming With: Susie Ibarra
Artist Q&A
Dreaming With: Samita Sinha