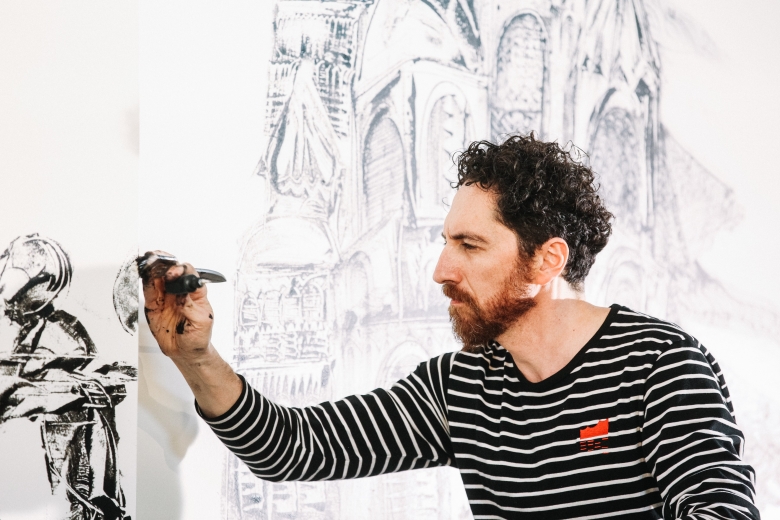 Photograph by Connie Tsang
Dreaming With: Kevork Mourad
In the lead up to the Triennial opening, our Dreaming With Q&A series provides an exclusive glimpse into the artists' lives and studios.
Where have you been during the lockdown?
At the beginning of the pandemic, I stayed home with my family in Manhattan and stopped commuting to my studio. But after a while, I resumed my daily bike ride to the studio in Bushwick.
Is there anything you have found yourself cooking a lot of, and if so, would you be open to sharing the recipe with our readers?
I used to bake before the pandemic, but in January I started mastering the art of sourdough baking, and during the lockdown, sourdough became a daily staple. The sourdough starter that was passed on to me I started giving to my friends around New York. One of my favorite things to make during the pandemic [has been] sourdough flatbread topped with grated mozzarella cheese, and two baked eggs, inspired by a traditional Georgian dish.
What are you reading?
I read three books by Yuval Noah Harari: Sapiens: A Brief History of Humankind (Harper, 2015), Homo Deus: A Brief History of Tomorrow (Harvill Secker, 2015), and 21 Lessons for the 21st Century (Random House, 2018); the quartet by Elena Ferrante; The Idiot by Dostoyevsky; and Flights by Olga Tokarczuk (Riverhead, 2018). Reading widely and within disparate genres has kept me centered and also taken me on beautiful journeys in a time when we've been geographically stuck in one place.
What music are you listening to?
During the pandemic I discovered the Polish countertenor Jakub Józef Orliński, I listened to Nik Bärtsch, and Colin Vallon. I love the meditative quality of Bärtsch's music, which he calls zen funk. I love Vallon's way of using the piano like a painter, no limitations to the instrument, with an unconventional sound. Orliński's voice takes me back to the baroque time, though he himself is such a contemporary figure (a breakdancer).
What do you find yourself working on most during quarantine?
At the beginning of the quarantine, when all my upcoming projects were canceled, I decided to reach out to musician friends for musical compositions to which to set short animations inspired by their music. I called it the Quarantine Series, [and it was] done from home before I was able to return to the studio. I would post them on social media to show that we were still alive and active. I also pasted a large piece of paper to my living room wall and worked on it continuously, as well as [in] a small sketchbook, a quarantine diary. Now I have had several big video projects [that have] fallen into my lap, so I have been actively working on a project with composer Osvaldo Golijov, on Beethoven's Fidelio with the Korea National Opera and Book of Kings with Sahba Aminikia.
Photograph by Connie Tsang
How has your studio practice changed in recent months?
My studio practice has been mostly transformed into digital art-making. I still create large-scale drawings in my studio and then have them rendered into digitally animated works.
Have you created any art in response to the pandemic?
I was fortunate enough to be asked by the Spurlock Museum to create a sculptural piece. I took the idea of being communally isolated in lockdown and created a piece called A World Through Windows for the museum.
What artists most inspire you?
Jack Whitten, Arshile Gorky, and Remedios Varo . . .
What are you most looking forward to about participating in the upcoming inaugural Asia Society Triennial?
The idea of an in-person, physical exhibition is beyond exciting at this point. I'm interested in seeing the silent dialogue between my work and other artists' work, physical works in an exhibit in dialogue with each other, and I'm excited to see what that dynamic is.
What do you most want viewers to take away from experiencing your work in the Triennial?
We are going through a very difficult time, and this piece is about bringing people together, showing how our linguistic (and cultural) differences are an important part of what define and enrich us. Our differences are what must be celebrated.
Has your perspective as an artist changed in the midst of the pandemic?
More than ever, as artists, we're responsible for creating work related to social justice and supporting organizations in need. There is more urgency to the artist's message in these times. Especially now that so many people are in more dire need than ever.
Are there any fun facts about your practice you would like to share with readers?
Though the only art I practice is visual, my performance pieces have given me the chance to be on stage like a musician, in time-based pieces, performing with the same sort of demands put upon a musician. I love being part of that performance world, as well.
Related Updates
Artist Q&A
Dreaming With: Ahmet Öğüt
Artist Q&A
Dreaming With: Susie Ibarra
Artist Q&A
Dreaming With: Samita Sinha