Lahore Literary Festival Returns to New York at Asia Society, May 6
"... a wonder of creativity, eclecticism, ideas and dialogue." – Roger Cohen, New York Times
"… a celebration of a Pakistan open and engaged with the many ideas of many worlds." – Lyse Doucet, BBC
NEW YORK, April 18, 2017 — The Lahore Literary Festival (LLF), one of South Asia's premier cultural events, returns to Asia Society New York on May 6. This is the second year that the festival, held annually in Lahore, Pakistan, travels to New York.
Highlights from the 2016 LLF in New York Festival.
LLF in New York will explore contemporary Pakistan, and feature artists, writers, and commentators. The festival will present American audience with a more nuanced view of Pakistan, with discussions on fiction and nonfiction writing, music, arts, popular culture, and politics.
Participants include novelist and opera librettist Mohammed Hanif; MacArthur fellow and contemporary artist Shahzia Sikander; Pulitzer-prize winning composer Du Yun; former Viacom CEO Tom Freston; New York Times literary critic Dwight Garner; Metropolitan Museum of Art curator Navina Najat Haider; Pulitzer-prize winning author Siddhartha Mukherjee; and journalist and foreign policy author Ahmed Rashid.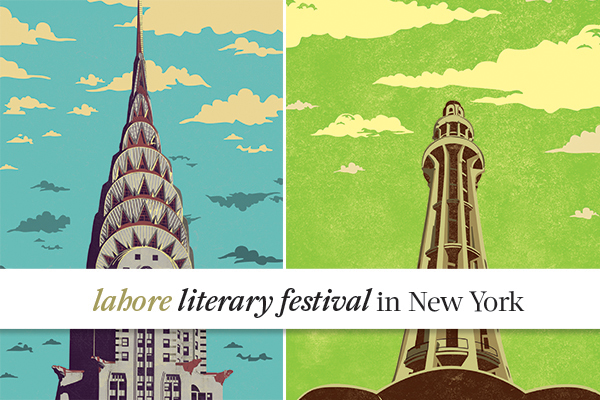 LLF, founded by Razi Ahmed in 2012, aims to reclaim Lahore's cultural significance and influence. A global city under the 12th century Sultanate, a capital of the Mughal Empire under Akbar, and a cradle of the modern Punjabi civilization under Maharaja Ranjit Singh, Lahore has fired the imagination of artists for centuries, inspiring global literature and thought from Milton's Paradise Lost to Kipling's Kim to Massenet's Opera Le Roi de Lahore to John Masters' Bhowani Junction.
The current program agenda follows. Media interested in learning more or RSVPing to attend LLF in New York should contact Asia Society's press office (pr@asiasociety.org).
This program is part of Asia Society's Creative Voices of Muslim Asia initiative.
Lahore Literary Festival in New York
Program Details and Agenda
Saturday, May 6, 2016
Asia Society New York (725 Park Avenue at 70th Street)
Join the conversation on social media using #LLFNYC2017 and by following @LHRLitFest, and @AsiaSocietyNY.
All sessions will be live streamed at AsiaSociety.org/Live. Highlights from the festival will also be archived online.
Note: All programming is subject to change and will be held at Asia Society New York. All times denoted in local New York time.
10:00 am: Welcome remarks
10:30-11:15 am: Is Fake News Crowding Out Real News?
Ahmed Rashid, author of five books, including the best-selling Taliban
Amb. Robin Raphel, former Assistant Secretary of State for South Asia
Tom Freston, former CEO, Viacom and MTV; board member, VICE
Amna Nawaz (moderator), anchor and reporter, ABC News
11:30 am-12:15 pm: Imagination as Imagery
Shahzia Sikander, MacArthur fellow, contemporary artist
Du Yun, Pulitzer-prize winning musical composer
Ali Sethi, singer and writer
Rachel Cooper (moderator), director of global performing arts and cultural initiatives, Asia Society
12:30-1:15 pm: The Sound of Data Darbar
Molly Crabapple, contemporary artist
Raza Rumi (moderator), columnist, policy analyst, and journalist
2:15-3:00 pm: Lahore: Of Kings and Commoners
F. S. Aijazuddin, art historian, author, and columnist for Dawn
Navina Najat Haider, curator, Metropolitan Museum of Art
3:15-4:00 pm: Populism and the Global Rise of Strongmen
Basharat Peer, author, A Question of Order: India, Turkey and the Return of Strongmen; op-ed editor, New York Times
Bernard Haykel, professor of near eastern studies, Princeton University
Saskia Sassen, co-chair, Committee on Global Thought, Columbia University
Akbar Noman (moderator), adjunct associate professor of international and public affairs, Columbia University
4:15-5:00 pm: Where Conspiracies are a Pastime: Satire and Escapism in Fiction and Beyond
Mohammed Hanif, author of A Case of Exploding Mangoes
Nadeem Aslam, author of The Golden Legend
Dwight Garner (moderator), literary critic, New York Times
5:15-6:15: Notes from the Raga
Siddhartha Mukherjee, oncologist, Pulitzer-prize winning author of The Emperor of all Maladies
Ikhlaq Hussain, performer
Dr. Azra Raza (moderator), translator and oncologist