Zao Wou-Ki in America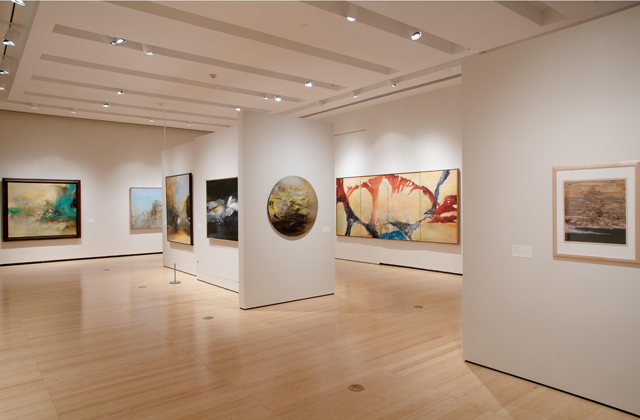 Installation view of "No Limits: Zao Wou-Ki," co-organized by Asia Society and Colby College Museum of Art, on view at Asia Society Museum, New York, from September 9, 2016, through January 8, 2017. (Richard Goodbody)
In 1957, Zao Wou-Ki left France, where he had been living for nine years, for a short visit to the United States. The trip came at a painful juncture in his life. Earlier that year, Zao's wife left him after 16 years of marriage, an acrimonious split that affected him deeply. As he departed for the United States amid this acute personal crisis, however, the 37-year-old painter realized he had seized an opportunity.
"[Zao] knew that being seen in New York and being accepted in America was part of a larger success trajectory," said Melissa Walt, a research associate at Colby College and a guest curator of No Limits: Zao Wou-Ki, Asia Society's current exhibition on the painter. Nevertheless, "it took the crisis for him to make the personal trip," she said.
Zao settled at the home of his brother Wu-Wai Chao in Montclair, New Jersey, and used this proximity to New York City to take full advantage of the city's vibrant art scene. Zao was no stranger to his interlocutors: He was by then a well-established artist in France and had exhibited his work across the United States since 1952. His personal presence in New York nonetheless was fruitful. In November 1957, he met the agent who would represent Zao for the next nine years, ensuring that the painter's work was seen — and sold — regularly in New York. Zao also encountered many contemporary American artists during his stay and spent time with figures like the cartoonist Saul Steinberg and the architect I.M. Pei, who was Zao's lifelong friend and collaborator.
"All of a sudden, Zao saw himself with like-minded people — serious artists who were also well-known," recalls Phebe Chao, Zao's sister-in-law. "He loved New York and quickly became friends with artists who were centered there."
Zao's arrival in New York coincided with the city's emergence as a new center of global art. Abstract expressionism, a distinctly American movement, had become immensely popular in the years after World War II, bringing global fame to artists such as Jackson Pollock and Willem de Kooning. In Zao, whose own work combined modern Western styles with traditional Chinese elements, these American painters saw a kindred spirit.
"Being in New York validated Zao's training and background," said Walt. "It was an easy source for him to draw on."
Despite the professional productivity of his trip, Zao never considered staying permanently in the United States. Four months after his arrival, he returned to France.
"For him, Paris was always where he wanted to be," said Walt. "He had become so thoroughly a part of the cultural, literary, musical, and artistic scene in Paris and had so many friends there."
Zao also was more attuned to the artistic sensibility then present in France.
"He loved America, but he really thought that France was the most civilized place in the world — the most culturally civilized place in the world," said Chao. "And America didn't seem to him to be always serious. For example, the whole thing with pop art [referring to the postwar style popularized by Andy Warhol] — I suspect one of the reasons he couldn't get it was that it was just too playful and ironic."
Following the unexpected death of his second wife in 1972, the Shanghai-born Zao returned to China for the first time in 24 years and paid increasing attention to his native land in the following years. Lacking representation in the United States — Kootz had retired in 1966 — Zao's visibility in America faded.
"People [in the United States] don't really know how to categorize him," said Walt. "Where did he fit in? He was a Chinese artist based in France, and he didn't really have an American presence."
Toward the end of his life, however, Zao has enjoyed a career renaissance. Buoyed by strong interest from Chinese and Taiwanese buyers, Zao's paintings began to fetch higher prices in galleries across the world. In 2003, he regained American representation when he forged a relationship with the Marlborough Gallery.
According to Walt, the resurgence in interest in Zao — who died in 2013 at the age of 93 — is long overdue. Walt and the other curators of No Limits: Zao Wou-Ki, Ankeney Weitz and Michelle Yun, worked to increase that interest and awareness of this great artist through the exhibition of his work currently on view at Asia Society Museum and which travels to the Colby College Museum of Art in February 2017.
"We felt our exhibition serves as a starting point for curators, scholars, and artists to begin integrating Zao's work into the larger narrative of postwar art," said Walt.