Yao Ming's Impact Went Far Beyond His Numbers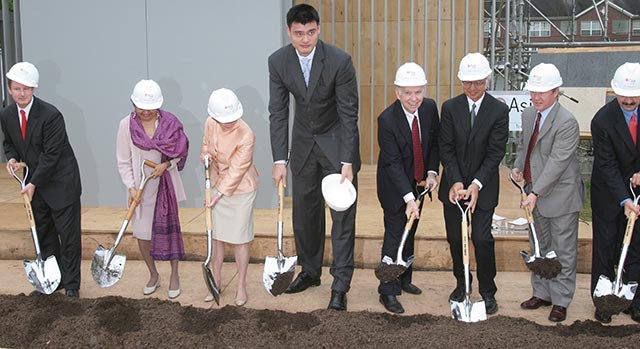 NBA star Yao Ming, architect Yoshio Taniguchi, and other dignitaries break ground for the Asia Society Texas Center on May 15, 2008. (Richard J. Carson/Asia Society)
In the summer of 2002, when the Houston Rockets selected Yao Ming with the first overall pick in the NBA draft, the gangly basketball player attracted immediate international attention. At 7-foot-6, Yao was poised to become one of the tallest men ever to play in the league. The Shanghai native also became, instantly, the most high-profile Asian player the NBA had ever had.
The expectations placed upon Yao could scarcely have been higher, but remarkably, he didn't disappoint. Before injuries curtailed his career in 2011, Yao had established himself as an All-Star caliber player who displayed a deft touch around the rim, serious passing chops, and ferocious shot-blocking skills. Though he never won a championship with the Rockets or a league MVP award, Yao was widely regarded as one of most impactful international players in the game's history.
On Wednesday, Yahoo's The Vertical announced that Yao will be enshrined in the Naismith Basketball Hall of Fame this year alongside luminaries like Shaquille O'Neal and Allen Iverson. The award is in recognition of Yao's on-court accomplishments, but the self-effacing star had an even greater symbolic impact in his native country, where his presence in the NBA contributed to basketball's explosion of popularity in the country. Broadcasts of Houston Rockets games attracted millions of watchers, and merchandise sales — of items like ubiquitous Kobe Bryant jerseys — skyrocketed. China's own domestic league began attracting retired NBA stars like Tracy McGrady, Bonzi Wells, and Stephon Marbury, the latter becoming such an icon in China that a museum and statue were established in his honor. And on the other side of the Atlantic, franchises like the Golden State Warriors have donned official game jerseys emblazoned with Chinese script.
In additon to his professional accomplishments, Yao has used his celebrity in China to promote causes beyond basketball. In 2013, he joined other high-profile Chinese natives in speaking out against shark fin soup, a traditional delicacy that had attracted widespread opposition from animal rights advocates.
Yao also has a strong connection to Asia Society. In 2008, he joined local dignitaries for the groundbreaking of the organization's Texas Center, located in Houston's Museum District. Five years later, he returned to the center for a special luncheon event in which he was interviewed by Jay Williams, himself a retired NBA player. We've embedded the video of this exchange — as well as an additional one-on-one exclusive interview — below.
In his eight seasons with the Rockets — many of which cut short by nagging leg problems — Yao averaged 19.2 points, nine rebounds, and 1.9 blocks per game. But the impact the Chinese star had on the game of basketball eclipses anything that can be measured in numbers.