#TBT: Yao Ming (and a Miniature Shovel) Help Asia Society Break Ground in Houston in 2008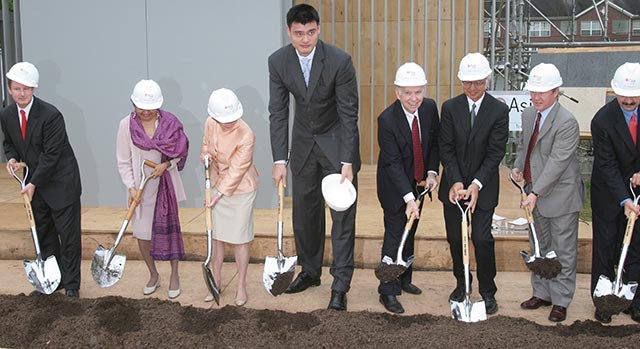 NBA star Yao Ming, architect Yoshio Taniguchi, and other dignitaries break ground for the Asia Society Texas Center on May 15, 2008. (Richard J. Carson/Asia Society)
Throughout his career, Shanghai-born professional basketball star Yao Ming was one of China's most recognizable athletes. Selected as the first overall pick in the 2002 NBA Draft by the Houston Rockets, Yao spent his entire NBA career with the team and was an eight-time NBA All-Star selection.
In this photo, Yao is pictured with architect Yoshio Taniguchi and other dignitaries at the 2008 groundbreaking for Asia Society Texas Center in Houston's Museum District.
View this slideshow for a virtual tour of the completed Asia Society Texas Center, which opened to the public in 2012.
Each week for "Throwback Thursday" (#TBT), we'll reach into our archives to find a photo from the organization's nearly 60-year history. Some photos will feature important moments, some will feature important people, and others still will just be photos we love. Do you have an Asia Society photo you'd like us to consider including in this series? Please email the photo and any related details to photos@theasiablog.org (we regret that we won't be able to respond directly to each inquiry).