Why China Is Reviving Maritime Trade With West Asia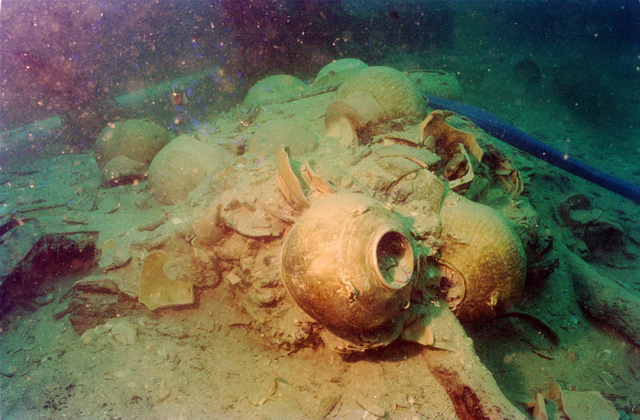 A group of storage jars at the site of the wreck off Belitung Island (Michael Flecker)
In 1998, Indonesian fishermen diving for sea cucumbers came across a shipwreck loaded with Chinese ceramics, spices, and other goods. Upon examination, archaeologists determined that the boat had originally set sail from West Asia and then taken on new cargo in China in the 9th century for its return trip.
In addition to the extraordinary cultural treasures found on the ship — some of which are presently on display as part of Asia Society Museum's new exhibition Secrets of the Sea: A Tang Shipwreck and Early Trade in Asia — its journey was notable for another reason: The wreck provides evidence that a robust maritime trade existed between China and West Asia, a fact obscured by the far better-known overland "Silk Road" route.
In the thousand-plus years after the discovery of the Belitung shipwreck, China's maritime activity has ebbed and flowed, alternating between periods of intense activity and times of isolation.
In the first decades of the 21st century, China has intensified efforts to re-establish a significant maritime presence in Southeast, South, and West Asia. In a speech to the Indonesian parliament in 2013, President Xi Jinping announced the launch of the "21st Century Maritime Silk Road" as a complement to the previously-announced "One Belt, One Road," an investment and infrastructure developing initiative stretching from East Asia to West Asia and encompassing much in between. During the announcement, Xi alluded to China's historic dominance in the seas, using the word "maritime" no less than five times:
"Southeast Asia has since ancient times been an important hub along the ancient Maritime Silk Road. China will strengthen maritime cooperation with ASEAN countries to make good use of the China-ASEAN Maritime Cooperation Fund set up by the Chinese government and vigorously develop maritime partnerships in a joint effort to build the Maritime Silk Road of the 21st century."
What is the "maritime silk road?" Essentially, it's the catch-all term for a series of loans and investments China will make in ports, canals, and naval bases along the country's southern and southwestern periphery. This includes places like Colombo, Sri Lanka, where China has invested billions of dollars in a new port complex, and Gwadar, Pakistan, where construction of a port is part of $46 billion in planned Chinese investment in the country.
The rationale for the initiative is two-fold. China's investment in South and West Asia is part of the country's gradual engagement in a region that, until fairly recently, it had largely neglected. Once determined to stay out of nettlesome international conflicts, Beijing has played an increasingly active diplomatic role in West Asia, even going as far as conducting high-level talks aimed at resolving Syria's civil war.
Tom Miller, the author of China's Asian Dream, said that this wasn't an accident. "For China to experience great national rejuvenation, then China has to be a great regional power in Asia," he said. "And other countries have to bow down to it."
China's primary motivation is economic. The explosive growth of China's economy over nearly four decades has forced the country to seek new markets in order to alleviate industrial overcapacity. The comparatively underdeveloped economies in places like Pakistan or Sri Lanka represent growth opportunities for China's companies — opportunities that no longer exist in China. And for the poorer countries on China's periphery, Beijing's economic engagement without political strings attached represents a chance to fast track development.
This arrangement, though, has drawbacks. Consider Colombo, Sri Lanka's capital. While national leaders like Mahinda Rajapaksa, the former president, hailed China's investment as a major boon to the economy, locals have complained that they have received little of the economic benefit from projects like Colombo Port City. Concerns about corruption and the possibility of long-term debt have proven explosive enough in the country that in 2015 they cost Rajapaksa his job.
China has consistently denied having any imperial designs on the Asian countries to its south and west. In fact, Beijing has deployed a far lighter touch with its initiatives in South Asia and West Asia than in its maritime claims in the South China Sea, where a U.N. Tribunal officially rebuked Beijing in 2016. But the Maritime Silk Road and the One Belt, One Road, have greater long-term significance. They reflect less a departure of China's foreign policy from an internally focused policy of non-interference than a restoration of the country's past dominion over much of its periphery, a status that it enjoyed during the era when the Belitung met its fateful end.