#TBT: Why Asia in 1984 Wasn't Like Asia in '1984'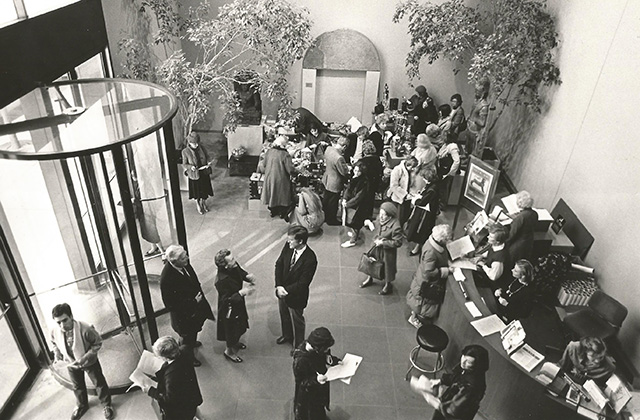 Asia Society President Robert B. Oxnam (center) greets visitors at an Asia Society New York open house in 1984. (Marcia Weinstein/Asia Society)
In 1949, When George Orwell published his famous novel 1984, he foreshadowed a world divided into three dystopian states at constant war with one another. Eastasia (made up of China, Korea, Japan, and Southeast Asia) kept its citizens isolated, ignorant, and deeply hateful of the other two regions: Oceania (the Americas and British Isles) and Eurasia (Europe and Russia).
Seven years after 1984's publication, John D. Rockefeller 3rd had a very different vision of the future — one with diverse Asian countries emerging on the world stage while engaging with the rest of the world diplomatically, economically, and culturally. With this future in mind, Rockefeller founded Asia Society hoping to help Americans better understand the rising civilizations of Asia.
When the year 1984 finally came, then-Asia Society President Robert B. Oxnam pointed out that Rockefeller's optimistic view turned out to much better reflect reality than Orwell's gloomy outlook. "Modernization is the watch-word," Oxnam wrote of Asia in September 1984. "Bold strides in education, science, technology, industry, agriculture, and urban growth are evident. … At the same time, many Asians are finding wellsprings of creativity in their own traditions."
In 1984, Asia Society was a bellwether for the opening up and increased influence of much of the Asia Pacific region. That year the organization held exhibitions of Korean folk art, photography from Tibet, contemporary Chinese paintings, and narrative scrolls from Japan. It hosted performances by an Indian dance troupe, Chinese poets, Japanese play actors, and the Asian-inspired composers Philip Glass and Robert Moran. On a more grassroots level, Asia Society sponsored a "Video Letter From Japan" series depicting the lives of Japanese sixth graders, and it led workshops teaching American students about Japan, India, and Vietnam. That year also marked the establishment of Asia Society's Southern California center in Los Angeles, which joined the three existing locations in New York, Washington D.C., and Houston (the organization has since grown to 11 centers throughout the U.S. and Asia).
"I can report that the year was filled with positive achievements toward better fulfilling our purpose," Oxnam said at the time, but added that the work was far from done. "Asians and Americans must learn more about each other as we enter the Asian era."
In the above photo from 1984, Oxnam greets visitors as they pour into Asia Society's New York headquarters at 725 Park Avenue for a museum open house. 
Each week for "Throwback Thursday" (#TBT), we'll reach into our archives to find a photo from the organization's nearly 60-year history. Some photos will feature important moments, some will feature important people, and others still will just be photos we love. Do you have an Asia Society photo you'd like us to consider including in this series? Please email the photo and any related details to photos@theasiablog.org (we regret that we won't be able to respond directly to each inquiry).