Survey Shows Political and Religious Shifts Among Chinese Students in U.S.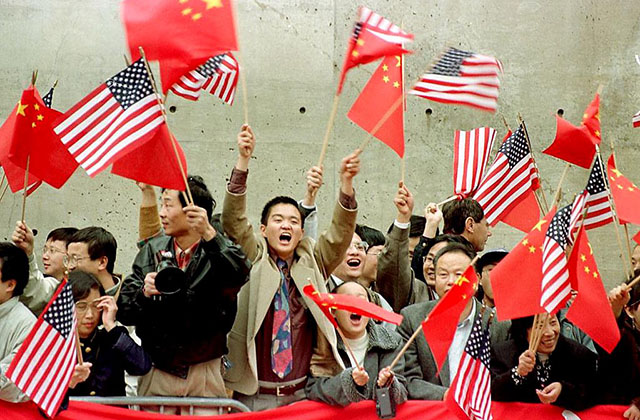 A crowd gathers near Harvard University prior to a visit by former Chinese President Jiang Zemin. (John MotternAFP/Getty Images)
Last year, the number of Chinese students studying at American schools topped 328,000 — more than five times the number a decade ago — making them by far the largest cohort of international students in the country.
As their numbers grow, these students are poised to leave a significant footprint in both American and Chinese societies. So the question of how they are shaped by their American education is becoming one of profound significance to both sides of the Pacific.
A recently published survey of Chinese students at Purdue University offers new insight into that question. "Many of the findings seem to be surprising," said Purdue sociologist Fenggang Yang, who conducted the survey. "Like their views on the U.S. and China — their attitudes have changed."
The survey, which was conducted online in April 2016, examined everything from political and religious attitudes to social and cultural experiences. It included 960 students from Mainland China, representing about 23 percent of Purdue's total Chinese student body. Among American universities, Purdue has the third largest Chinese population.
The findings indicated diverse opinions among students, with "some moving in one direction, others in the other direction" on many issues, according to Yang.
Twenty-nine percent of the respondents reported developing a more negative attitude toward the United States since their arrival. Twenty-six percent reported a more positive attitude, with the rest remaining unchanged in their opinion.
This finding is at odds with a 2015 survey of Chinese students in the U.S. conducted by Foreign Policy, which found that 60 percent had developed a more positive view of the U.S., compared to 23 percent with a more negative view. That survey had a smaller sample size (186 respondents) but included students from five different universities across the country.
However, both surveys found that the Chinese students tended to develop a more positive outlook toward their own country. In the Purdue study, 44 percent said their attitude toward China had become more positive, with 17 percent reporting a more negative view.
"Before they came, maybe they had a rosy picture of the U.S.," Yang said. "Then after they have lived here for awhile they realized, well, the reality is more complicated."
He pointed to issues like crime in the U.S. and the perception of less social stability, as well as comparatively slower economic growth. Fifteen percent of students surveyed also reported experiencing negative treatment because of their race. "I guess this set of contrasts made many people feel it's not so bad to live in China," Yang suggested.
He also noted that the U.S. election — in the heat of a contentious primary season when the survey was conducted — may have magnified certain American problems to students and presented them with an especially divisive image of the country.
Opinions on the two countries' respective political systems were very much divided. When presented with the statement "Democracy may have problems but is better than any other form of government," 37 percent of the Chinese students agreed, 35 percent were neutral, and 28 percent disagreed.
On the other hand, 43 percent agreed that "China's current political system is the most suitable one for China." Thirty percent were neutral and 27 percent disagreed.
Accurate opinion polls within China to give a basis of comparison are hard to find, as surveying on politically sensitive issues is generally prohibited. But some polls have suggested approval ratings of China's central government in excess of 85 percent among the general Chinese population, and over 65 percent for local governments.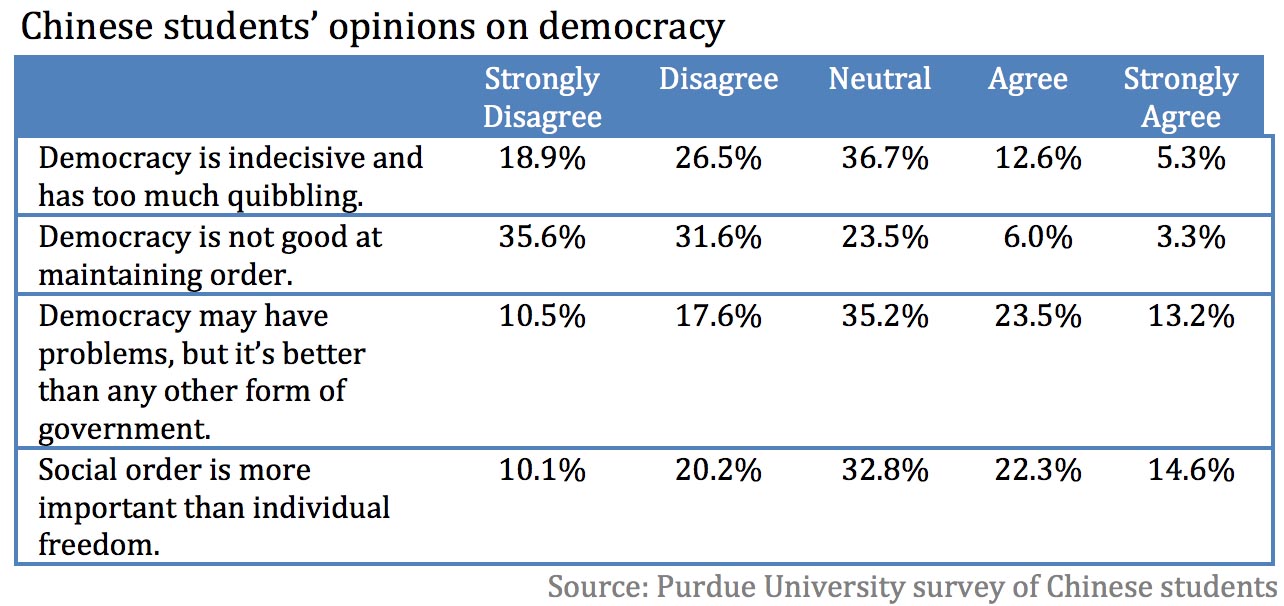 Students in the Purdue survey were divided by the general philosophy behind China's one-party system, which puts a premium on "stability." When asked whether they thought social order was more important than individual freedom, 37 percent agreed, 33 percent were neutral, and 30 percent disagreed.
"It basically depends on who you talk with," Yang said. "There are students that appreciate individualism, democracy, and freedom. … But I think compared with previous cohorts of Chinese students in the U.S., the current ones are less critical of China because they grew up in the post-reform period."
The study suggested that the students were mainly from backgrounds that have disproportionately benefited from China's reforms and economic growth. Most were from mid-to-large sized cities located predominantly in developed coastal regions. Three-quarters of respondents reported having at least one parent with a college education and only about one-in-five said they feel high financial pressure while living in the U.S.
One of the most significant shifts the survey indicated was related to students' religious beliefs. It found that after coming to the U.S., belief in Catholicism doubled and belief in Protestant Christianity quadrupled, while the number of those believing in Buddhism, Taoism, and folk religions declined.
Rapid growth in religious belief is consistent with trends unfolding among young people within China. But Yang, who has also done a wide body of research on religion in China, says the pull of Christianity is especially strong for students in the U.S. 
One reason is the outsized influence of the faith in American culture and the developed network of churches and religious groups. These institutions, Yang said, offer immediate social networks for students who might otherwise feel isolated. These groups often even specifically target Chinese students with airport pickups and other assistance in getting settled in early weeks. Eighty-two percent of students surveyed reported having been proselytized to by Protestant followers at some point since coming to the U.S.
But Yang said the most surprising finding came in comparing beliefs among students who were members of the Communist Party (CCP) or Communist Youth League (CYL) before coming to the U.S., and those who weren't. Atheism is a prerequisite for CCP members, and the CYL is generally a step on the way to party membership. However, more than 80 percent of the CCP and CYL members in the sample reported believing in some supernatural power. Only 58 percent of students not affiliated with either of those groups reported the same. "I don't have an explanation," Yang said. "This is totally surprising to me."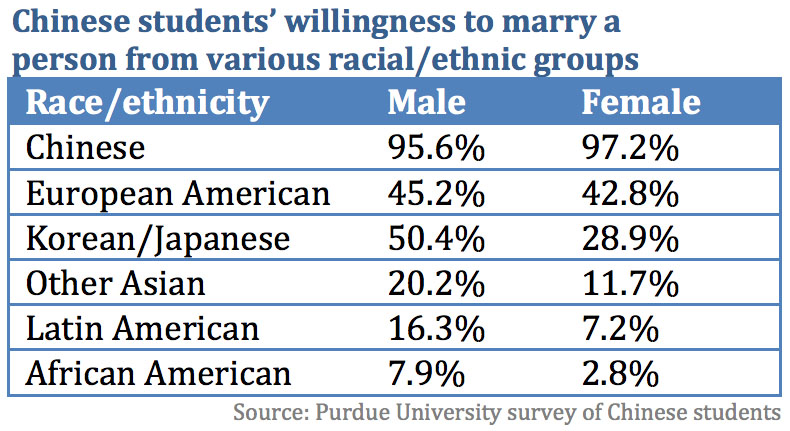 The survey also sought to measure social experiences and suggested there are some aspects of American campus culture that are not popular with Chinese students. Less than 20 percent of respondents said that they drank alcohol at least once per month in the past semester, whereas separate studies have found this number to be around 80 percent for American college students.
When asked which ethnicities they would be willing to marry, more than 95 percent of both male and female Chinese students said they would be willing to marry fellow Chinese. Americans of European decent were the second most popular, with 45 percent of Chinese males and 43 percent of females willing to marry them. These numbers were 8 and 3 percent respectively regarding African Americans — the least popular potential marriage partners among those surveyed.
Yang cautioned that the survey was limited to Chinese students at Purdue — a Midwest public university with a large student body. Though he guessed the results are probably reasonably representative of Chinese students at similar institutions, they're likely not as applicable to those in coastal regions or at elite universities.