National Book Award Winner Evan Osnos 'Tried to Do Justice' to Chinese People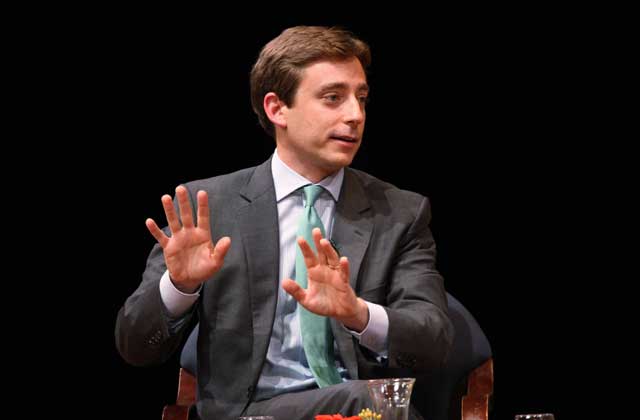 Journalist and author Evan Osnos onstage at Asia Society New York on May 14, 2014. (Ellen Wallop/Asia Society)
Asia Society salutes journalist Evan Osnos for winning the 2014 National Book Award in Nonfiction for his book Age of Ambition: Chasing Fortune, Truth, and Faith in the New China (Farrar, Straus and Giroux, 2014), a collection based on his eight years of living in Beijing.
At last night's ceremony in New York City, Osnos said that he was dedicating the award to the ordinary Chinese citizens he profiled. "They live in a place where it is very dangerous to be honest, to be vulnerable, and they allowed me to write about them, and I've tried to do them justice."
A staff writer for The New Yorker since 2008, Osnos is now based in Washington, D.C. and concentrates primarily on politics and foreign affairs. Previously, he served as Beijing bureau chief of The Chicago Tribune, where he contributed to a series that won the 2008 Pulitzer Prize for investigative reporting.
Osnos has regularly spoken at Asia Society since he received its Osborn Elliott Prize for Excellence in Journalism on Asia in 2007. In May of this year, he talked with Orville Schell, Arthur Ross Director of Asia Society's Center on U.S.-China Relations, at the launch of Age of Ambition (video clip, below), and in November 2013 he participated in a panel discussion that assessed Chinese President Xi Jinping's first year in office.
May 2014 highlight: "The whole country [China] is moving at warp speed" (4 min, 45 sec.)