Interview: Kevin Kwan on World of 'Insane Fortunes' in New Novel 'China Rich Girlfriend'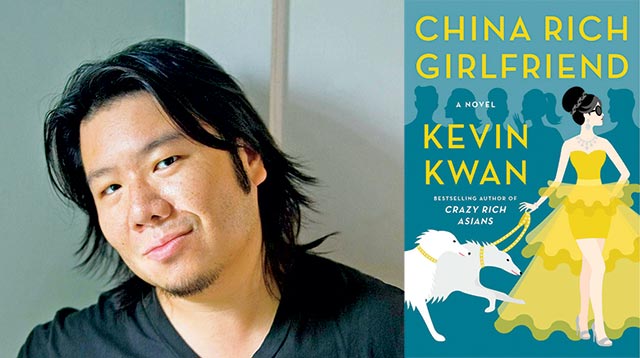 Author Kevin Kwan. (Kevin Kwan)

Asia Society welcomes back author Kevin Kwan on June 16 for the release of China Rich Girlfriend, the anticipated sequel to the widely celebrated, critically acclaimed Crazy Rich Asians. Learn more
Bestselling author Kevin Kwan is set to kick off a national book tour for his highly anticipated book, China Rich Girlfriend, the sequel to the critically acclaimed Crazy Rich Asians. The novel offers a second serving of the extremely wealthy, social climbing, and wildly outrageous world that catapulted Kwan's first book to the top of the New York Times bestseller list. Born and raised in Singapore until the age of 12, Kwan grew up in Houston and attended the University of Houston. He now resides in New York City.

Asia Blog caught up with Kwan ahead of his June 16 appearance at Asia Society Texas Center.

Crazy Rich Asians was such a success that now we hear there's talk about a movie adaptation. What can you share with us about that?
It's more than talk. The film is being produced by Color Force, the team behind The Hunger Games films, and is on the fast track to the big screen. Pete Chiarelli, who wrote The Proposal, the hit romantic comedy starring Sandra Bullock and Ryan Reynolds, is working on adapting my book into a screenplay, and we hope to be in pre-production in the fall. It's all falling into place like a dream!

What should readers expect from the sequel, China Rich Girlfriend?
The action moves more to Mainland China in this second book, which was always my intention when I first began the series. Many of the original characters from Crazy Rich Asians return, like Nick, Rachel and Astrid, and I delve deeper into their stories, but there are also many new characters that lead the reader into this world of the China rich — like Colette Bing, an outrageously pampered heiress and fashion blogger with millions of followers, and Carlton Bao, a charmingly reckless "ne'er do well" who was sent away to boarding school in England at a young age and finds himself having a hard time finding his place in the new China. With these new characters come even more insane fortunes, much higher stakes, and I hope, many more laughs for the reader.

You've said in prior interviews that many of the details in Crazy Rich Asians come from real life experiences. With a sequel on the way, should readers expect more reality-based events covered in the China Rich Girlfriend?
The storylines are definitely reality-based, but the reality of what's happening in China right now is so staggeringly unbelievable. There are families that lived in rural farmhouses without running water making overnight billions and commissioning private Boeing 747s decorated like flying palaces. You have a new generation of pampered princelings who buy million-dollar sports cars in Europe and have illegal drag-racing contests down the Champs Elysées. There are elite cliques of fashion-obsessed girls who jet off to Paris for private couture shows and spend millions a day buying up all the luxury boutiques in the city. These are just a few of the plot points in my book that are inspired by actual newspaper headlines in Asia.

You are a University of Houston graduate, a Cougar, who now lives in Manhattan (Houstonians won't hold that against you). What was the impetus to kick-off your national book tour in Houston?
Houston is my hometown, and the Asia Society Texas Center is such a superb venue and has always been so supportive, so it seemed only natural to kick things off here. And Houston has become such an international city, in many ways eclipsing New York, I think. There's such a dynamic, thriving Asian community — the Asian restaurants in this city are far more authentic and better than any place you would find in Manhattan these days! (I also couldn't pass up an opportunity to get my Pappasitos fix.)

What was college life like for you at the University of Houston? 
I was very much a late bloomer academically. Many people are surprised to learn that I was a C-average student in high school with SAT scores in the double digits. (I think I was having too much fun — in high school I spent my time hand-writing and circulating a weekly gossip column - how's that for shades of things to come?) But at U of H, I was suddenly surrounded by people who were really there to learn and to be inspired by the amazing professors. I found my groove, excelled academically for the first time, and discovered my passion for writing. I also got really involved in campus life — at one point I was spending more time serving on boards and student organizations than I was attending classes, but I had such a blast and met people that are still some of my best friends in the world.

After college, you worked for some major firms including Martha Stewart and M & Co. What prompted you to start Kevin Kwan Projects?

It really evolved quite organically. In 1998, I had the honor of being invited to join M & Co., this legendary creative design studio headed by Tibor Kalman, truly one of the greatest graphic designers of the 20th century. It was like a launching pad for some of today's best designers. I found myself at a very young age in a position where I was working on projects with top editors at The New York Times, or the Design Curator at the Museum of Modern Art. It was an unbelievable opportunity and I learned so much. Very sadly, Tibor passed away in 1999, and after this incredible experience working for him, I knew that nothing would top that and the only way to carry on was to start my own creative consulting studio, very much inspired by how Tibor did things. I only took on projects that I was wildly passionate about and as Tibor said, "Always work with clients that are smarter than you."

You appear to be a jack-of-all trades, living three diverse yet successful lives, as a writer, fine arts photographer, and creative consultant. How do you maintain balance in your life?
Well, the balancing act of three diverse lives had to take a hiatus after Crazy Rich Asians took off in the way that it did, with the film deal and readers around the world demanding a sequel almost immediately after the first book was released. I had to focus completely on touring and writing China Rich Girlfriend. Life has been nonstop crazy since 2013, and while I really can't complain, I am dreaming of unplugging my computer, throwing my cell phone into the South China Sea and taking a really long break after this book tour is over!

What would you like for readers to know about Kevin Kwan?
Contrary to popular belief, none of the characters in my books are based on me. (Although it would be nice to have Nicholas Young's apartment on Morton Street.)