Interview: 'Crazy Rich Asians' Teach Author Kevin Kwan His Love of Fiction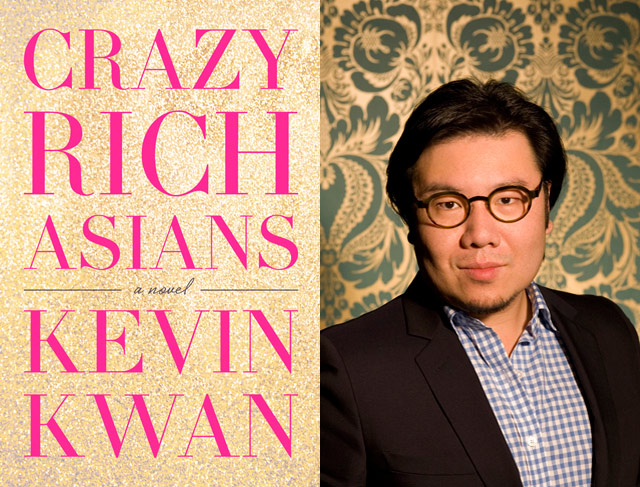 "Crazy Rich Asians" (Doubleday, 2013) by Kevin Kwan (R). (Alexis Rodriguez-Duarte).
As People magazine explains in its rave review: "There's rich, there's filthy rich, and then there's crazy rich." In his debut novel Crazy Rich Asians (Doubleday, 2013), Kevin Kwan contrives a brilliantly satirical story about Asia's notoriously ostentatious and crazy rich — specifically, an unfathomably wealthy Singapore family and the uproarious drama and gossip that ensue when Nicholas Young, heir to one of Asia's biggest fortunes, brings his unsuspecting American-born Chinese girlfriend, Rachel Chu, to Singapore one summer for an extravagant wedding.
When he's not writing, Kwan balances his time between fine arts photography and creative consulting. He is the author of I Was Cuba (Chronicle Books, 2007) and co-author of Luck: The Essential Guide (Collins, 2008). Born and raised in Singapore, Kwan currently lives in New York City.
Kwan will speak at Asia Society Texas Center on Wednesday, July 17 for an Asia Society "Books in Conversation" program. RSVP is required. Asia Society members can redeem free tickets by clicking here or calling 713-496-9901 to make a reservation. Nonmembers may purchase tickets here.
Asia Blog asked Kwan a few questions ahead of his appearance in Houston.
What were the highs and lows of writing Crazy Rich Asians?
The big high for me was discovering how much I loved writing fiction. The book began as an experiment — the first chapter was based on a poem I had written almost 20 years ago entitled "Singapore Bible Study," but from there the story just kept flowing. So there were many moments of pure joy, when a plot line seemed to be working and I could go into these ten-hour marathon writing sessions, or when I began to see my characters really come to life. But of course there were the times where I would wonder to myself, "Am I crazy to be writing all this? Is this story truly compelling, or have I just wasted two years of my life?"
Crazy Rich Asians hearkens back to your own upbringing in Singapore. Are any of the characters in your novel based on real-life people?
Some characters are completely dreamt up, but some are loosely inspired by people I know. But these characters were always an amalgam of many people, like a savory dish composed of various spices: Throw in three pinches of a cousin here, add a dash of your childhood classmate there, and simmer with a good dose of that obnoxious relative that's always making inappropriate comments at family occasions.
You juxtapose several themes in your novel, one of them being overseas Chinese vs. mainland Chinese. What differences do you observe between these two communities in the context of wealth and opulence, and how do you convey this dichotomy in your novel?
I think many overseas Chinese, who have nurtured their fortunes over several generations, tend to be more low-key in terms of how they spend and flaunt their money. There is still a great emphasis on thrift and discretion, whereas many of the mainland Chinese rich are happily flaunting their new riches and going through a period of acquisition unlike anything we have ever seen. Just look at who's buying up all the real estate and smashing the records at auctions around the world.
My book is all about this clash of cultures — the story is set around this outrageously lavish "wedding of the century" where the scion of an old-money Singapore family marries the heiress of a much newer fortune from mainland China. I wanted to show all the hilarity, snobbery, and drama that ensue when these establishment families are confronted by the flamboyant, brand-spanking-new money families.
But more than this, the book is really about the complexity of issues that surround my characters — three generations of family members who in their own particular ways are forced to reckon with blessings and curses all this wealth has brought.
Crazy Rich Asians is rife with cultural references such as "Qianlong dragon jardinières" or "Mikimoto pearl studs" that add to the novel's satirical flair. Is there a specific audience that you're targeting or are readers expected to do their own research?
I wanted to tell a story that anyone could enjoy. For me, it was all about creating a world, and describing this world as completely as possible. Part of this involved parodying the sort of people who like to tell you the provenance of every object in their house, or who name-drop luxury brands any chance they get. Readers really don't need to do any research to get the point, but if they do, I think it's all part of the fun. I've already had quite a few readers tell me how much they enjoyed Googling some of the tasty foods I described or discovering a place they'd never previously heard of.
Now that your debut novel was published a month ago, what do you do when you're not writing?
In the midst of touring for the book, I am still doing creative consulting for other clients. Right now I'm curating the images for an illustrated biography of Ulysses S. Grant, so I'm knee-deep in paintings and photographs from the Civil War.