I.M. Pei at 100 — Celebrating the Renowned Architect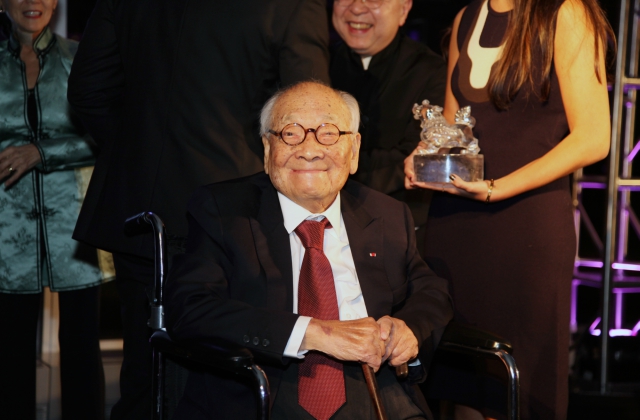 I.M. Pei smiles for the camera at the Asia Society Asia Game Changers Awards at the United Nations on October 27, 2016. (Ellen Wallop/Asia Society)
I.M. Pei, the Chinese-born architect whose designs have left a distinctive mark on cities across the world, turns 100 today. Pei has been a giant in his field for decades — but even if you aren't familiar with his name, you know his work. Among many other buildings, he designed the East Wing of Washington's National Gallery, Boston's John F. Kennedy Library, the Bank of China skyscraper in Hong Kong and, most recently, the dazzling Museum of Islamic Art in Doha, Qatar. 
But perhaps Pei's most iconic structure is the pyramid-like entrance he designed at Paris' Louvre Museum. In a recent appraisal of the architect in advance of his 100th birthday, New York critic Justin Davidson described this achievement:
He carved out a new underground entrance in the central court of the U-shaped building, then topped it with a crystal pyramid and a set of triangular pools. The crisp planes embraced by arms of ornate stone, the skin of water reflecting Paris's turbulent skies, the transparent portal to an underground realm, the stagy staircase that spirals down into the atrium like a long curl of orange peel — all these features now seem so intuitively correct that it's easy to forget how many experts howled about each one. With the simplest of gestures — albeit one hugely complicated to execute — Pei had transformed a great creaky mess of a museum into a modern palace of blockbuster shows, able to handle multitudes.
Pei is also a great friend to the Asia Society, which honored him last year with an Asia Game Changer Lifetime Achievement Award in a ceremony at the United Nations. Accompanied by his children and grandchildren, the great architect thanked the assembled crowd and said he "wished to see you all again." You can watch his acceptance speech here:
Last September, Pei stopped by Asia Society Museum to check out No Limits: Zao Wou-Ki, the museum's Fall 2016 exhibition. Pei and Zao, who died in 2013, had a decades-long friendship informed by their shared experience of being Chinese artists who achieved fame and recognition in exile. Here's our video of Pei's visit to Asia Society Museum: