How Is China's Economic Reform Going? Here's How To Find Out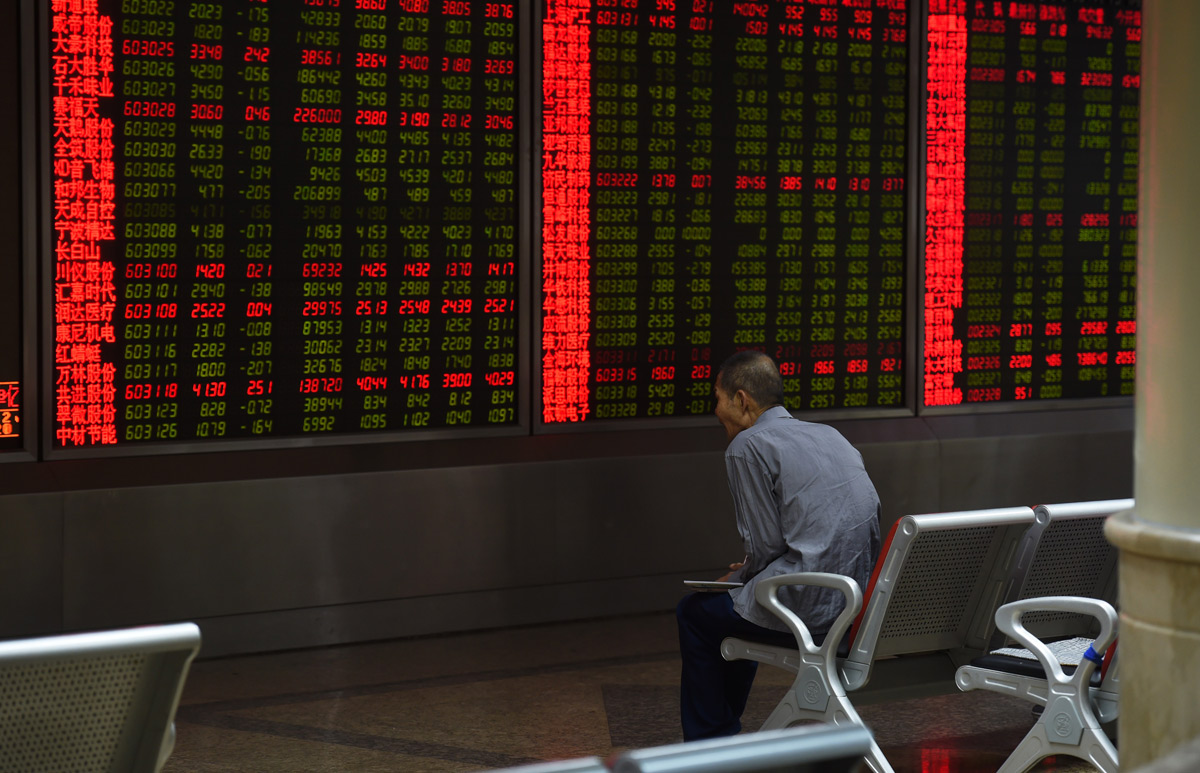 An investor watches stock price movements on a screen at a securities company in Beijing. (Greg Baker/AFP/Getty Images)
Soon after assuming China's presidency in 2013, Xi Jinping announced a reform program designed to correct imbalances in China's economy that had accumulated after three and a half decades of breakneck growth. On the eve of this month's 19th Communist Party Congress — a major political event likely to culminate with Xi's appointment as China's supreme leader for the next five years — now is an opportune time to assess the progress of these reforms.
Enter the China Economic Dashboard. An online resource co-developed by the Asia Society Policy Institute and the Rhodium Group, the Dashboard allows readers to explore the key metrics — including financial system reform, trade, cross-border investment, state enterprise reform, and fiscal realignment — that will determine whether Xi's vision for economic reform will be realized.
In advance of the Dashboard's Washington, D.C., launch on October 11, Asia Blog checked in with Daniel Rosen, founding partner of the Rhodium Group, to find out more about the Dashboard, examine the state of China's economic reforms, and learn what to expect from the upcoming Party Congress.
What do you see is most useful about the China Economic Dashboard?
The most useful tools on the Dashboard are the primary indicators: For each of the major areas where China needs to reform its economy, we find data that should reflect implementation. By watching these over time we get a clear idea of whether changes are taking place, in what direction, and how fast. These indicators track actual outcomes, not just pledges — a big difference.
We have tried to select indicators that both Chinese and non-Chinese observers can agree are a good reflection of reform.

What do you see as the most commonly misunderstood or misinterpreted aspect of China's economic trajectory?
That GDP growth is a good measure of success. Given Beijing's control over financial flows and lending, and its barriers to cross-border capital flows, China has been able to maintain GDP growth by tolerating higher and higher levels of debt. Today's stable GDP growth comes at the price of booming liabilities. Whether the risk from this debt is justified by the short-term growth expectations it buys is for China to decide. But too often Chinese and foreigners misinterpret how sustainable reported Chinese growth is. Chinese observers also misunderstand foreign attention to China's economic policy mix: Foreigners must be interested in the Chinese outlook because China's success or failure to manage reform well will affect them.

Why do you think Beijing has been slow to kickstart reforms? How much control does China's government actually have?
Many observers argued that reforms would be on hold under after the mid-October Party Congress, which will usher in a new five-year leadership team under President Xi. Indeed, our indicators show that reforms were not moving much recently. But reform has been slow for most of Xi's first term: this is not just a pre-Congress development. Beijing controls the timing for the reform program, but it cannot prevent the shifts that reform will bring about since those changes are what reform is ultimately all about. Hesitance about social stability, redistribution of power and influence, and the readiness of market forces to play a decisive role all play a part in slowing the reform program originally announced in November 2013.
Do you expect to see much activity about economic reform emerging from the 19th Party Congress?
We expect to hear a clear endorsement of the need for reform at the Congress. And the new leadership may demonstrate new plans to push ahead. But Party Congresses are more about politics than policy, and the kind of regulatory revamp that is most important is unlikely to be the focus of the meeting. That said, with the political work of the Congress done, there will be one fewer reason for further delay. Leaders, including President Xi, are aware that markets have been waiting for this Party Congress as a starting point for faster economic reform, and that if a compelling program for the economy is not unfurled soon expectations for China's future performance will fall.