Four Elections To Watch in Asia in 2017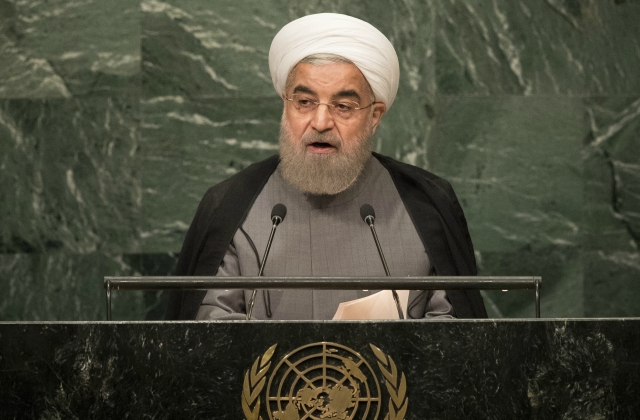 President of Iran Hassan Rouhani addresses the United Nations General Assembly at UN headquarters, September 22, 2016 in New York City. (Drew Angerer/Getty Images)
Many of the events that define a year, from natural disasters to untimely deaths, are impossible to predict. But as Asia prepares to welcome the new year, it's time to look ahead to four pivotal political events that will prove highly consequential in 2017 — and beyond.
China
The date: Fall 2017
The incumbents: President Xi Jinping, Prime Minister Li Keqiang, and the other five members of the Chinese Communist Party's Politburo Standing Committee.
Names to watch: Wang Yang, Sun Zhengcai, Hu Chunhua, Wang Qishan
OK, we're cheating a little here: China's upcoming political transition does not include a popular vote, so it isn't precisely accurate to call it an election. But the upcoming 19th Communist Party Congress in the fall may nonetheless be the most important political event in Asia in 2017.
President Xi Jinping and Premier Li Keqiang will almost certainly retain their posts for the next five years. But the other five men on the Standing Committee of the Politburo — China's highest governing body — are likely to be replaced. A decade ago, Xi's ascension to the vice presidency during the 17th Party congress put him in position to succeed then-president Hu Jintao. Will Xi anoint a successor this year? Precedent suggests he will, but whether he does is far from certain. Xi has already amassed more power than Hu ever had, and is said to be an admirer of Russian President Vladimir Putin's broad executive authority. Few analysts would be surprised if the Chinese leader chose to continue indefinitely — an indication that the country's anti-corruption campaign and assertive claims in the South China Sea will be further entrenched.
Hong Kong
The date: March 26, 2017
The incumbent: Chief Executive Leung Chun-ying
Names to watch: Regina Ip, John Tsang, Woo Kwok-ing
In December, embattled Hong Kong Chief Executive Leung Chun-ying announced that he would not seek re-election as the territory's top leader, ending a controversial four-year reign in which Leung's acquiescence to Chinese interference triggered massive protests. The race to replace him reflects Hong Kong's divisions: Regina Ip, a veteran pro-Beijing politician, has thrown her hat in the ring, as has Woo Kwok-ing, a judge more sympathetic to the territory's pro-democracy residents. Meanwhile, John Tsang, a pan-democratic finance minister, is ahead in the polls — but Beijing may disqualify him from the race.
A victory by Ip would likely bring Hong Kong even closer to China, but may also trigger demonstrations by the territory's young, energetic pro-democracy protesters. A victory by a pan-democratic leader, however, could lead to a period of uncertainty as Hong Kong tries to resist greater supervision by Beijing. Both results seem to augur a contentious period up ahead for the Chinese territory.
South Korea
The date: TBD, but no later than December 20, 2017
The incumbent: Park Geun-hye
Names to watch: Ban Ki-moon, Moon Jae-in 
On December 8, the South Korean legislature voted to impeach President Park Geun-hye amid a corruption scandal involving Choi Soon-sil, a religious figure and presidential confidante with whom Park had improperly involved in governance. The country's highest court now has until June 7 to decide whether to permanently remove Park from office, at which point the country will hold fresh elections in 60 days. Even if she unexpectedly survives and finishes her term, the country will hold fresh elections no later than December 20.
Who will be South Korea's next president? One possibility is Ban Ki-Moon, the outgoing U.N. secretary-general and, like Park, affiliated with the center-right Saenuri Party. A likelier candidate is Moon Jae-in, a liberal who finished second to Park in the 2012 elections. If victorious, Moon or another member of the Democratic Party could soften Park's tough stance toward North Korea and, simultaneously, revisit the president's warmer ties with Japan.
Iran
The date: May 19, 2017
The incumbent: Hassan Rouhani
Names to watch: Bagher Qalibaf, Mostafa Mirsalim
Under the political system put in place in Iran after the country's Islamic revolution, the president does not have broad executive power. The final decision on all matters of major national interest rests with Ayatollah Ali Khameini, the country's supreme leader. But that doesn't mean May's Iranian presidential elections lack significance.
The incumbent, Hassan Rouhani, is a reformer whose campaign will be predicated on one central achievement: last year's nuclear deal with the West. The deal, which froze Iran's nuclear weapons program in exchange for sanctions relief, was greatly popular, but in the ensuing months, many Iranians have grumbled that the promised economic rewards have failed to materialize. Rouhani could also be vulnerable to a populist campaign from the country's hardline faction, such as the one that propelled the controversial firebrand Mahmoud Ahmadinejad to the presidency in 2005. (For what it's worth, Ahmadinejad himself has ruled out a run.)
Nevertheless, analysts expect that Rouhani — just like each of his predecessors — will be re-elected in May.