Nine Events That Shaped Asia in 2016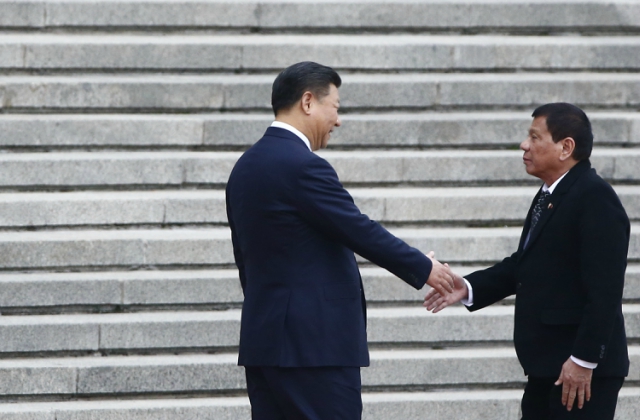 President of the Philippines Rodrigo Duterte and Chinese President Xi Jinping shake hands as they attend a welcoming ceremony at the Great Hall of the People on October 20, 2016, in Beijing, China. (Thomas Peter/Pool-Getty Images)
For years to come, 2016 is likely to be remembered for a pair of shocking events that rocked Western politics: Britain's decision to exit the European Union in July, and the election of Donald Trump as the U.S. president in November.
But 2016 was also an eventful year across Asia. From the Philippines to Syria, and Uzbekistan to China, political intrigue, diplomatic scuffles, and untimely deaths made headlines across the world's largest continent.
As the year winds to a close, let's take a closer look at nine events that have shaped Asia in the last 12 months.
Rodrigo Duterte Becomes President of the Philippines
Tell me if you've heard this story: A septuagenarian enters the presidential race and wins a surprising victory. He has a history of making irreverent, impolitic statements that his advisors reassure us are not meant to be taken literally. He has made deeply offensive remarks about women.
The man I'm referring to, of course, is Rodrigo Duterte, who in April was elected president of the Philippines and, right away, earned comparisons to Donald Trump. In office since July, Duterte's promise to impose law and order in the Philippines has resulted in impressive popularity ratings. But his ruthless approach to drug dealing — "We will not stop until the last drug lord, the last financier, and the last pusher have surrendered or [been] put behind bars or below the ground," he said in his inaugural speech — has led to the extrajudicial, unsolved murder of over 3,000 Filipinos since June. 
Duterte's outspoken style has already complicated relations with the United States, the Philippines' most crucial ally. In September, responding to criticism from President Barack Obama, the Philippine president referred to the American leader as a "son of a whore," leading Obama to cancel a planned meeting of the two. Later that month, on a state visit to China, Duterte announced that the Philippines would pursue "a separation" from the United States in order to cultivate closer ties with Russia and China.
Duterte has indicated enthusiasm for working with the incoming U.S. president, whom, he claims, praised his controversial prosecution of the country's drug wars during a private phone call. How the relationship between the two tempestuous men evolves in the years to come will have repercussions throughout the region.
Read More:
Who Is Rodrigo Duterte? Introducing the Philippines' Irreverent New President
Rodrigo Duterte, China, and the United States: Explained
A U.N. Tribunal Rules Against China in the South China Sea
The election of Duterte was not the only critical event in Sino-Philippine relations in 2016. In July, an Arbitration Court convened in The Hague ruled that China's vast maritime claims in the South China Sea — defined by Beijing as the area enclosed by a "nine-dash line" — were not supported by international law. In particular, the court determined that the Spratly Islands did not fall within China's exclusive economic zone and that China's activities in the disputed area violated obligations to preserve and protect its maritime environment.
Does the ruling mean that China will abandon its maritime claims? Not exactly. President Xi Jinping immediately rejected the decision and signaled that Beijing would not abandon what the Chinese Communist Party regards as a core national interest. But the court's decision was nonetheless a significant victory for the Philippines and, by extension, other countries in the region — including Vietnam, Brunei, and Malaysia — that have butted heads with their much larger neighbor over issues of sovereignty. 
Read More:
China's Claims in the South China Sea Are Rejected
China Is Perhaps 'The Biggest Victim' in the South China Sea Says Former Foreign Minister
U.S. May Adopt a More Cooperative Posture With Beijing in the South China Sea, Analyst Says
After the Ruling: What's Next in the South China Sea?
The Election of Donald Trump
Perhaps the most consequential event in Asia in 2016 didn't happen in Asia at all. That would be the election of Donald Trump to the U.S. presidency, a stunning political event that, if Trump's rhetoric is to be believed, could augur significant changes in American policy in the region.
Throughout his campaign, Trump suggested that U. S. military protection of Japan and South Korea — arguably the two most important U.S. allies — should no longer be unconditional, and seemed to express indifference toward these countries acquiring nuclear weapons. Trump attacked multilateral trade deals as disadvantageous to American workers and promised to scrap the Trans-Pacific Partnership (TPP), a 12-nation accord that served as the centerpiece of the Obama Administration's "Pivot to Asia." (Hillary Clinton, it should be noted, also opposed TPP after originally supporting it.) In addition, Trump has advocated positions on immigration that could have severe consequences for Asians: He has supported the end of birthright citizenship, called for restrictions on H1B visas, and, most notably, called for a temporary ban on Muslim immigration into the United States. Trump has also indicated a desire to withdraw the U.S. from the Paris Climate Agreement as well as the Iran nuclear deal, two cornerstone diplomatic initiatives achieved by President Obama.
Whether Trump is able — or even still willing — to follow through on these proposals remains a question mark, even with the Republican Party in control of both houses of congress. Even before his inauguration, however, the president-elect has already spurred controversy by accepting a congratulatory phone call made by Taiwan President Tsai Ing-wen, marking the first contact between an American president or president-elect with a Taiwanese leader since the two countries severed diplomatic relations in 1979. 
Read More:
Memos to Donald Trump, From the Asia Society Family
Advice for President-Elect Trump From Around Asia
Trump Advisor Advocates 'Bringing Change to China'
The Death of Uzbekistan's Tyrant
When the Soviet Union collapsed in 1991, creating 15 separate independent countries, an apparatchik named Islam Karimov became the president of the new state of Uzbekistan, a position he would not relinquish until September 3 of this year when he died following complications from a stroke at the age of 78. In the intervening 25 years, the ashen-faced Karimov governed his country with an iron fist and emerged as one of the world's most brutal dictators. A committed secularist, Karimov repressed an Islamist uprising in 1999 without mercy and said he was prepared to "rip off the heads of 200 people, to sacrifice their lives, for the sake of peace and tranquility in the country." In order to increase the yield of cotton — Uzbekistan's chief export — Karimov relied on the forced labor of up to one million people. He held several thousand political prisoners and, in 2002, was found to have boiled several suspected Islamists alive. And in 2005, Karimov responded to an anti-government uprising in the city of Andijan by ordering the Uzbek military to fire on demonstrators, leading to the massacre of an estimated 1,000 people.
Uzbekistan's poverty and isolation belied its outsized role in geopolitics, and Karimov leveraged his country's location at the threshold of Afghanistan for maximum gain. In the weeks after the September 11 attacks, Karimov granted the United States access to the Karshi-Khanabad Air Base, from where the American military launched attacks into then-Taliban held Afghanistan. Four years later, in protest of Washington's condemnation of the Andijan massacre, Uzbekistan kicked the U.S. out, only to allow a return in order to deliver humanitarian assistance across the border.
Days after Karimov's death, Shavkat Mirziyoyev, the country's prime minister, became acting president, a role formalized upon his victory in December elections described as "devoid of genuine competition." Although there are rumors that Mirziyoyev would liberalize Uzbekistan's tightly-controlled economy, few experts expect him to loosen control over the country's beleaguered population.
Syria's Government Takes Upper Hand in Civil War
The Syrian civil war, now in its sixth year, remains the world's largest humanitarian disaster, with the death toll approaching 500,000 and the displacement of millions more. As the year came to an end, however, the regime of Bashar al-Assad gained a decisive advantage when government troops, aided by Russian air power, captured the industrial capital of Aleppo and forced the evacuation of citizens living in the city's rebel-held east. Earlier this week, Russia and Iran, who back Assad, and Turkey, who supports anti-government rebel factions, met in Moscow to negotiate a settlement to the conflict. (The U.S. and U.N. were pointedly not included).
Even if the fighting were to end tomorrow — itself an impossibility — it is difficult to overstate the geopolitical significance of Syria. The vacuum of power in parts of the country and in neighboring Iraq have allowed terrorist organizations to flourish, presenting a challenge to governments around the world. In addition, the world's largest refugee crisis in decades has destabilized politics across Europe and contributed to a nationalist backlash across the continent. The ongoing conflict has also caused immense destruction to one of the world's oldest civilizations and, by placing countless artifacts and antiquities at risk, poses a threat to history itself.
A Scandal Rocks South Korea
For the past four decades, the families of Park Geun-hye, South Korea's president, and Choi Soon-sil, the daughter of a key religious figure, enjoyed an intimate connection that spanned much of the modern history of the country. In 2016, this relationship has (likely) prematurely ended Park's presidency and thrown politics in South Korea into turmoil. The allegations are incendiary: Park is accused of having improperly shared sensitive documents with Choi, a Rasputin-esque shadowy religious figure, who is also alleged to have played a key advisory role for the president. Worse, Choi is accused of using her connections to Park in order to secure more than $70 million in donations.
The scandal spurred massive protests on successive Saturdays in Seoul and brought Park's approval ratings to a microscopic 4 percent. The president vowed to continue her term. But in early December, South Korea's parliament impeached Park by a 236-56 margin, giving the country's highest court 180 days to decide whether or not to impeach her. Choi, meanwhile, was sentenced to prison.
Thus far, South Korea's biggest political scandal in decades has not roiled financial markets nor caused much consternation among the country's neighbors. But should Park be removed from office and replaced by a left-wing government more conciliatory toward North Korea, the consequences for the region could be significant.
Read More:
Park Geun-ye Is Impeached: What's Next for South Korea?
The TPP Dream Dies
A year ago, the TPP, the largest regional trade accord in history, served as the crowning achievement of President Barack Obama's "pivot to Asia." Comprised of 12 countries with a combined gross domestic product of almost $28 trillion — the deal promised to lower tariffs and create new labor standards in countries covering roughly 40 percent of the world's economy. TPP too was about far more than just economics: It was designed to solidify the U.S. relationship with several key countries in the Pacific Rim and sen a signal to others (read: China) that Washington had no plans to disengage from the Asia-Pacific region.
That was then. The election of Donald Trump, who based his campaign on opposition to international trade deals in general and TPP in particular, ensures that the deal will not, in its present form, be ratified. And while it's tempting to attribute this turnabout on Trump's unlikely victory, his electoral opponent Hillary Clinton also opposed TPP on grounds that it insufficiently protected American jobs. 
The failure of TPP to gain ratification does not mean that trade, writ large, will shutter in the Pacific Rim. But it does signal that American policy toward Asia in the Trump years would mark a departure from that of the president-elect's predecessor. In addition, the geopolitical implications of TPP's death may also be vast. According to Wendy Cutler, vice president of the Asia Society Policy Institute and a top negotiator for TPP, the deal's demise leaves China with a major opening in the region.
Read More:
Wendy Cutler: 'China Is Likely To Fill the Vacuum' From U.S. TPP Exit
Thailand King's Death Causes Anxiety About Country's Future
For seven decades, the courtly and bespectacled King Bhumibol Adulyadej was a universally beloved figure in Thailand, his face adorning photographs found inside the homes from high-rises in Bangkok to the country's most far-flung villages. His death in October at the age of 88 triggered an intense period of national mourning — as well as concern. The king served as a unifying figure in a country riven by the bitter division between an urban elite (known as "yellow shirts") and the rural poor, known as "red shirts." This division has manifested itself into numerous coups, including one in 2014 that restored Thailand's military into power.
The king was thought to be the only figure in the country revered by both sides. Now that he is gone, this responsibility falls to his son, the former Crown Prince Vajiralongkorn, who formally inherited the kingdom earlier this month. But the son's reputation as a frivolous playboy has dogged his popularity in Thailand. Whether he is able to fill his father's considerable shoes is likely to be a crucial issue in Thailand in 2017 and beyond.
Read More:
After the King: What's Next for Thailand?
Remembering King Bhumibol, Thailand's Unifying Force
North Korea Goes Ballistic
North Korea launched its fourth and fifth nuclear tests in 2016, defying near-universal international opposition and punitive economic sanctions in order to continue its weapons program. September's test, where North Korea claimed it had developed a warhead small enough to fit on a ballistic missile, led analysts now fear that Pyongyang is nearing development of a weapon powerful enough to reach the United States.
Would increased sanctions work? Not necessarily. North Korea remains as poor and isolated as ever, but the government has been able to obtain sophisticated equipment through Chinese intermediaries — who face little legal risk in dealing with North Korea — for use in their weapons' program.
Read More:
Podcast: North Korea Goes Ballistic
How Nuclear Deterrence in North Korea Became 'A Game of Chicken'
How North Korea Is 'Evolving' To Dodge Sanctions