Dwayne Johnson's Stuntman: 'I'm Typecast Often and That's Alright'
Dwayne 'The Rock' Johnson's longtime body double Myles Humphus explains how stereotypes have actually helped his career.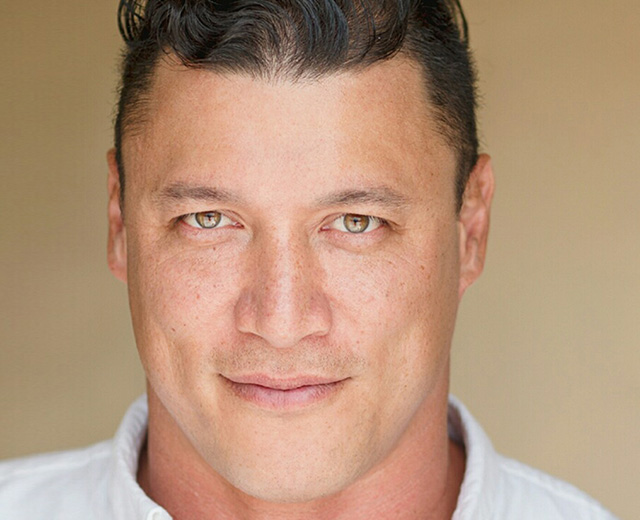 Actor and stuntman Myles Humphus (Photo courtesy of Myles Humphus)
Myles Humphus may not be a name that you recognize — but if you're a fan of action films or of the wrestler-turned-actor Dwayne "The Rock" Johnson, you have probably seen Humphus' work. Standing at 6 foot 3-inches, Humphus has appeared as Johnson's stunt double in blockbuster movies like the Fast and the Furious franchise and the upcoming Baywatch and shows like HBO's Ballers. 
Growing up in rural Georgia, Humphus was always an athletic kid, and as he grew older he played football in college and later became a Mixed Martial Arts (MMA) fighter. While training at a gym one day, Humphus was discovered by stunt coordinator Doug Crosby, who put him in touch with various people in the industry. One such person was stuntman Tanoai Reed, who is also Johnson's cousin, and after working on several projects, Humphus became an official part of "Team DJ." Humphus has a deep appreciation and respect for Johnson, who is forging a career path that Humphus hopes to emulate. 
Humphus recently has begun taking on formal acting roles. In his most recent project, a new short film I Don't Make the Rules directed by Asian American director Lawrence Chen, Humphus plays a character saddled with thousands of dollars in medical debt and is desperate to make ends meet. Asia Blog spoke to Humphus who is currently on location filming the movie Rampage to discuss his journey from the gym to the spotlight. Portions of the interview have been edited for clarity.
Your mother is Korean. What was it like growing up Asian American in the rural South? What was your experience with diversity growing up?

Every May for Asian Pacific American Heritage Month, Asia Blog interviews noteworthy Asian Americans from a diverse set of backgrounds. View the complete Q&A archive
Being half Korean in the rural South gave me a unique perspective. I did not associate or align myself with a single race. I was not white, or black, or Asian. I was just a boy with friends. There were times where I was the butt of racial slurs (usually in jest amongst friends) though once I was asked to leave the local private country club even though I was brought and accompanied by a member because they had a strict "whites only" policy. And this was in 1987! Overall, my experiences with overt racism did not occur until college. That was the real eye-opener for me.
You have had legitimate professional athletic prospects. What pulled you away from football and MMA and toward becoming a stunt double?
Having been a professional athlete, I was completely devoted to the physical condition of my instrument, which is my body. But I began to grow tired of being a physical commodity to be bought, sold, or tossed aside. There was a desire to express the creativity that bubbled beneath the muscles. A fortunate series of events led to my discovery by stunt coordinators Douglas Crosby and then Tanoai Reed. The years of playing sports have prepared my body for physical rigor and my mind for the attention to detail and focus.
Humphus stars in the short film "I Don't Make the Rules," which recently premiered on "Short of the Week."
Describe what it's like working with Dwayne "The Rock" Johnson and his team. 
Loyalty. Gratitude. Respect. That's why I continue with "Team Rock." DJ [Johnson] and Tanoai have treated me like a family member. In a business where so many want you to crawl through broken glass for shits and giggles, "Team Rock" has been inclusive and appreciative from the very beginning.
Your build obviously lends itself to certain types of action roles. What's been the biggest challenge in trying to shift into acting?
Stunts are generally choreographed: One move leads to another move, leading to another, and yet another. However, acting is a choreography of emotions. I have to train my "emotional body" so that I can have the utmost control of each emotion, much like how I would train for jiujitsu and boxing.
Asian American actors are often typecast in Hollywood as tech nerds, doctors, or accountants. How have these casting stereotypes affected your career?
As for acting roles, I'm typecast quite often and that's alright. You have to understand this is the nature of storytelling. Instead of allowing the audience to visualize the characters, the show gives the viewer a character that best fits the story not just with words but just as importantly, with an image. It's not personal — it's a stereotype. Stereotypes are critical to simplifying a storyline. There has been quite a bit of discussion on "white savior" roles, but no one talks about all the evil white roles. My time spent in these stereotypical roles has taught me more about myself. It has allowed me to free my technique through repetition and prepare me for characters with more depth and flair. I'm not upset, I'm stoked!