Can Xi and Modi Establish an Economic Partnership? Experts Share Their Views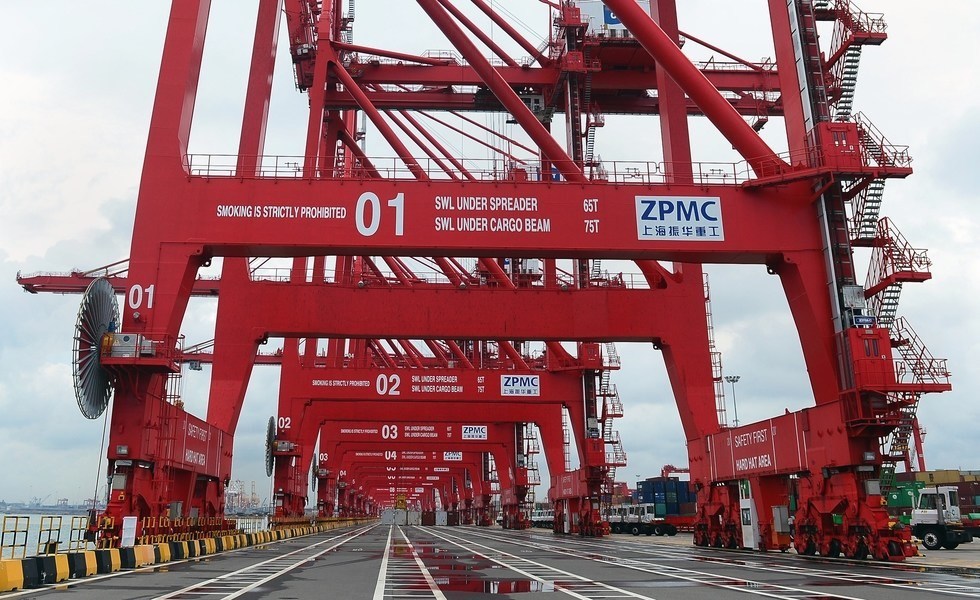 This photo taken on September 10, 2014 shows gantry cranes lined up at the new Chinese-majority owned Colombo International Container Terminal (CICT) in Colombo. China's president kicked off his first South Asia tour with a visit to Beijing's latest investment in Sri Lanka, a US$1.4 billion port city development to include a marina and a Formula One track, all just 250 kilometres (150 miles) from India's coast. (Lakruwan Wanniarachchi/AFP/Getty Images)

Read expert commentary on the prospects for Xi Jinping and Narendra Modi to strengthen economic ties between China and India and use those ties to improve overall relations between the two countries.
As China's President Xi Jinping heads to India for an important visit with India's Prime Minister Narendra Modi beginning September 17, China and India have an opportunity to improve their bilateral ties. But can the two leaders make headway in the economic sphere with other issues still causing friction? And if the two leaders display the political will to enhance economic cooperation, what issues should be on the top of their economic agenda? We asked a number of experts to share their views on what they think President Xi and Prime Minister Modi can do to enhance bilateral economic relations even as their countries grapple with other geopolitical issues. We asked them to identify some win-win issues for the two economies that Xi and Modi ought to prioritize.
Eight experts offered responses, available here, which together consider the promise and the challenge of improving bilateral relations between China and India. Below are key takeaways.
Anil K. Gupta, Professor of Strategy, Globalization, and Entrepreneurship at the University of Maryland's Smith School of Business and Co-founder of the China-Institute, argued the "timing is almost perfect" for broader cooperation on economic issues. He believes the "economic relationship between the two countries is at the cusp of transformation — from one defined primarily by trade to one defined heavily by investments." He predicted that Chinese "industrial clusters" being set up in India would be one the key ways that the two countries will enhance economic engagement.
Hu Shisheng with the China Institutes of Contemporary International Relations wrote, "Cooperation in infrastructure and manufacturing should be the two major areas for Sino-Indian economic cooperation during Xi's India trip." One major benefit of such cooperation, he wrote, "would be to help Indian industries enhance their export capacities, which would help balance the severe trade deficit India has with China."  Such cooperation "could also encourage a 'Chindia' model for other developing countries, as Chindia technologies and Chindia standards would be highly adaptable to other developing countries."
Even as they expressed optimism that Xi's visit will prove fruitful, several experts emphasized that challenges remain for Xi and Modi. As Kanti Bajpai from the Lee Kuan Yew School of Public Policy succinctly put it, "An India-China partnership is an economic marriage made in heaven, but there are hurdles." Dhruva Jaishankar, Transatlantic Fellow at the German Marshall Fund, wrote that opportunities to deepen bilateral relations are "severalfold," but he also warned that border disputes and distrust could slow down economic cooperation.
Jabin Jacob of the Institute of Chinese Studies in Delhi summed up the opportunity ahead for Xi and Modi and their nations: "The two leaders have the opportunity to craft a new kind of relationship between great powers that is very different from the Western-dominated post-World War II model of great power ties. It remains to be seen, however, whether Modi and Xi can together summon the vision and statesmanship needed to grab the opportunity."