Are Private Police Forces 'Contributing to Violence' in Iraq and Afghanistan?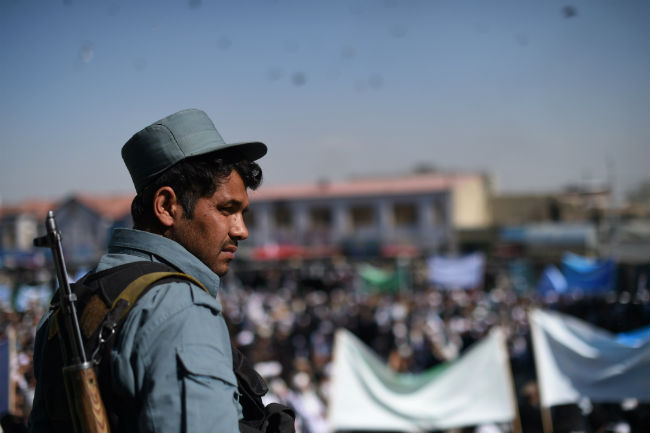 An Afghan policeman keeps watch as clergy men attend a gathering at the Shahi Doshamshira mosque where an Afghan woman, 27, was beaten to death and her body set alight by a mob, in Kabul on March 26, 2015. (Shah Marai/AFP/Getty Images)
In strife-torn locations like Iraq and Afghanistan, arming vigilantes to work with struggling police forces might be a "time bomb" instead of a solution. So argue Asia Society Senior Advisor and former Bernard Schwartz Fellow Hassan Abbas and Nadia Gerspacher in a Foreign Policy feature published this week that explores the world of privately run police forces.
"The biggest danger in supporting shortcuts in security solutions is that parallel policing structures can quickly spiral out of control, gain power, and often lead to more violence," write Abbas and Gerspacher, who reference vigilantes in Northern Ireland and the militant Islamist group Boko Haram as examples of dangerous outcomes. "These programs are really courting disaster, contributing to violence rather than addressing security threats."
The article goes on to discuss the concept of "community policing" within a broader context of police reform. An excerpt:
The international community has to be very careful to understand that community policing, a concept so widely defined that it has largely lost its meaning, is about reforming the police so they may develop the capacity, both individual and institutional, to collaborate with the communities they police, not the other way around. In its intended form, community policing requires a significant amount of police structure, management, discipline, practices, and processes that clearly guide both police conduct and community expectations.
Read the full article here.