"Culinary Shangri-La secreted inside the Asia Society and Museum building on Park Avenue"
—Forbes All-Star Eateries In New York
Michelin Guide to New York City recommendation
Great Performances guides the culinary mission of the Garden Court Café, under the auspices of Chef de Cuisine Tsering Nyima, with seasonal dishes that reflect elements of the diverse cultures of Asia. In the modern, glass-enclosed space, enjoy lunch, weekend brunch, and afternoon tea. Filled with light, flowering vines, trees, and art, the Garden Court Café is a beautiful and airy spot to enjoy an Asian-inspired meal.
During the Secrets of the Sea exhibition, the Garden Court Café is featuring a weekly special menu item created by Chef Malcolm Lee of the Michelin-starred Candlenut restaurant in Singapore. Chef Lee's cooking specializes in Peranakan cuisine blending Chinese and Malay influences with a modern twist.
Chef Malcolm Lee's weekly Peranakan specials:
Gula Melaka Coconut Shrimp Ball with Curry Leaf (Appetizer); offered March 7-12
Charred Octopus, Cucumber Pineapple Achar, Roasted Peanuts served with Rice (Entrée); offered March 14-19
"YeYe" White Coconut Chicken Curry, Kaffir Lime Leaf, House Salad, Jasmine Rice (Entrée); offered March 21-26
Coconut Panna Cotta, Pandan Chendol Jelly, Gula Melaka Sauce (Dessert); offered March 28-April 2
Asia Society Members enjoy a 10 percent discount.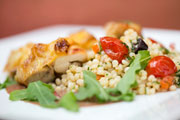 Location
The Garden Court Café is located in the lobby of the Asia Society and Museum at 725 Park Avenue at 70th Street in New York City.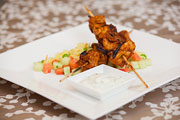 Hours
Closed Mondays.
Lunch (and weekend brunch) is served 11:00 am until 5:00 pm. Dim sum is offered daily from 11:00 am to 4:00 pm.
Afternoon tea service — loose-leaf and herbal teas with chef's selection of Petit Fours, scones, and tea sandwiches — is offered from 2:00 pm to 4:00 pm daily. Reservations are required 24 hours in advance for afternoon tea service.
Please call 212-570-5202 for reservations.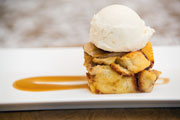 Menu
Winter Menu (PDF)
Winter Brunch Menu (PDF)
Dessert and Beverage Menu (PDF)
Afternoon Tea Menu (PDF)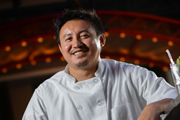 Meet the Chef
The Garden Court Café's Tsering Nyima is the Great Performances' Chef de Cuisine at the Garden Court Cafe at Asia Society.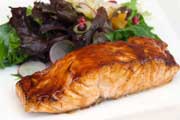 Garden Court Recipes
Garden Court Café Soy-Ginger Salmon Recipe
Garden Court Café Char Siu Chicken Recipe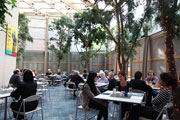 Rental Space
The Garden Court is a beautiful setting for almost any type of event, from elegant receptions and dinners to artistic salons and corporate soirées.
More information about space rental
---
---
For questions or concerns regarding the Garden Court Café, please call Hesh Sarmalkar, Director of Events and Visitor Services, at 212-327-9322.